Devon, Pa.-based Prudential Fox & Roach, Realtors has revamped its website, the brokerage announced today.
PruFoxRoach.com now has a lifestyle search option that allows consumers to look for homes in neighborhoods with personalized attributes, such as proximity to mass transit, highly rated schools, or cultural activities.
The brokerage also added more filters to the site's main property search function to enable users to narrow their search to new listings, open houses, foreclosures, or short sales, if they wish.
On the home page, the brokerage has added tabs for map-based searches of the Philadelphia Center City and the New Jersey Shore.
Another new feature is a one-page market trends report available on the site's home page or individual property pages that includes data such as the number of new listings, homes sold, median and average sale prices and average days on market in a neighborhood.
The brokerage also launched enhanced video capabilities on the site. Its video page, PFR TV, gives consumers access to videos of luxury homes for sale. All new listings will also include a video slideshow, the brokerage said.
The new site was developed in collaboration with digital marketing company VHT ImageWorks.
Prudential Fox & Roach was the fifth-largest brokerage in the nation by sales volume and the seventh-largest brokerage by transaction sides, according to the latest report by Real Trends, which is based on 2010 data.
The brokerage also officially launched a company blog today that had been in beta since October 2010. The blog includes homebuying and selling tips, market trends, and local neighborhood profiles.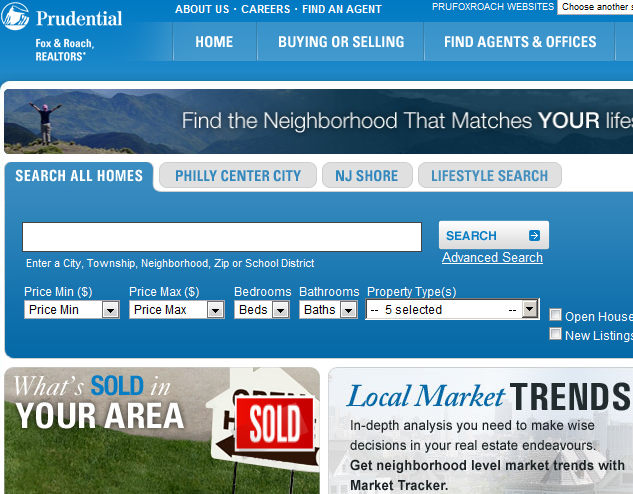 Screenshot of new PruFoxRoach.com home page.