Editor's note: Inman News welcomes Natalie Fonseca as a columnist. She will be writing about real estate startup companies and entrepreneurs. Comment below to share your thoughts about this new feature.
As someone who moved dozens of times before becoming a homeowner, I can attest to the fact that finding a new place to live can be stressful — especially when you're apartment-hunting with roommates who have different ideas about what home sweet home looks like.
While online rental sites have made it easier to search for properties, it's still a chore for renters to organize all of the information they find. That pain point is what inspired Caren Maio, Matt Raoul and Mike O'Toole to launch Nestio, a New York-based startup that helps renters simplify their search.
Nestio's free service enables users to save rental listings from any site they visit so they're available in one place. Users can then add notes, sort listings and share them with friends and roommates. Nestio also alerts users when property managers update a listing.
Since getting their start as part of the TechStars New York startup accelerator program earlier this year, the Nestio team has completed its first "pivot" (their original concept was a review site named UrbanApt), raised over $750,000 in seed funding, and appeared on a reality TV show based on TechStars.
Nestio also participated in Inman News' "New Kids on the Block" session on stage at the Real Estate Connect conference in July.
What has the startup experience been like so far, and how is Nestio growing its business? I asked co-founder and CEO Caren Maio, who left her job in advertising sales at The Wall Street Journal to launch Nestio with Raoul and O'Toole.
Q: How did you meet your co-founders?
A: I met Matt through a mutual friend almost four years ago. We were both interested in doing something in the real estate space, but we took our time getting to know each other before teaming up on a business. Once we decided we were ready, Matt (Raoul) suggested we sit down with Mike (O'Toole), a good friend of his and an amazing engineer he had worked with in the past.
We were all out one night having burgers and beer, talking about our various ideas and how excited we were to implement them, and I remember thinking, "this is our team." We began working on a project, and we were accepted into TechStars with that concept.
Q: Was it a difficult decision to leave your day job to pursue startup life?
A: I always knew I wanted to build my own company — it was a persistent feeling. By December of last year, it became impossible to ignore it.
We had this incredible opportunity in front of us with TechStars and a founding team with the perfect mix of skill sets and personality, solving a problem that we're all equally passionate about. It was certainly a big decision, but I know I made the right one for me.
Q: Would you recommend that other aspiring entrepreneurs apply for TechStars or a similar accelerator program?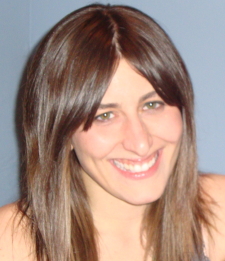 Caren Maio
I can't recommend the program enough — it overdelivered for us. TechStars gave us the ability to get at least a year's worth of work done in about 3 1/2 months.
Q: What's the best advice you've received about how to be a successful entrepreneur?
A: The TechStars program taught us to identify the biggest assumptions we made about our business, and then encouraged us to test those assumptions early and often. Every business has significant risks, and we didn't want to shy away from them. We wanted to work to mitigate those risks.
While we were in TechStars, we began to kick the tires on our business from the very first day. We made assumptions, tested them, revised our assumptions, tested those, and pursued a solution that we knew users wanted.
Q: What is the most rewarding part of being an entrepreneur?
A: Since starting Nestio, one of my favorite moments was when Matt, Mike and I saw the first user we didn't know using our service. It was such an exciting moment. It makes my day when we get a tweet, email, or note from someone letting us know that Nestio helped them in some way and made the process easier. That's validation in its best and purest form.
Q: How is Nestio attracting new users?
A: We just started experimenting with a little advertising to raise awareness, and that's been working well. That being said, there's no better referral than a user referral. Our users are our best advocates, and there's no better feeling than hearing that you gave someone a positive experience and they told their friends.
Q: Right now, Nestio is available in New York City. What are your plans for expanding the service to other cities?
A: We've received a lot of requests from users in other markets, and that makes us feel really good — like we're on the right track. We're really excited to expand our support and offer service in new markets, but it requires some work getting to know each market before we can officially launch there and do it right. We'll be sure to let you know as soon as we're ready!
Q: Nestio's made it a point to develop a robust mobile app that NYC apartment hunters can use while they're on the go. How important is the mobile app to your overall product plan?
A: In a word? Crucial. We deliberately released a mobile extension to our product as quickly as we could, about six weeks after we launched the site. A great deal of the home hunt is mobile, and we want to be able to join our users on the go, offering help wherever possible.
Being that this was the first version of our app, we did our best to prioritize the features we thought would aid users the most — adding/viewing listings, taking notes, and snapping photos.
Q: Is there a way for Realtors and property managers to partner with Nestio directly?
A: Absolutely. We recently launched partnerships with Curbed, PrimeNYC, and NakedApartments. These sites have added a "plus nestio" button to their New York City rental listings that allows users to quickly and easily save listings from their sites to Nestio with just one click.
We're constantly looking and thinking of new and creative partnership opportunities, and we love talking to prospective partners in the space (you can reach out to us at partners@nestio.com).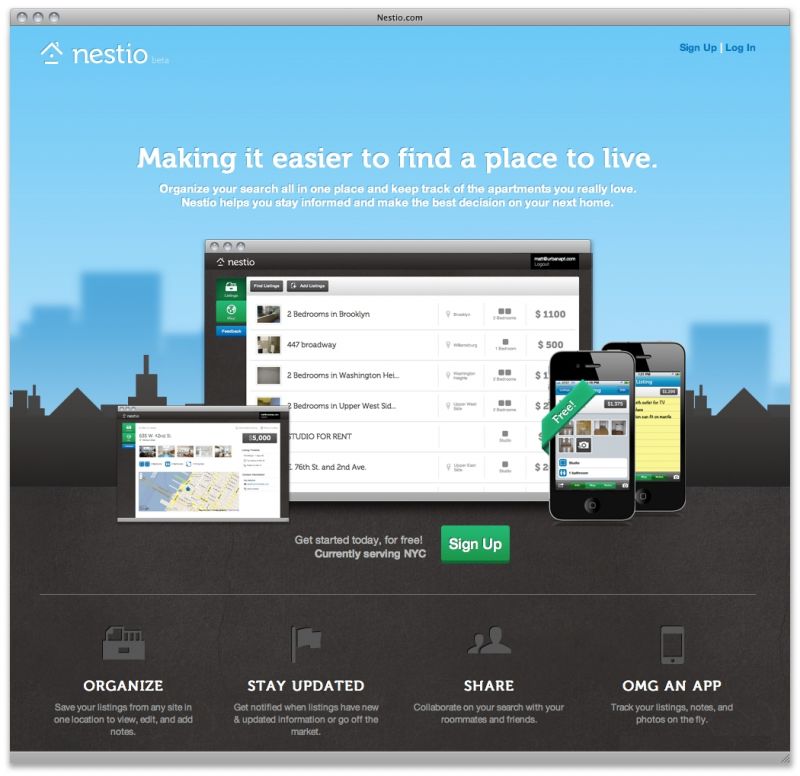 Nestio screenshot.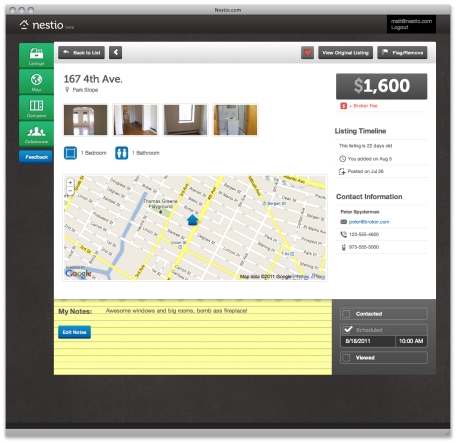 Nestio screenshot.
Natalie Fonseca is the co-founder and executive producer of Tech Policy Summit and the Privacy Identity Innovation (pii) conference, and the content producer for Inman News' Data Summit and Real Estate Connect. You can follow her at @TechPolicy.