Lenders had a "shadow inventory" of 1.6 million distressed properties and repossessed homes they hadn't yet put up for sale at the end of October, down 16 percent from a year ago, loan data and analytics provider CoreLogic reported today.
Six states account for half of the shadow inventory: Florida, California, Illinois, New York, Texas and New Jersey.
Housing analysts track shadow inventory because it's typically not included in the official metrics of unsold inventory, and represents a pending supply of homes. CoreLogic estimates that for every two homes listed for sale in a multiple listing service (MLS), lenders have another one in shadow inventory.
The current level of shadow inventory represents a five-month supply of homes, down from a seven-month supply in October 2010, when shadow inventory stood at 1.9 million units.
Shadow inventory should represent less than a one-month supply of homes in a healthy housing market, CoreLogic said. At the peak of the housing bubble, in mid-2006, shadow inventory stood at 380,000 homes.
"The shadow inventory overhang is a large impediment to the improvement in the housing market because it puts downward pressure on home prices, which hurts home sales and building activity while encouraging strategic defaults," said Mark Fleming, chief economist for CoreLogic, in a statement.
According to the National Association of Realtors, sales of distressed homes — including short sales and homes repossessed by lenders — accounted for 29 percent of sales in November. NAR said 19 percent of existing-home sales last month came from lenders' inventories of repossessed homes, and that 10 percent were short sales.
CoreLogic said distressed properties are often concentrated in suburban and "exurban" (rural-fringe suburban) markets, where they compete with new-home sales. New-home sales currently make up about 7 percent of all sales, down from 12 percent historically.
The term shadow inventory is sometimes applied only to "real estate owned" (REO) homes that lenders have repossessed through foreclosure but have not yet put up for sale. CoreLogic counted 370,000 REO homes that lenders had not yet put on the market at the end of October, a 1.2-month supply of homes.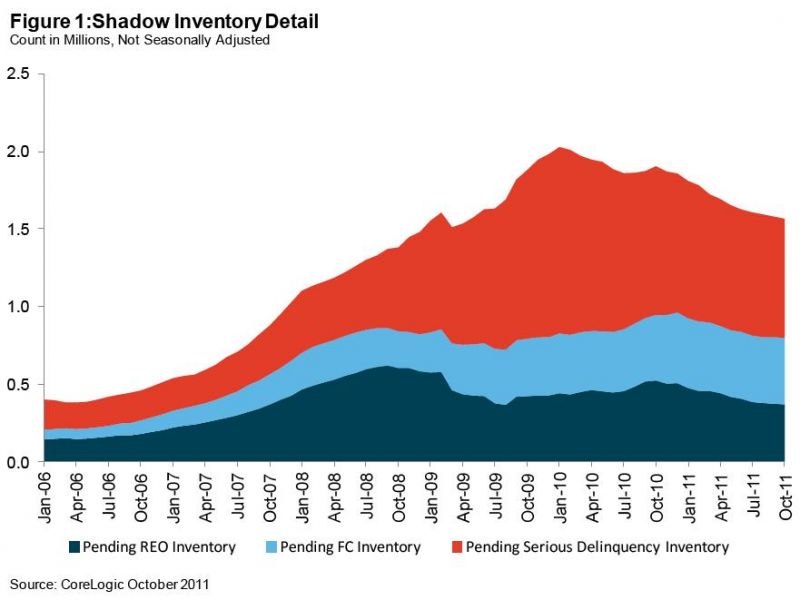 CoreLogic also counts as shadow inventory homes not currently listed on an MLS whose owners are behind on their mortgage payments by 90 days or more, or who are in the foreclosure process but have not yet lost their homes.
While lenders may approve short sales or repossess many of those homes, some borrowers who are seriously delinquent or in foreclosure are able to get current on their loans through a loan modification or other means.
CoreLogic counted 770,000 homes whose owners are seriously delinquent as shadow inventory — a 2.5-month supply — and 430,000 homes that are in the foreclosure process, a 1.4-month supply.
All told, shadow inventory was at about the same level as July, CoreLogic said, indicating loan servicers were signing off on short sales and putting REOs up for sale at about the same pace as newly seriously delinquent loans were being counted as shadow inventory.
Another company that tracks loan data, Lender Processing Services Inc., estimates that there were 3.97 million homes in the the foreclosure process or delinquent by 90 days at the end of October. Foreclosure starts were up 5.7 percent from September to October, LPS said, and there were 2.2 million homes in the foreclosure process.