Reputation is critical for real estate professionals, and a tech startup seeks to help brokerages and individual agents measure their reputations by gathering direct feedback from clients on strengths and shortcomings.
Gathering customer feedback is not a new concept for the real estate industry, though RealSatisfied hopes to differentiate itself with its measurement of customer satisfaction even for "lost listings" (failed listing presentations), its detailed and standardized statistical reporting, and ease of use.
RealSatisfied developers, who are based in Australia, teamed with tech entrepreneur Jeff Turner, founder of Real Estate Shows, to launch the product in the U.S.
Turner told Inman News that he was attracted to the concept because the service can help brokers be more in touch with the actual performance of individual real estate agents.
"This reputation issue really needs to be solved at the broker level. Brokers really need to take a stronger hold of the impression agents are making in the marketplace," Turner said. That said, RealSatisfied does allow individual agents to subscribe to its service.
The range of surveys that brokers and agents can send out include: seller satisfaction, buyer satisfaction, and a lost listing. There are also surveys for property management firms to gauge owner loyalty and tenant loyalty.
"I think you want to know what has gone wrong, why you lost the listing, because every agent I've talked to has 'never lost a listing,' Turner said.
RealSatisfied serves as an intermediary between clients and prospective clients, and the brokers and agents who subscribe to the service.
While some real estate companies may choose to conduct their own surveys to measure customer satisfaction, Turner noted that it takes "a lot of effort" for brokers and agents to manage the process themselves, and "sending these surveys out in an inconsistent way doesn't help you make good business decisions."
He added, "Things that don't get measured don't get changed."
While the survey results are intended to provide valuable feedback for individual real estate sales associates, the company also reports how individuals stack up against all of the company's agents, and brokers will be able to view how they rank against other organizations nationally, Turner said.
RealSatisfied screenshot.
"Since the surveys are standardized, the data is going to have some pretty good relevance."
Turner said there are plans to allow subscribers to display survey results in some form to the public, though those capabilities are not available at launch.
Quality Service Certification Inc., another company that provides customer-satisfaction surveys for real estate firms, in November announced the launch of an agent-rating site, RatedAgent.com, to display ratings for thousands of agents based on survey data. The company has surveyed real estate consumers since 1998 and has contracts with brokers, multiple listing services and Realtor associations.
Zillow, Redfin, ZipRealty, Homethinking, AgentRank and Yelp are also among the sites that offer agent ratings or reviews, and sites including NeighborCity.com, AgentAquarium.com and FranklyMLS.com have incorporated multiple listing service data in serving up agent-performance statistics, though the display of agent performance statistics based on MLS data has been controversial, with brokerage Redfin (see story) and the Houston Association of Realtors clashing with agents and brokers (see story) in their past attempts.
The online surveys sent out by RealSatisfied are designed to be completed in less than five minutes, and shouldn't take any longer take longer than 10-15 minutes, Turner said.
The surveys' results are converted into bar charts with percentage-based scores, and individual agents' results are displayed against the company's overall results.
Agents and brokers can view charts for: overall satisfaction, recommendation rating, performance rating, and testimonial return rate (clients are asked at the end of the survey whether they wish to provide a testimonial).
The survey results page also displays the number of surveys sent, the share of completed surveys, and detailed results in PDF format from each individual who completed a survey.
RealSatisfied offers online demos of its service, and a free 30-day trial to test it out. The cost for the service is $9.95 per team member per month, or $50 per office per month for unlimited surveys, invitations and responses collected.
The surveys can be co-branded, providing a company logo and an agent profile and photo.
Among the questions asked in a survey sent to home sellers at the close of a transaction:
Did you consider other brokers when selecting (X company)?
How long did it take to sell your property?
Overall, how would you rate the sales experience provided by (X agent)?
Another question provides a detailed list of transaction services ranging from "negotiations with prospective buyers" to "online advertising" and "yard sign," and asks the respondent to rate these services as "excellent," "good," "satisfactory," "below expectations," or "poor," for example.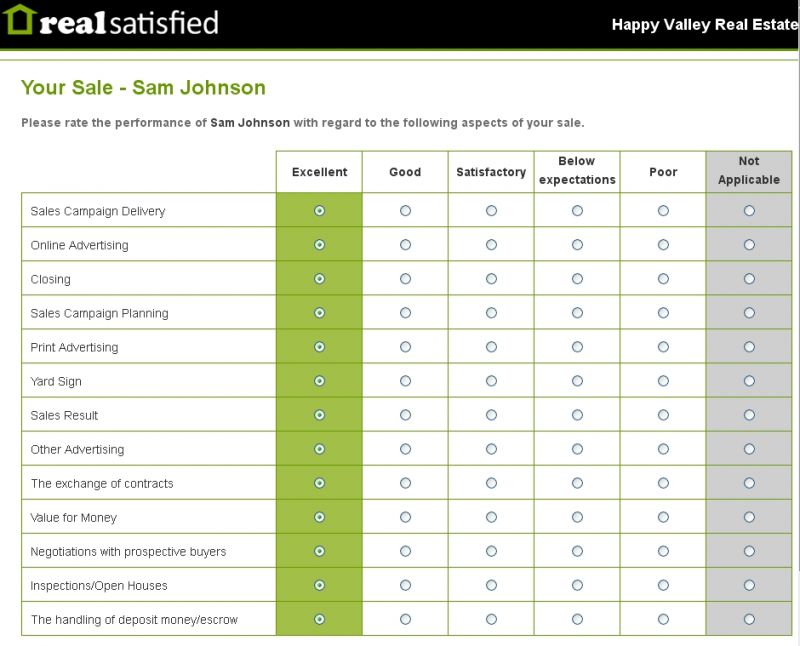 RealSatisfied seller satisfaction survey screenshot.