By SUSAN GALLEYMORE
You've heard the popular refrain that Starbucks is everywhere. There may be some truth to that — the massive coffee retailer has even set up shop in a shipping container.
The now-one-of-a-kind drive-thru/walk-up Starbucks coffee outlet off Interstate 5 in Tukwila, Wash., which opened Dec. 13, is constructed from four modified shipping containers, including one 20-foot container and three 40-foot containers.
And while novel for Starbucks — this is the company's first foray into a trend gathering momentum for shipping container constructions, but perhaps not the last — other stores built from shipping containers include a grocery in Seattle and a series of restaurants in San Francisco.
Spokesman Alan Hilowitz described the Tukwila store as another step in fulfilling Starbucks' core mission — providing a gathering place for communities, using Starbucks' scale "for good," and reducing the corporation's carbon footprint — while also recycling "the same kind of shipping containers that transport our coffees and teas around the world."
Tony Gale III, Starbucks' corporate architect and architect of record for the project, described the mindset with which he and his team tackled the store's design. "We were able to open our minds to the use of very common elements destined for the landfill as structure for a high-quality, drive-thru coffeehouse design — essentially creating an industrial beacon for sustainable thinking."
This reflects Starbucks' focus on conservation-minded building initiatives that serve a dual purpose: helping to reduce operating costs and leading by example to push "the environmental design envelope in retail."
With many containers scrapped at the end of an average lifespan of 20 years, the Starbucks solution served to convert a potential waste stream from the company's supply chain into shop space.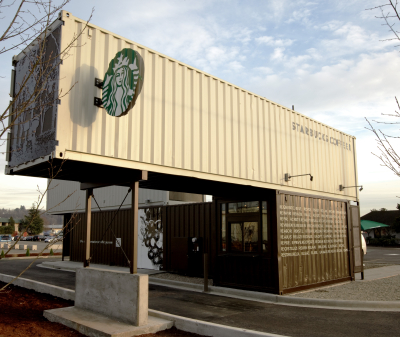 This Tukwila store is also the first LEED-certified structure in town. It uses fully reclaimed material for the exterior. Rainwater collected from the roof reduces water consumption and nourishes surrounding "xeriscaping" — landscapes and plants that naturally require less water.
Even the signage promotes environmental consciousness.
While this is not Starbucks' only drive-thru/walk-up store, it is rare among the company's 17,000 stores worldwide in that it offers no inside seating. Hilowitz said the prototype is easy to break down and transport, and may usher in more container stores.
"We can put a store like this on a lot that will be developed someday but is free for two or three years, and then we can move it."
Architect Tony Gale III says fast-moving baristas are Starbucks' solution to limit customers idling their cars as they await their "cup of morning joe." Already, between one-third to one-half of Starbucks stores have a drive-thru window.
The company's next goal in sustainable thinking: By 2015, it intends to make 100 percent of its cups reusable or recyclable.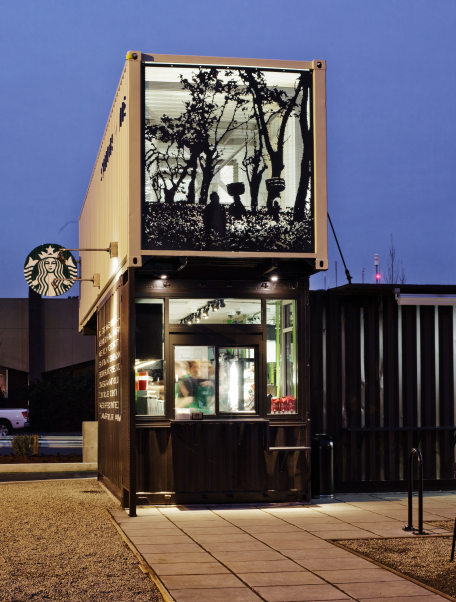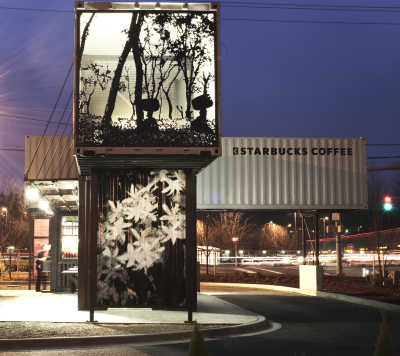 Susan Galleymore is a freelance writer in California.
Other stories: