San Diego-based ARG Abbott Realty Group has taken a very public stance in its decision to immediately stop syndicating listings to third-party websites — including Zillow, Trulia, and Realtor.com — with Jim Abbott, the company president and managing broker, explaining the decision by his 25-agent firm in a YouTube video posted Thursday.
The company's action echoes a similar move announced in November by Edina, Minn.-based Home Services of America subsidiary Edina Realty Inc., a brokerage company with about 2,100 sales associates and 60 offices.
"All listing syndicators … act as middlemen and post our valuable listing data alongside the contact information of other agents and brokers who rent ad space on their sites," Abbott stated in the video.
"Usually they do this … while claiming that exposure of our listings in any way on the Internet is a good thing. Time and results prove absolutely that it is not."
While ARG's listings received "hundreds of thousands of hits" from third-party sites during a three-year period examined by the brokerage, those hits "did not cause buyers to view those homes, nor did they produce quicker sales or better outcomes for our clients," Abbott said.  
"In fact, the few buyers who responded through listings syndicators often got the wrong information about our listings and they often got it too late to be a value to them as consumers.
"These sites represent a failed approach to property marketing and one that frustrates homebuyers, hurts home sellers, and brings little value to the brokers and agents (who) actually own the listings and the creative content attached to them," he said.
Calling third-party real estate sites "nothing more than slick advertising platforms," Abbott also charged that such sites routinely post inaccurate data, including inflated for-sale inventories, which he charged constitute "an outright deception of the public and (mislead) homebuyers into the false belief that the market is flooded with available homes, while telling home sellers their sites swarm with action-ready buyers."
In response to the charge, Zillow spokeswoman Cynthia Nowak told Inman News, "Zillow has thousands of real estate listings that aren't found on an MLS (multiple listing service), such as auction, REO (real estate owned), rental, 'Make Me Move,' and for-sale-by-owner (properties). So comparing listings from different sources is not an apples-to-apples comparison."
Trulia declined to comment on that particular charge. Trulia spokesman Ken Shuman said he preferred to address Abbott's overall message: that third-party sites like Trulia are not good places for qualified homebuyers to meet agents and do business.
"My message back is that we know what we're doing works and we hear the success stories every day," he said.
"Time and time again, we've heard from our customers on the consumer's side how they found their home on Trulia and from agents who say 'I'm meeting great people and selling homes.' We know we are providing a great value to the industry and to consumers."
To illustrate, Shuman pointed to Trulia Insight, a subscription-based lead generation service rolled out earlier this month.
In three months of beta testing before launch, the site found that 72 percent of consumers who sent a lead to an an agent through the service indicated they are looking to purchase a home within the next six months, and 83 percent of those who sent a lead indicated they were not currently working with an agent.
These are consumers who were willing to answer a few questions at the time they sent the lead, Shuman said.
"We have a highly transactional audience that are looking to meet agents and looking to buy a home," he said. 
Abbott recommended consumers not yet ready to commit to working exclusively with an agent or broker visit consumer.sandicor.com, the public-facing site for the region's Sandicor multiple listing service. ARG's own site now displays a seal declaring its new "never syndicated" philosophy (see image below). 
On the YouTube post, Sara Bonert, Zillow's director of broker services, commented, "Zillow attracts about 25 million unique visitors to our websites and mobile platforms each month. In San Diego last month … according to comScore Media Metrix — we saw traffic numbers to the Zillow-Yahoo Real Estate advertising network of 240,000; Trulia attracted 107,000; and Realtor.com (of the) Move (Inc.) network attracted 60,000. The Sandicor website you reference saw traffic numbers of 44,000."
She added, "Our data shows that homes which receive the top 10 percent of page views sell more than a month faster than those in? the bottom 10 percent. Similarly, these highly viewed listings achieve sale prices closer to their asking price than those with less exposure. Give your listing exposure to lots of buyers, it will sell faster and at a higher price. The data proves it."
She also wrote, "Zillow does not sell leads. It's free for any listing agent to receive leads from their listings once they've created a free profile on the site.? If the listing agent has never taken this step, we always display the true listing agent at the bottom of the page."
Edina Realty Inc. renewed a long-running industry debate over the pros and cons of syndicating listings to third-party sites when it announced late last year that it would pull its listings from Trulia and Realtor.com.
Wisconsin-based Shorewest Realtors stopped sending its listings to Trulia in 2010. Some industry-watchers have predicted that there will be a wave of syndication withdrawals this year.
Kris Berg, broker-owner of San Diego Castles Realty and an Inman News columnist, said her company is taking a "hard look" at listings syndication, an issue she said she has struggled with for some time.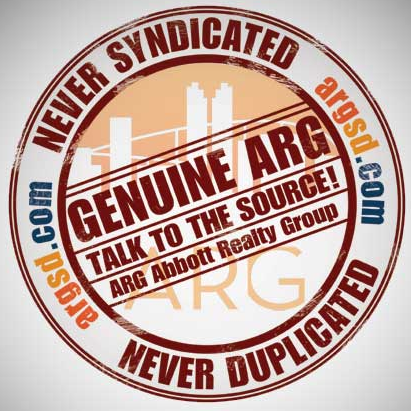 Screenshot of logo that appears on
ARG Abbott Realty Group website.
"Is any exposure bad exposure for the client? Yet virtually none of our own company's listing sales this past year could be attributed to exposure on third-party sites, and we continue to struggle with issues related to inaccurate data on these same sites almost daily," Berg said.
"From rental scams to outdated or inaccurate listing displays — even on occasion our own listings posted by other agents portraying them as their own — it is becoming increasingly time-consuming and difficult to help the consumer sort through the confusion.
"The conundrum is that sellers perceive value in having their homes displayed digitally far and wide even when that exposure may hold no real value, and brokerages fear that opting out might put them at a competitive disadvantage."
This is "about representing our clients and doing the job we were hired to do — about ensuring that no potential buyer is left behind," she added.