Editor's note: On March 30, Inman News opened its headquarters to a full day of real estate technology demonstrations. This first-ever Demo Day featured 24 participants. Inman News and sister site InmanNext will be highlighting some of the participants' technologies in upcoming coverage.
| | |
| --- | --- |
| Company name | New Dirt Inc. |
| Company website | www.newdirt.com |
| Revenue model/cost | Freemium model: Brokers, owners and developers can list one active site and submit one site per month for free, with $15 charged for each additional submittal. For $29 a month, users can list and submit five sites per month ($9 for each additional submittal). At $49 a month, the limit goes up to 10 listings and submittals for the month, with $7 for each additional submittal. At the "Pro" level, $99 a month gets users 15 site listings, 25 submittals and a charge of $5 for each additional submittal. |
| Intended audience/users | Corporate Real Estate and Development Leaders and brokers and agents. |
| Key features | 1. Platform assigns rating to individual sites based on criteria submitted by corporation. |
|   | 2. Brokers pay for multiple property submittals, one property submission per month is free. |
|   | 3. Company now serves about 80 brands, 400 brokers. |
| Company launch | 2011 |
| Company summary | New Dirt offers an online site-submittal platform designed for the commercial real estate industry. The platform "automatically matches prequalified sites with interested buyers, getting both sides to the negotiating table quicker," according to a company description. |
David Cattell, co-founder, CEO and president of NewDirt.com, said that in a former job at Kentucky Fried Chicken-USA, he would return from a busy travel schedule to a fresh stack of site submittals piled at the corner of his desk.
For most of them, he said, it was a short trip to the wastebasket: "to the trash, to the trash, to the trash," he recalled. And he was frustrated by their different formats, he said.
While many submittals were coming in, too many of them didn't come close to the company's specifications for its new retail spaces. Perhaps 1 of 10 submittals would meet the company's criteria; when one did, he would send someone to physically check it out. At one point, he was receiving 150 site submittals a week, he said, and most failed to meet the company's needs and lacked a consistent format.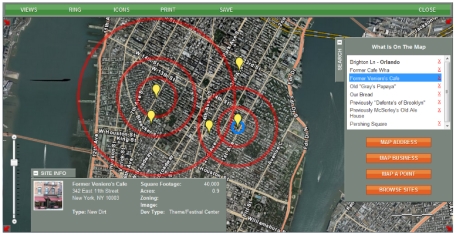 Newdirt.com screenshot.
"The technology didn't exist," he said, to bring more automation to the site submittal and selection process. Last year, Cattell, along with Glenda Webb Cattell, launched New Dirt to expedite the site-selection process.
The company now serves about 80 brands, including Denny's, Chick-fil-A, Baskin Robbins, Chuck E. Cheese's, Golden Corral, and about 400 brokers feed site submittals, which are primarily in the commercial sector. (Cattell noted that there are about 120,000 agents who work in both the residential and commercial sectors.)
Despite its name, Cattell noted that New Dirt does not focus on raw land — it spans a full range of property types, from land to retail to office space, including spaces in strip malls and in airports.
The New Dirt service is intended to "level the playing field" for those brokers who don't have extensive corporate contacts but are representing properties that are of interest to large corporations, said Cattell.
New Dirt essentially serves as a matchmaking service so that brokers "don't waste money on proposal packages that just get thrown in the trash," Cattell said. Brokers don't mind hearing "no," he said, they just want to hear an answer.
New Dirt streamlines the connection, so answers are more straightforward and quicker, he said. There's no searching — the service matches sites with prospective buyers, based on their stated criteria. "We're like Match.com," he said.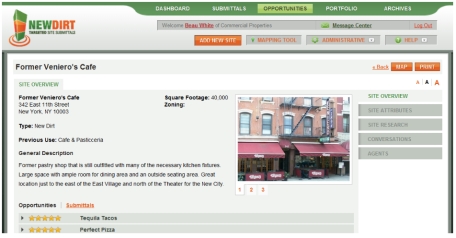 Newdirt.com screenshot.
New Dirt applies a five-star rating system to individual submittals, measuring the suitability of a particular site against criteria submitted by corporate clients that are seeking new space.
For large corporations, "the reality is … they have to grow," based on the demands of investors, Cattell noted. Even in a challenged economy, corporations have sought new channels for growth, including nontraditional locations and cobranding.
"They're forced to grow, and they're growing," he said.
Cattell noted that Texas, Florida and the Carolinas are among the areas that are seeing heightened demand for new space.