Editor's note: On March 30, Inman News opened its headquarters to a full day of real estate technology demonstrations. This first-ever Demo Day featured 24 participants. Inman News and sister site InmanNext will be highlighting some of the participants' technologies in upcoming coverage.
Company name: 
DreamCommerce
Company website:
http://dreamcommerce.co/
Revenue model/cost:

DreamScore: For consumers; free.

DreamPro: For agents and brokers; both Social Edition and Social Plus Edition come with a 30-day free trial followed by a monthly subscription cost of $15 or $25, respectively.

DreamPro Brokerage Edition: For offices, brokerages and multiple listing services; free for 30 days; subscription cost varies.

Intended audience/users: 
Consumers, real estate agents and brokers.
Key features:
1. DreamScore is a mobile application available in the Apple App Store that allows consumers to rank the features most important to them in a home. The app scores homes from 1 to 100 according to their preferences. Users can also share their home search with others they designate in a private "DreamGroup," including their agent.
2. DreamPro is an app compatible with the Apple iPhone and iPad for real estate agents and brokers. The app pulls in listing data directly from brokers and MLSs and allows agents to give their clients the ability to search for a home on their DreamScore app. Agents can also input their clients' home preferences to obtain DreamScores for homes and share the best matches with their clients. The scoring is based on MLS data, such as square footage, and description keywords. Agents can add their own notes and photos to listings and share them with their clients.
3. DreamCloud synchronizes data between agents and their clients and across devices.
Company launch date:
October 2011
Product launch date:
DreamScore: November 2011; DreamPro: May 2012.
Company summary:
DreamCommerce generates scores for properties based on client preferences, and allows real estate agents and their clients to collaborate in the home search process online and via mobile devices.
"Real estate is highly social and personal, but current (real estate) apps are not," said David Ragones, founder and CEO of DreamCommerce.
While property search apps that allow users to filter their search by certain characteristics such as price range and location are popular, DreamCommerce saw the need for a more personalized search experience, Ragones said.
To that end, the company has introduced its Social Real Estate Platform, which includes three components: DreamScore, DreamPro and DreamCloud. The DreamPro app for agents and brokers is integrated with Facebook, so agents can invite clients from that social network or from their phone contacts. Clients download the free DreamScore app and log in with either their Facebook login or their email address to start connecting with their agent.
The platform allows agents and consumers to generate customized scores for properties based on home features, such as a big kitchen or backyard. Agents and clients can also share information across apps privately. Agents get notifications every time a client comments on a home or saves a listing.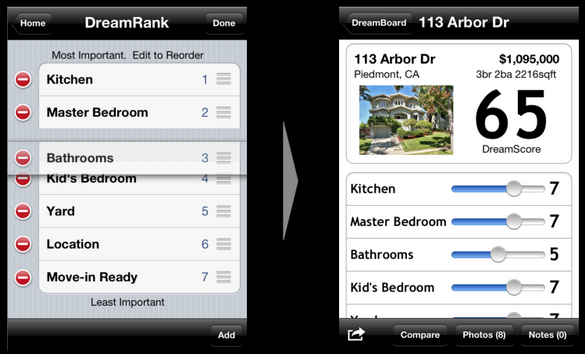 Screen shots of DreamPro app 
"Buying a home is one of your most personal decisions and fundamentally a social transaction — you shop with an agent or broker and share with family and friends to decide. We created the Social Real Estate Platform to give agents and brokers and their clients a new social, personal and mobile tool set to find their dream house," Ragones said in a statement.
Currently, the platform offers MLS listings from Boston-area-based MLS Property Information Network (MLS PIN). DreamCommerce plans to include additional feeds directly from brokerages or MLSs across the country ahead of the platform's official national launch at Inman News' Real Estate Connect conference in San Francisco in the first week of August.
DreamCommerce also plans to release versions of the DreamPro and DreamScore apps for the Google Android platform.