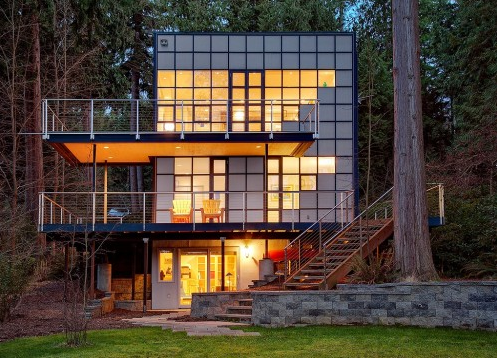 Click here to view the full photo gallery.
Location: Sammamish, Wash.
Price: $825,000
The Skinny: Aptly described as "'Tetris'-inspired" by the guys at Curbed Seattle, this modernist home was built in 1985 and fronts 56 feet of private beach on Sammamish's Beaver Lake. Listed for sale by the architect and current resident Nick Fisher, the home has two bedrooms and 1.5 bathrooms and more than 1,290 square feet of interiors that look just as immaculate as you'd expect from the glassy and minimalist design outside.
In fact, that grid of windows calls to mind one of the granddaddies of modernist architect: furniture designers Ray and Charles Eames' former house in Los Angeles. Other notable features: a spiral staircase that leads to the bedrooms; a wraparound sundeck; and a great room/dining room that opens out to a covered deck. The place is on the market for $825,000 and there's the "possibility to divide into 3 parcels," according to the broker babble, but really now, why mess with it?
Sources: Redfin, Curbed Seattle
View the original item at Curbed.com: "Just Outside Seattle, a Modern Cube With a Private Beach," by Sarah Firshein
More from Curbed.com's House of the Day:
Copyright Curbed.com 2012