Online rental platform RentJuice has released a new marketing metrics dashboard that allows real estate offices, brokers and agents to analyze their marketing campaigns.
RentJuice says the new Ad Dashboard marketing metrics tools allows users to evaluate production data broken out across key metrics in order to better understand the value of ad-related strategies and marketing channels like Craigslist and RentJuice ad syndication.
Ad Dashboard users can compare:
listings currently advertised.
ads created for those listings.
leads, which can be classified by source (i.e., Craigslist, Referral, etc.).
deals.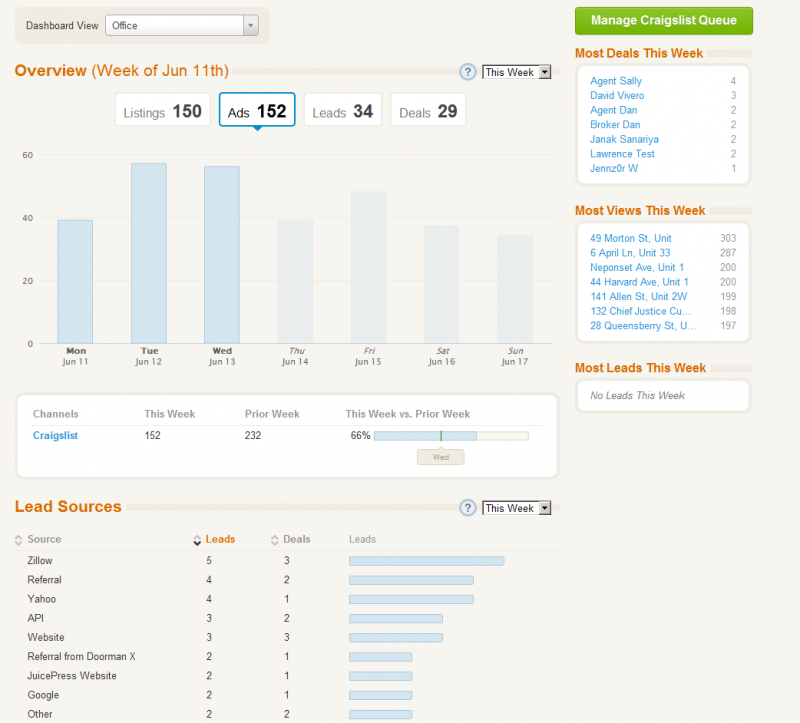 Screen shot courtesy of RentJuice
The tool also allows the app's administrator to evaluate marketing efforts of individual agents, using a program called Radar that's part of the app.
Radar shows metrics for:
How many views listing agents are generating.
How an office and/or agents are doing relative to the market.
Which properties have the most views and leads.
Access to unadvertised units.
Ad Dashboard allows users to monitor and control their entire rental portfolio from one screen, said David Vivero, RentJuice founder and vice president of rentals at Zillow, which acquired RentJuice for $40 million last month.
The app's metrics "give an unprecedented level of visibility into the rental process — from ad creation to closing a deal — showing users what's working and what's not so they can be smarter and more efficient with their time and energy," Vivero said.
The new tool comes on the heals of RentJuice's update of its iOS mobile apps last month.