With an eye toward taking advantage of a new-home market that's showing signs of recovery, brokerage company Windermere Real Estate has signed a franchise agreement with the national sales and marketing firm New Home Star Corp., the companies announced today.
Seattle-based Windermere Real Estate has created a new division, Windermere Builder Solutions, that is a franchisee of New Home Star and offers builders and developers marketing, sales, and operational support.
"For new construction business our agents already have a market share of 25 percent" in their local markets, said O.B. Jacobi, president of Windermere Real Estate.
"What they needed was support in marketing, training, sales techniques, documentation and technology. We picked (New Homes Star) because of their expertise in the field, because of what they have, and, truthfully, the speed of the market. The market is turning and we want to make sure we support our agents" to make the most of it, Jacobi said.
New-home sales have been rising on an annual basis for the past eight months, hitting a two-year high in May. Also last month, housing starts jumped nearly 29 percent year over year, increasing for the ninth straight month. In its latest economic outlook, the National Association of Realtors expects new-home sales to rise 29 percent this year, to 388,000, and 62 percent in 2013, to 629,000.
New homes typically sell for more than existing homes and may therefore be a lucrative niche for real estate professionals. New homes sold for a median $234,500 in May — 28.4 percent more than the month's median price for an existing home, $182,600. Both new- and existing homes have seen recent prices increases, in part due to double-digit year-over-year declines in for-sale inventory of both.
After severely cutting down on their sales teams during the housing downturn, builders now need to bulk back up for the first time in years, said David Rice, president of Chicago-based New Home Star.
"There is a short window of time that builders are going to consider how to ramp up their sales operations. If we're not there to fill that need in the next 12 to 18 months, the builders will figure out another solution and we'll having a hard time getting in," Rice said.
The combination of the two companies will bring both something one cannot achieve without the other, Rice said — scalability.
"Windermere was looking for expertise. We had the expertise, but we didn't have the agents, we didn't have the force, the bandwidth, the scalability. It's the most logical marriage that I've ever seen," he said.
Windermere Real Estate has more than 300 offices and 7,000 agents in nine Western states: Arizona, California, Hawaii, Idaho, Montana, Nevada, Oregon, Utah, and Washington. The company closed more than 57,000 transactions last year worth $16.7 billion in sales volume.
New Home Star has about 160 on-site agents and a 20-person management team serving 12 markets: Chicago; Charlotte, N.C.; Richmond, Va.; Tidewater, Va.; Orlando, Fla.; Colorado Springs, Colo.; Denver; Greenville, S.C.; Seattle; Portland, Ore.; and two Canadian markets, Calgary and Edmonton in Alberta. The franchise agreement gives Windermere exclusive rights to Washington, Oregon and parts of Northern California in exchange for undisclosed royalty fees to New Home Star.
"They've asked for rights elsewhere," Rice said. "We'd like to see how it goes."
Outsourcing in-house sales
The challenge for Windermere and New Home Star is to convince builders to outsource to Windermere Builder Solutions instead of hiring in-house sales staff — common among big builders.
Windermere Builder Solutions has "an unprecedented shot at being on both sides of the transaction. We legitimately believe that this changes the industry," Rice said.
"This is the opportunity of a lifetime for (Windermere) to learn how to serve builders the way that they want to be served," he added.
While the vast majority of the time, a real estate brokerage handles the buy-side of a new-home transaction, brokers have traditionally been shut out of the sell-side of the deal because of distrust on the part of builders, Rice said.
"Builders will often tell us not to hire general real estate agents because they have this preconceived idea that general real estate agents don't do what is in builders' best interests," he said.
A general listing agent is apt to treat their time sitting on-site at a development as if it were an open house, Rice said. In that situation, the agent often does not see it as his or her job to really "sell" the property to prospective buyers and may actually be gathering leads for their re-sale property listings — a nightmarish scenario for a builder worried about the bottom line.
Typical real estate agents also tend to lack expertise about builders' needs and intimate knowledge of a development, Rice and Jacobi said.
"In re-sale you're typically going from neighborhood to neighborhood looking for a home. You might know the name of a school in a particular neighborhood, but you wouldn't know the name of the principal, the test scores," Jacobi said.
By contrast, an on-site agent that specializes in new construction is generally committed to a single development at a time and works there every day. His or her fortunes rise and fall with that development. To succeed, he or she will need to know everything about its homes and its neighborhood and have the skills to talk up both, Rice said.
"On-site agents are focused on one area, one project, one builder, one set of specifications, etc. This focus allows them to learn details about the home's construction materials and finishes. It allows them to sell the value of the warranty process. It allows them to really study the surrounding area and sell the value of the location of the development," he said.
"They also become adept at building value in the home's features by learning how to appeal to their typical buyer's motivations. They even get to learn and understand the 'typical buyer' who is attracted to the project and how to best appeal to them. All of this focus helps the buyer to see the home as having more value and enables the builder to preserve margin and make more profit."
Some brokerages already provide builders with full-time on-site agents exclusive to them, including Windermere. But because of its affiliation with New Home Star, Windermere Builder Solutions will also offer expertise, training, and accountability, Rice said.
New Home Star teaches sales staff the skills necessary to sell and market a development as well as to run studies comparing that development to its nearby competitors and subsequently advise the builder on its operations. The firm also teaches agents best practices for improving traffic to their development and increasing conversion rates.
"Builders need to maximize their investment in land and construction and the best way to achieve that is to get a healthy conversion on your traffic that's selling," Rice said.
"Builders are always looking to get the maximum sales velocity — 'how fast can I sell the homes and for how much money?'"
New Home Star's industry roots
Rice started his career in real estate as an on-site salesman for homebuilder Pulte Homes in Michigan, moving on to a regional role before heading up national sales for the company. He left Pulte to found New Home Star in 2007 with the goal of providing small and midsize homebuilders with tools and training based on "the sophistication of the big builder model."
"Sales were going to get really tough, and we knew it," Rice said. "Because of the way the market was changing in 2007, we wanted to meet that need."
When the housing downturn forced homebuilders to downsize, "we started picking up amazing talent from the homebuilding industry," Rice said. "We put together something bigger and better than we thought possible."
By mid-2009, New Home Star Corp. was in a half dozen markets, and homebuilders were asking about franchising opportunities, Rice said.
"We sold six franchises to homebuilding executives, some successful, some not," Rice said. "We got up to a dozen divisions. We were working with 50 builders, and had to pour a lot of money into technology."
In order to achieve good management across these divisions, "we ended up with something we didn't intend," he said — a turnkey operations platform with training and reporting capabilities that it could offer to others.
The online platform includes video-based training, marketing tips, agent profiles, the ability to create business plans and competition studies, and some elements of a social network, including the ability to contact others in the national New Home Star network and share best practices.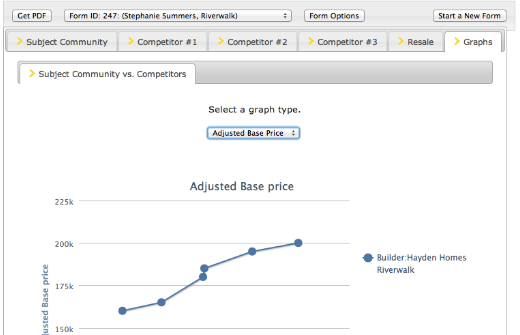 Screen shot of New Home Star platform
The system "is more advanced than anything I ever had at Pulte," Rice said. "We were building it just for our use," until Windermere Real Estate proposed acquiring the platform for its own agents.
One of the platform's key features is that it allows builders to keep track of agents' efforts in selling and marketing their properties either through a desktop or an Apple iPhone application. Agents are trained to report their activities and keep track of various metrics, including traffic goals, sales conversion rate goals, gross sales goals, and net sales goals.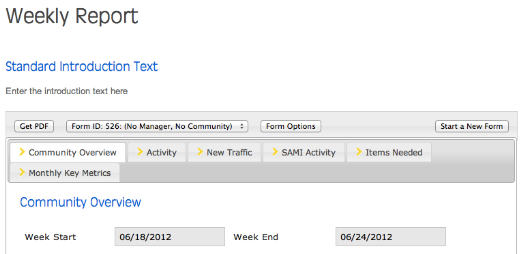 Screen shot of New Home Star platform
Currently, "some (Windermere) agents have tracking systems in place, some don't. So it's a lot of (conversations like) 'Traffic has slowed down considerably… I think we need to drop the price.' That's subjective," Jacobi said.
"All of the different metrics that can be gained … when we train agents to enter data into a system, that becomes real data. Something that can be measured, something that is tangible. That helps builders say, 'This site agent really knows what they're talking about. I really trust that they're invested in this project.'"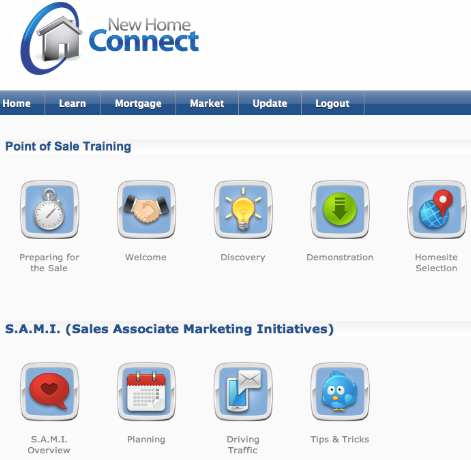 Screen shot of New Home Star platform
That online reporting makes builders feel like they have increased control, despite outsourcing their sales — "that's a really big deal for them," Rice said.
With the market for new homes "raging back right now," Rice envisions putting the system "in the hands of the top brokers around the country."
"The brokers are in a perfect position to say, 'Hey, don't bring all that overhead back in-house — we can partner with you and give you that capability," Rice said.
Jacobi said he was not sure how many of Windermere's agents and brokers currently specialize in new construction, though none of Windermere's franchise offices currently focus exclusively on new construction. Before the downturn there were some, he said, but not all survived.
"As a company we've gone from 375 offices to 330, so some of our offices didn't make it," he said.
Jacobi's goal is not to necessarily add more agents to that specialty but to increase both agent and builder satisfaction, he said. He would also like to see an increase in market share.
"If we could go from the mid-20s to 30 percent I'd be pretty excited," he said.
Edward Krigsman, formerly executive vice president of Windermere Real Estate, now serves as CEO of Windermere Builder Solutions.
The new division will start out slowly, he said, focusing on the nearest four counties around Seattle with the goal of 610 sales in its first year.
"We hope to bump this up toward 800 total across Western Washington. Our vision is that within five years, Windermere will lead the market across Washington, Oregon and California in new-home sales," he said.
Potential recruiting tool
David Fletcher, an Inman News columnist and founder of EMentoru, a company dedicated to helping real estate agents and homebuilders help each other make sales, anticipates that the combination of Windermere's reputation and New Home Star's new construction expertise will have builders "knocking Windermere's door down."
"It's one thing for a big franchise to say they have their own new homes division, but to go outside and for Windermere to say, 'We want to do better than that with a company that specializes in sales training and new systems'? That is huge," Fletcher said.
In addition, he expects the partnership will be a boon to small-volume builders that build about 20 custom or semi-custom homes a year and were hit hard during the downturn. Rice's "Pulte mentality" and New Home Star's platform "is exactly what they need," he said.
"I think this is going to be their ticket back in, I really do," Fletcher said.
Krigsman said the New Home Star platform has performed equally well for homes in a wide range of prices, from $125,000 townhomes to $3 million mountainside resorts.
"What is exciting for us is that finally smaller builders and the agents who serve them have access to the training and sales management tools historically affordable only to national, publicly traded companies," he said.
"As I scratched the surface, I was surprised to discover that not all of the top 10 builders have developed the same robust training and reporting that we now possess. So I think that all of our clients, large and small, stand to benefit from Windermere Builder Solutions."
Fletcher also anticipates the new division will be a great recruiting tool for Windermere. Krigsman did not elaborate on recruiting efforts, but acknowledged that the company was "in discussion with several brokers from competing firms who want access to Windermere's new operating platform by New Home Star."
Inman News associate editor Matt Carter contributed to this report.