Retail manufacturers put great stock in the ability of athletes and other celebrity endorsers to help them move shoes, sports drinks and other goods off of store shelves. Now a real estate broker in California's Silicon Valley is betting that a former San Francisco 49ers star who made a famous catch 30 years ago can help the firm sign up clients and sell homes.
Cupertino, Calif.-based Intero Real Estate Services Inc. President Gino Blefari hopes NFL football legend Dwight Clark, the firm's new celebrity endorser, will be as good for his business as he was for generations of San Francisco Bay Area fans.
It was Jan. 10, 1982. The NFL semifinal game between the Joe Montana-led San Francisco 49ers and the Dallas Cowboys. Down by six points with seconds left to play in the game, the 49ers had the ball near the Cowboys' end zone and needed a touchdown. That's when Clark pulled off "The Catch," tying the game and catapulting the 49ers to a win that led to their first Super Bowl championship.
"The Catch," Jan. 10, 1982.
It's not clear what kind of influence Clark's endorsement will have for Intero, which has 50 offices and 2,000 agents in Silicon Valley, and a four-office mortgage wing.
At least one study, co-authored by a Harvard University professor and Barclays Capital analyst, found celebrity endorsements increase sales by an average of 4 percent. But that study considered celebrity endorsements of consumer goods like bottled water, cameras and cosmetics, not real estate. 
The athletes evaluated in the study, including Michael Jordan, Roger Federer, LeBron James and Tiger Woods, dominated their respective sports, and some are still at the height of their powers.
But Clark's magic moment from 30 years ago — one that launched an NFL franchise to Super Bowl heights — still shines for Blefari, and he hopes it will for his team and their prospective clients and partners, too.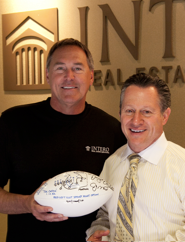 Former San Francisco 49ers receiver Dwight Clark, left, with Gino Blefari, president of Intero Real Estate Services Inc. 
Blefari said Clark will earn a retainer for a certain number of hours of work, will wear Intero gear at celebrity golf tournaments, and give motivational speeches on discipline and hard work to Intero employees. He'll also play a role in building relationships with new partners.
"The name Dwight Clark in the Bay Area is gold," Blefari said. He plans to leverage Clark's fame to get meetings with CEOs of small- and medium-sized businesses he'd like to work with. "Dwight's celebrity factor can get us appointments," he said.
Blefari wouldn't discuss the payment details of the endorsement, but it's safe to bet that it won't be anywhere near the cost of current superstar celebrity athletes. Newly minted champion and NBA superstar LeBron James raked in an estimated $30 million for endorsements in 2011. Tiger Woods, his recent struggles notwithstanding, made twice that in 2011 endorsements.
Intero is not the only real estate company leveraging Super Bowl glory.
Earlier this year, Century 21 Real Estate became the first real estate company in 21 years to advertise during the Super Bowl. The ad featured ex-NFL star Deion Sanders, U.S. Olympic speed skater Apolo Ohno and TV celebrity mogul Donald Trump. Century 21 Chief Marketing Officer Beverly Thorne called the NFL championship game "the last great campfire for the American family." Century 21 also recently became a sponsor of U.S. soccer.