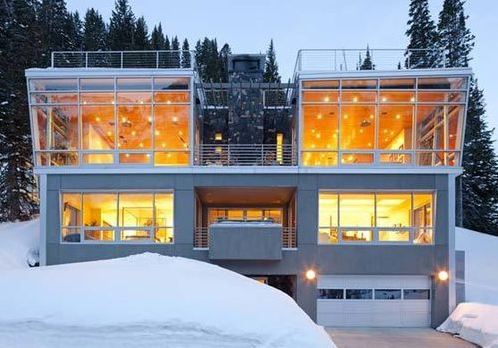 Click here to view the full photo gallery.
Location: Alta, Utah
Price: $5,800,000
The Skinny: This being the depths of a sweaty summer, perhaps there's no better time to go hunting for — or daydreaming about — a slopeside ski mansion near some of the heaviest annual snowfall in the United States. Listed for $5.8 million, this modern mansion lies between the ski areas of Alta and Snowbird in Utah's Cottonwood Canyon, which receives an average of 514 inches of white, fluffy, freezing snow each winter.
Perched on a mountainside, the house enjoys panoramic views of Cottonwood Canyon and Mount Superior through floor-to-ceiling glass in the top-floor entertaining spaces and, in warmer weather, from the spacious roof deck. Equipped with five bedrooms, six bathrooms, three fireplaces, a hot tub, a manager's apartment, and a garage, this may very well be the ultimate modern ski chalet.
The interiors are somewhat less inspiring, with glorified futons in the great room, but there's space for nine at the breakfast bar, and trail maps are etched into glass panels surrounding the dining table.
Source: Cottonwood Canyons Realty
View the original item at Curbed.com: "Glassy Modern Mansion Near Snowy Alta Ski Area Asks $5.8M," by Rob Bear.
More from Curbed.com's House of the Day:
Copyright 2012 Curbed.com