First, an expression of gratitude. Reality — new economic data and active central banks — has removed any duty to pay attention to the convention of either party.
August job data released today were poor. The meager 96,000-job gain was cut in half by downward revisions to the two prior months, and the apparent decline in unemployment from 8.3 percent to 8.1 percent is a statistical quirk — the percentage of Americans at work or trying to find it fell to the lowest level since 1981.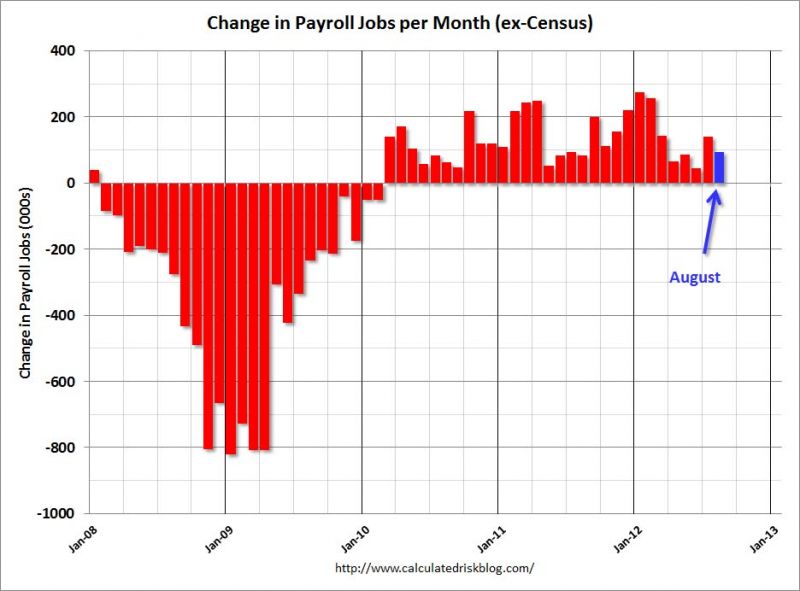 Click chart to enlarge. Source: Bill McBride/Calculated Risk Blog.
There is no way to fund necessary government on a tax base so weak. Democrats are focused on grabbing larger pieces of a shrinking pie, and Republicans on helping those with pie to keep it, when the perfectly obvious task at hand is to grow the pie.
As poor as the job data were, other reports describe a minor miracle: The U.S. is not entering recession. The Institute for Supply Management's August manufacturing index slid further to marginal negative, 49.6 (from 49.8), under pressure from a slowing external world, but an ISM index measuring the service sector surprised on the upside, to 53.7 (from 52.6).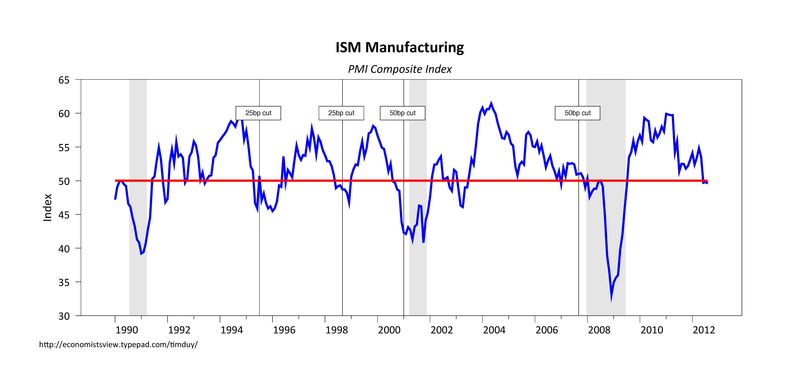 Click chart to enlarge. Source: Tim Duy's Fed Watch.
Consensus this morning has this data weak enough for the Fed to announce another round of quantitative easing (QE) on Sept. 13, perhaps focused on mortgage-backed securities. The prospect of more easing has had the stock market on the manic side of its bipolar disorder, but flipping to depression when considering the reason for the easing: The economy is a mess, and new QE is not guaranteed to work.
All of the above is a brief interruption in the European drama. Yesterday the European Central Bank announced its new plan to prevent collapse of the euro, European Central Bank President Mario Draghi once again huffing, "The euro is irreversible."
Of course it's reversible — if it were not, Draghi would not have to say. And on another level, many senior officials in Europe seem to be posturing to avoid blame for the ultimate collapse. In Europe's history, leaders who have caused this degree of pain have met an end dangling from a lamp post.
The European Central Bank labored long and hard to gain approval for the new plan, outright monetary transactions ("OMT"), but in the end the elephant gave birth to a mouse.
There are several available paths to euro collapse. Banks were on the way out last fall, and the European Central Bank stopped that with long-term refinancing operations (1 trillion euros in loans to banks). Another would be the inability of Spain and Italy to roll over their sovereign debt, hopelessly excessive relative to their GDPs. Those markets closed this spring, temporarily propped open by their domestic banks and legerdemain.
OMT mightily proposes to buy unlimited amounts of sovereign debt with invented money. However, the European Central Bank will execute the OMT buys if and only if miscreant nations agree to the Greece treatment, surrendering control of their budgets to more austerity and ensuring deeper depression.
And oh, by the way, for every euro we create to buy these bad bonds, we will sell another euro worth of a different IOU in our vault, leaving the net cash injection into the European economy at zero.
This process is called a "sterilized" trade, unlike QE here in which the Fed tries to force-feed cash into an already sloshed goose, but at least is trying. One extreme measure the European Central Bank might adopt: unsterilized OMT buys, which would crater the value of the euro and give weak economies a fighting chance via exports. Unfortunately, that approach would create inflation in Germany and destabilize European trading partners.
If Spain or Italy does grovel to the European Central Bank, or does the honorable thing, accepting the European Central Bank's terms while lying about compliance, only one benefit to their economies will result.
Each percentage point knocked off their borrowing costs will be roughly one point of GDP less in spending cuts that will be forced by the European Central Bank Gestapo. Big deal. Their economies cannot survive the cuts under way now. Not while bolted to the euro.
My cynicism may be too deep, as always, but OMT has done nothing but protect Draghi from post-mortem accusations of hand-sitting, and the political structures in Spain and Italy (and soon, France) are under the same pressure as before.
Bill Clinton's law, dating to 1993, seems more elusive today than ever, even to the old rogue himself. "It's the economy, stupid!" Grow the damned pie, or else.