Realogy Holdings Corp. will soon become a publicly traded company again with an initial public offering of 40 million shares of common stock, which have been approved for listing on the New York Stock Exchange under the symbol "RLGY," the company said today.
Realogy — whose franchising, brokerage, relocation and title services brands and business units include Century 21, Coldwell Banker, ERA and Better Homes and Gardens Real Estate — said it will use proceeds of the offering primarily to repay more than $7 billion in outstanding debt.
Much of that debt was incurred when the company was taken private by hedge fund Apollo Management in 2006.
Since then, Realogy has reduced its expenses by $500 million, primarily through reductions in salaries and related employee expense, occupancy costs and marketing expenses. The company had 10,400 employees at the end of 2011, down from 15,000 at the start of 2006, and consolidated or closed 358 brokerage offices during that period.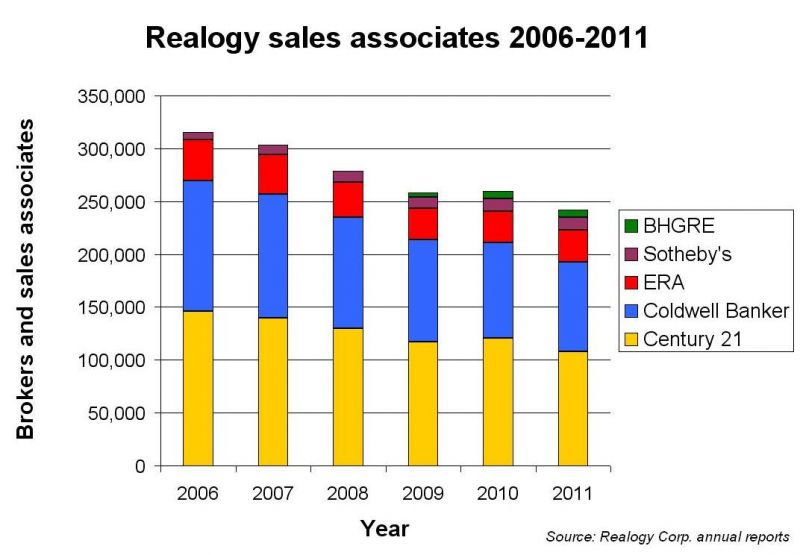 Right-click graphic to enlarge.
Realogy filed a plan with regulators in June detailing the company's hopes of wiping out about $3 billion in debt by issuing up to $1 billion in new shares and converting $2 billion in convertible notes into common stock.
Final pricing of the shares and the date they will begin trading has not been set. In an updated registration statement filed with regulators today, the company said it expected to price the offering at $23 to $27 per share, and raise up to $1.24 billion before expenses.
At the upper end of that range, Realogy would have a market capitalization of about $3.5 billion, with funds affiliated with Apollo Management Holdings L.P. continuing to own a majority of the voting power of Realogy's outstanding common stock.
With home sales and home prices on the upswing in many markets, the climate for Realogy to go public appears to be improving. Successful IPOs by real estate listing portals Zillow in 2011 and Trulia this month may also help pave the way.
In their S-1 registration statement, Realogy managers say they believe the company "is well positioned to benefit from a sustained recovery in the residential real estate market as a result of our scale, market leadership, breadth of complementary service offerings and operations, and the substantial brand equity of our portfolio of brokerage brands."
Evan Mann, a credit analyst for Gimme Credit in New York City, said Realogy's timing is good.
"Right now, they have a little bit of wind at their backs," Mann said. But because of the company's debt load, Mann doesn't think the IPO will be an easy sell.
Inman News reporter Paul Hagey contributed to this report.