By JAY THOMPSON
I own a (very) cheap set of golf clubs.
When I pull the driver out of the bag, and shank one deep into the trees, my typical reaction is to pound the driver into the tee box and loudly proclaim, "Stupid clubs! I need a better driver!"
I own a (relatively) cheap acoustic guitar.
With just three chords, I can "play" a basic blues progression — and theoretically pound out virtually any blues song. Yet when I put these three chords together in their proper order, I sound nothing even remotely close to Stevie Ray Vaughn or B.B. King.
"Stupid guitar! If I only had a 1960 cherry sunburst Les Paul I would sound AMAZING."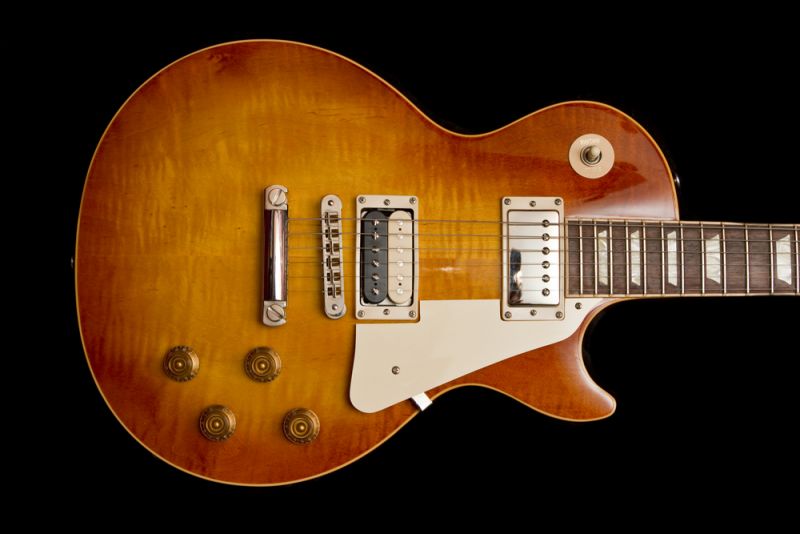 Vintage Gibson Les Paul guitar image via Shutterstock.
Yeah, not so much.
You see, golf clubs and guitars are simply tools. Props, if you will, to enable one to play the game, or make music.
In the hands of Phil Mickelson, my cheap golf clubs would send drives into the stratosphere and straight down the middle of the fairway.
In the hands of a real musician, my cheap guitar would make the ladies swoon.
The problem is I don't know how to use these tools. Oh, I can log on to YouTube and find guitar lessons galore. Ditto with ways to eliminate my slice. And I can practice, practice and practice some more. I could seek consultation on how to become a better golfer or guitarist.
But simply possessing the most expensive golf clubs made, or that 1960 Les Paul, is not going to allow me to compete with PGA members or musicians.
I just don't have their skills, talent or experience.
The same thing holds true with the abundance of technology available to the real estate professional. It is not enough to just possess the technology. You've got to learn how to use the technology, learn to craft it into a useful tool for YOU, for it matters not how others use technology. What matters is how you apply the tools that technology provides.
Poke around on the Internet for just a few minutes and you will see all sorts of people extolling the virtues of technology in real estate. If you believe anything you read you may very well find yourself thinking that all you need to gain untold wealth in real estate sales is a Facebook account, a Twitter ID and a blog.
Phooey. Hogwash. A load of malarkey.
Used incorrectly, those tools may very well do your career more harm than good. Sure, use them well and they could generate business for you. The problem is we've practically become slaves to technology.
When is the last time you went anywhere — even to the bathroom — without your cellphone? How many programs and products — ONLY $29.99 A MONTH!! — have you purchased chasing the ever-elusive lead, magic pill or system that promised to unlock riches beyond your wildest dreams?
I could make a trip to Sears and fill a roll-around tool chest with wrenches, ratchets, nut drivers and other assorted tools. I could then pop the hood on my car and commence to unbolting everything stuck to the engine.
But could I fix a car that doesn't start, or tune the engine for higher performance? No, because I don't have a grasp of the fundamentals of what makes an internal combustion engine work.
Oh, I know the theory — the pistons compress fuel, a spark ignites it, and little controlled explosions turn the crank that turns the wheels that makes the car go. But I can't make the car run better because I don't have the requisite experience to use my collection of tools to tweak the engine to run better.
But, with time, training, testing and application of my various tools, I can improve my game, play better music and work on my car. It's the same with our real estate technology toolbox. Rarely will you need every tool you can buy. In fact, it is probably better to master one or two rather than dabble in many.
What is important is to see the tools available for us as what they are — things to help us succeed. How you define "succeed" depends on what the tool is designed to do.
Just as you wouldn't use a screwdriver to pound a nail, you can't apply a technology tool to a problem it is not designed to solve. Oh sure, you might eventually drive that nail with a screwdriver, but a hammer would be much more efficient and effective.
It is easy to become a slave to our technology, and slide deep into the tech abyss, floundering about trying to make sense of everything that is available. The reality is there are no magic pills, no fast-tracks to untold riches. Find a few tools that work for you, learn how to use them, practice with them, test them. Measure the results. Rinse and repeat.
Let technology tools help you help others, and help your business. Technology doesn't own you, you own it. Find the right tool to fix your problem and move on to the next one. There always seems to be another problem around the next corner.
Jay Thompson is the director of industry outreach and social media for real estate marketplace Zillow. He also has eight years of experience as a real estate broker, and has written extensively about the role of technology in real estate.