The Corcoran Group has revamped its website, integrating the firm's social media content and focusing the site's home search functionality on the brand's "live who you are" tagline.
It's the first website redesign for the 2,200-agent brokerage since 2006, said Christina Lowris-Panos, chief marketing officer at Corcoran.
A subsidiary of NRT LLC, a Realogy Holdings Corp. company, Corcoran serves New York City, the Hamptons on Long Island, and South Florida.
"The website is the ultimate experience of our 'live who you are' brand," Lowris-Panos said. "(On the site) we tried to present it in as beautiful and engaging way as possible."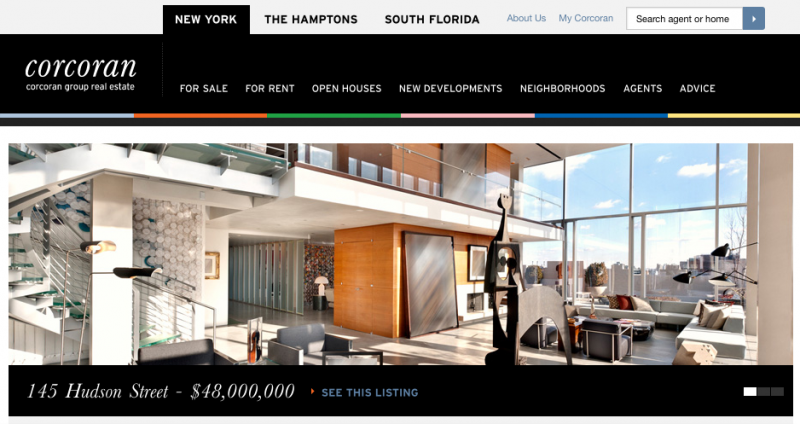 Screen shot of The Corcoran Group's new home page.
The new site features content from Corcoran's various social media channels that change with the time of day and search location.
For example, at lunch time, one of the three home page slider-bar images links to Corcoran's Foursquare page, which features the firm's recommendations and reviews of the best lunch spots in New York City.
Other Corcoran content, from its 430-video YouTube channel, its Tumblr blog and 20,000-user Foursquare account, show up as thin bars interspersed among the home search results presented as images, sometimes matched to their location and the time of day of the user's search.
The site also features neighborhood-based information from Foursquare, Zagat-based restaurant reviews, and Corcoran agent and employee video reviews from the firm's YouTube channel. Neighborhood pages also feature information about nearby schools, banks and other businesses from data firm Onboard Informatics.
If you ever wanted to know the boundaries for neighborhoods in the handful of New York City boroughs Corcoran covers, the neighborhood page at Corcoran is an interesting tool. As you hover over the name of each neighborhood, the neighborhood shows up as a shaded yellow overlay on a Google map of the borough.
The site also allows users to find the Corcoran agents they're connected to on Facebook or LinkedIn and, once on an office's section on the site, they can search for agents based on things like the language they speak, their hobbies and interests and other attributes.
An advice section of the site presents Corcoran's YouTube videos from its agents and staff and allows users to pose questions via Twitter and receive real-time responses from a Corcoran rep.
"New York is a feast of people, places and properties, and this site captures all three of those things well," said Brian Boero, co-founder and partner at real estate design and marketing firm 1000watt. "It captures the context around a property, which is important in any market."
The site has also been lauded on Twitter, particularly for its integration of Corcoran's various social media content and channels.
Accompanying the site re-launch, Corcoran has launched a multichannel advertising campaign, said Mathew Shadbolt, director of interactive product and marketing at Corcoran.
Corcoran is promoting the site on its Facebook, Twitter and Pinterest pages, and print and billboard ads. Next week, 30- and 60-second TV ads will air announcing the new site and promoting the Corcoran brand in the regional markets where company works. The campaign also features illustrations from Swedish artist Kari Moden.
Lifestyle search, one of the underlying philosophies of Corcoran's site, has been a buzz-concept in real estate search for the last couple of years.
In April, San Francisco Bay Area brokerage Alain Pinel launched a new site, which prominently incorporated lifestyle search features like "school quality," "the arts," "entertainment/dining," and the ability to search for homes by school district.
Better Homes and Gardens Real Estate and Coldwell Banker Real Estate have launched sites with similar functionality in recent years.
Other companies are turning to third parties to capture the flavor of a neighborhood for their current and prospective clients. New York state brokerage Houlihan Lawrence and Comey and Shepherd Realtors in Cincinnati recently signed up with neighborhood information and review site StreetAdvisor to incorporate the service's info on its branded site.
Walk Score, NabeWise and BlockAvenue are other companies providing neighborhood-based information.