Sponsored by: Listings-to-Leads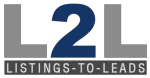 Be honest. How would you grade your online efforts in 2012?
One of the biggest challenges digital marketers face today is connecting the dots. Providing a seamless client experience that includes social media, traditional marketing, database maintenance, mobile and paperless operations is tough.
Can you truly take a client from click to close to referral source without missing a beat?
In this webinar, sponsored by Listings-2-Leads, Inman News' chief evangelist, Chris Smith, outlined a model for tying everything together, and finding the holes, before the new year starts.
This free webinar is sponsored by Listings-to-Leads.