Markets are very quiet despite the usual first-week-of-month flood of new data. In the last week the 10-year T-note has not traded above 1.63 percent nor below 1.58 percent, and mortgages are holding just below 3.5 percent depending on borrower and property.
The November payroll survey estimate arrived with a 146,000-job gain. That's better than forecast but garbled by Sandy, and we cannot know whether up or down. The unemployment rate fell to 7.7 percent, but may have been more distorted by Sandy than payrolls: The percent of unemployed fell because the surveyed workforce shrank.
"I'm calling from the Bureau of Labor Statistics. If you are not at work, do you still have a job but just can't get to it? Have you quit looking for work because you're demoralized, or because a tree fell on your car? Hello? Hello? You're too cold to talk? You don't seem to understand how important this call is to the nation. Hello? Is your phone out? Yes, I know that if it were we wouldn't be talking. No need to be insulting."
The Institute for Supply Management ("Purchasing Managers" in old days) takes two surveys at the end of each month. The manufacturing survey for November dumped two points from October to 49.5, the worst since 2009. The second one, for the service sector, rose to 54.7 from 52.3 in October. Tend to trust the manufacturing number: It has longer history, four decades versus one.
This morning the University of Michigan released its consumer confidence survey for December. It had been on a rising trend since late summer, up to 82.7 last month and was expected to stay there or higher, and instead tanked to 74.5. Economy rolling over? Republicans who just discovered who won in November? Nobody knows.
Intermission for Fiscal Cliff. The election has brought order to Republicans, most of whom understand they could have had a better deal in 2011. House Speaker John Boehner fired two unruly Tea Pots from their committee posts, and South Carolina Republican Sen. Jim DeMint resigned altogether, headed for the Heritage Foundation, where he can screech in its phone booth undisturbed.
President Obama has less feel for his tax base and the economy than Mitt Romney for the people, but this time might not overreach his way out of a deal in plain sight. I think chances have reversed two bad weeks and improved now.
Back to reality. Each quarter the Fed releases Z-1, describing the movement and landing place of every buck in the financial system. Some new numbers are striking.
The net worth of U.S. households in the last 90 days rose by $1.7 trillion. Feel that?
Didn't think so. A mere wobble in a base of $64 trillion. Which by the way is not a shabby net worth. Over the last year the wobbles have combined for genuine progress, a gain of $4.5 trillion.
The Fed estimates recovery of $1 trillion of the $7 trillion in home equity lost since 2006, a long way to go but moving. The other $3.5 trillion gained is in financial assets, most buried out of sight in pension funds, insurance company reserves, and retirement accounts, slow and quiet, but real.
Included in Z-1 are mortgage accounts. Yesterday's release shows a pickup in post-Bubble plodding in some places, but a total stall in another. The overall figure contains both the good and the troublesome news: Aggregate U.S. residential mortgages have fallen by $88 billion in 90 days, $289 billion in the last year, and are now below $10 trillion for the first time since 2005 (from the $11.2 trillion peak in 2007).
Some of the overall decline is from overdue write-offs. Loans also disappear via sales and refis, but there is little of that in the worst stuff. The trash in private-label MBS is down to $936 billion from $2.2 trillion in 2007. Home equity loans (including seconds) from a same-year peak at $1.13 trillion have fallen to $790 billion.
The bad news: Without added mortgage supply, a genuine housing recovery lives only in the minds of the Pollyannas. The nation's sole supply of new mortgages, Fannie-Freddie-FHA-VA, has been the same since 2009, about $5.8 trillion. All other sources, the "private" dreamland of government-haters, are just as inert as they have been since 2007.
When these mortgage aggregates begin to rise, then we'll know that housing really is healing, and the economy with it.
Thanks to Bill McBride at www.calculatedriskblog.com, and his best-in-biz charts. He is more optimistic about today's employment numbers, but I can't see any of the "sustainable" progress here that the Fed is looking for, and expect them at their meeting next week to continue and even amplify QE3.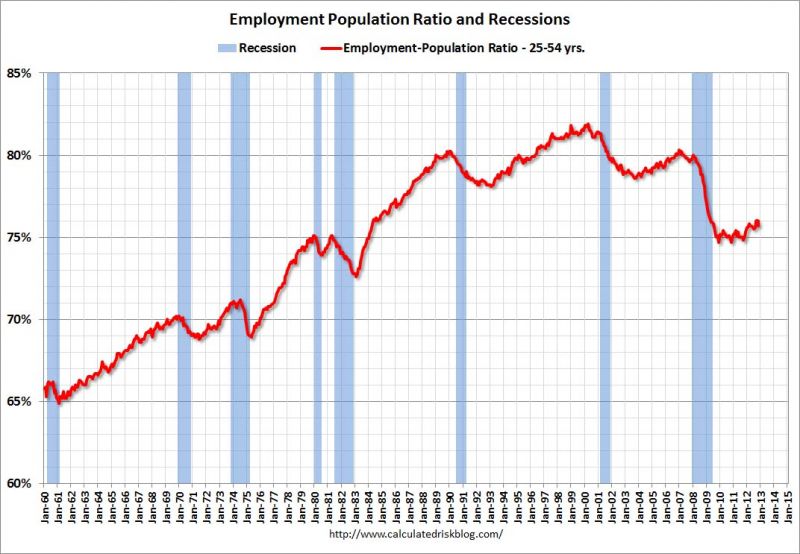 Graph via Calculated Risk Blog.