U.S. housing starts continued a steady 2012 year-over-year upswing in November, hovering at a level not seen since 2008, according to the latest numbers from the U.S. Census Bureau.
At a seasonally adjusted annual rate of 861,000, housing starts dipped 3 percent from October to November, but were up 21.6 percent from a year ago.
That's still less than half the level seen during the mid-2000s peak, but builder confidence is growing, too, approaching levels not seen since the housing bubble. After rising for the eighth month in a row in December, an index measuring builder confidence is at its highest level since April 2006, the National Association of Home Builders (NAHB) reported this week.
"Builders across the country are reporting some of the best sales conditions they've seen in more than five years, with more serious buyers coming forward and a shrinking number of vacant and foreclosed properties on the market," although tight lending conditions are hindering the recovery, said NAHB Chairman Barry Rutenberg in a statement.
Single-family housing starts dropped 4.1 percent from October to November, to a seasonally adjusted rate of 565,000. That represented a 22.8 percent increase from a year ago and a 60 percent jump from a March 2009 bottom of 353,000.
A graph plotting historic annual rates of housing starts, which hit heights above 2 million in 2005 (the most recent high), "shows the huge collapse following the housing bubble, and that total housing starts have been increasing lately after moving sideways for about two years and a half years," wrote Bill McBride, author of the Calculated Risk blog.
Housing Starts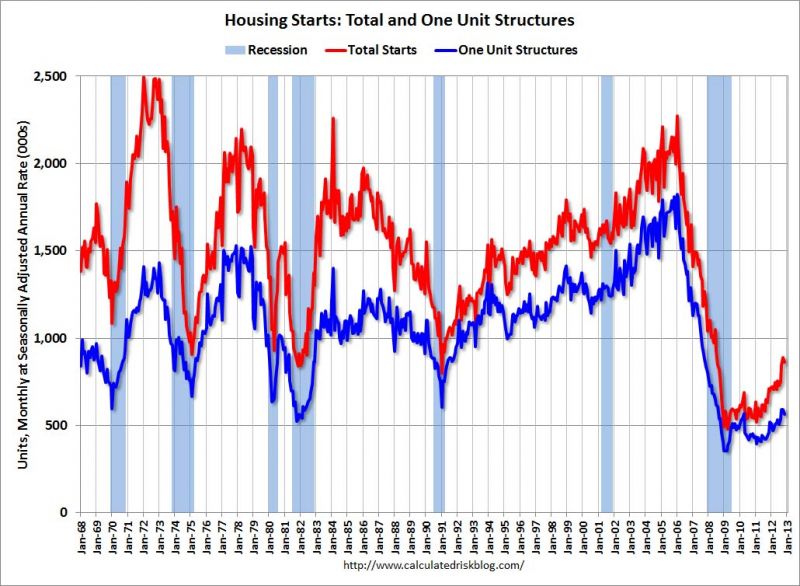 Source: Calculated Risk
Housing starts have been rising on an annual basis every month since September 2011 and are up 80 percent from their April 2009 bottom of 478,000, according to census records dating back to January 1959.
The Midwest and South saw strong, double-digit-percentage, year-over-year jumps in housing starts in November, while the annual rate of starts in the West remained level from last November at 172,000, the Census Bureau showed.
However, the Northeast, which is dealing with the aftermath of Hurricane Sandy, saw a 25.5 percent drop in November to an annual rate of 73,000 housing starts.
The Midwest led the way, regionally, with a 68.1 percent annual jump in housing starts to 158,000, followed by the South with a 33.1 percent increase to a rate of 458,000.
On a monthly basis, the Midwest, too, led the way with a 3.3 percent increase in housing starts from October. The South followed with a 2.9 percent increase in November. The Northeast and West both saw declines in November, 5.2 percent and 19.2 percent, respectively.