People often ask tech entrepreneur Jon Steinberg if he ever felt any pressure to join the real estate industry. While he himself is president and chief operating officer of social news company BuzzFeed, Steinberg's dad, mom, sister, and wife all work for Warburg Realty in New York City.
"But growing up, my dad was a podiatrist," Steinberg said. When Steinberg was around 11 or 12, his father started in real estate as a sideline, discovered a passion for it, and became successful when Steinberg was already an adult, he said.
Now, his father, Richard Steinberg, is the executive managing director at Warburg Realty, where his clients include celebrities, politicians and business leaders. A top-producing broker, he stars in the HGTV television show "Selling New York," and grosses more than $100 million in sales annually, according to the firm's website.
Both Steinbergs will discuss their respective success stories in a father-son panel on the opening day of Real Estate Connect New York City, which runs Jan. 16-18 at the Grand Hyatt New York.
Jon Steinberg, 35, joined New York City-based BuzzFeed in June 2010. Tech blog TechCrunch has called BuzzFeed "the Huffington Post of Internet memes" (a meme is a concept that spreads via the Internet and often applies to viral content). Indeed, Huffington Post co-founder Jonah Peretti founded BuzzFeed in October 2006.
The site specializes in what Steinberg calls "shareable content" heavy on animated GIFs, YouTube videos, photos, and often hilarious lists such as "17 Reasons Why the World Can't End Tomorrow" and "The 30 Best Passive Aggressive Fridge Notes." The site has more than 25 million unique visitors per month.
To get to BuzzFeed, Steinberg made several career changes that took him from Disney to Wall Street to Google, among other stops along the way.
Steinberg said his father's decision to switch careers taught him not to fear doing the same himself.
"You should do what you're passionate about and not be afraid of doing drastic changes," he said.
When he was around eight years old, Steinberg informed his mother that someday, he wanted to be an Imagineer. Imagineering is the Walt Disney Co.'s design and development arm, responsible for the creation and construction of Disney theme parks worldwide and encompassing a wide range of professions, from illustrators to architects to programmers.
"How I got it in my head that I wanted to be an Imagineer was probably a mix of the fact that I was unathletic, got a computer at a young age, and liked to invent things," he said in a blog post about his somewhat circuitous career path.
Less than a decade later, Steinberg answered a magazine ad and got his chance. At 15, to his knowledge, he became the youngest Imagineer in the company's history, interning there for two years.
"Disney Imagineering was a transformative experience in my life. I learned everything about creativity, how to manage people who are inventors of ideas, how to structure my thinking," and how to do things people thought were impossible, Steinberg said.
After earning a bachelor's degree in public and international affairs at Princeton, he went to work as "entrepreneur in residence" at commercial real estate firm Tishman Speyer Properties in Manhattan.
While there, he founded iBuilding, a company where he created a commercial real estate management software platform. The company was backed by Tishman Speyer as well as venture capital firm Benchmark Capital and tech incubator 12 Entrepreneuring. Both iBuilding and 12 Entrepreneuring were shut down during the dot-com bust.
While iBuilding didn't work out, Steinberg said he learned a great deal from Jerry Speyer, Tishman Speyer's co-founder, chairman and co-CEO.
"I learned that if you don't have a decision made or don't know what you're going to say, the best thing to do is to not say anything" because "you have to stick to your word," he said. "Even if you don't like what you've committed to you're stuck with it."
Steinberg also learned how to manage and consult a team of senior performers, he said.
"Jerry was in a lot of ways business school before I even went to business school," Steinberg said.
After iBuilding shuttered in September 2001, Steinberg spent two years at Columbia earning a master's degree in business administration. Afterwards, he spent what he described as "the worst year of my life" working at strategy and technology consulting firm Booz Allen before joining Wall Street startup Majestic Research, where he worked on business development and equity sales. He did a stint at another research firm, DeMatteo Monness LLC, before returning to his true calling.
"I really missed being in technology. I wanted to get back to what I love: software and the Web," Steinberg said.
In October 2007, he went to work for Mountain View, Calif.-based search giant Google as the strategic partner development manager for the company's partnership program selling AdWords to small businesses.
"It was a big life change, but the absolute right one," Steinberg said.
While there he learned how to work in what he called a "consensus data-driven company" which he said required a "very nuanced set of skills."
"You have to be very delicate and consensus-oriented at Google. It's very different — you need to go around to all different stakeholders and explain what you're doing, get their buy-in … sort of like an academic-type process, like a Socratic training in a lot of ways," he said.
At BuzzFeed, by contrast, company leaders involve direct stakeholders in decisions, but they take a more "streamlined" approach, Steinberg said.
"Not everybody needs to be involved in every decision. I'm not involved in editorial," for example, he said.
After two years at Google, Steinberg left to "do something more entrepreneurial." He was the 15th employee when he joined BuzzFeed two and a half years ago; now, the company has 170 employees. In January 2012, BuzzFeed raised $15.5 million in funding from venture capital firm New Enterprise Associates, among other companies.
BuzzFeed calls itself a "social news organization" because all of its content — from its advertising to its reporting — is meant to be shared, Steinberg said. Unlike other news outlets, BuzzFeed doesn't get a lot of its traffic from Google. Instead, Facebook is the company's largest source of traffic: 40 percent.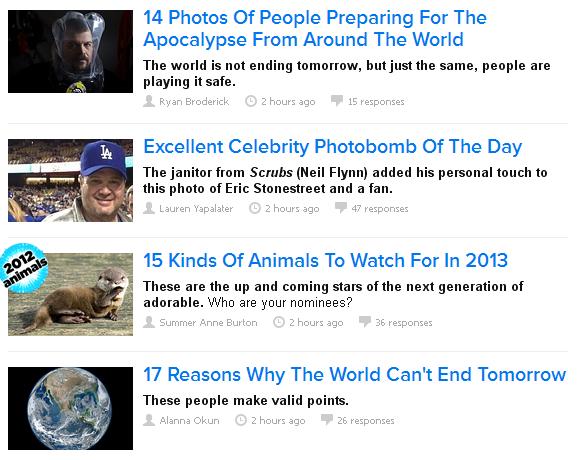 Screen shot of buzzfeed.com home page showing some of the featured stories for Thursday, Dec. 20, 2012.
The site does not run any banner advertising, electing instead for "social advertising" that is content-driven and meant to be shared. Typically, an advertiser will sponsor a story, either an article or an image or both, that relates to the brand's messaging, Steinberg said. For instance, Texas Chainsaw SD sponsored an image-based story called "Terrorize Your Loved Ones By Adding Leatherface to Your Christmas Card."
But BuzzFeed's content isn't all fun and games. Nearly all of the site's stories are original reporting created by its editorial team, which is headed up by Editor-in-Chief Ben Smith, formerly of Politico. The team covers politics, technology, food, music and sports, among other topics. The stories are based on "shareability" — whether they will inspire people to post them to Twitter or Facebook, Steinberg said.
BuzzFeed's site includes reaction buttons at the top — "LOL," "win," "omg," "cute," "geeky," "wtf," and "fail," among others — that users can click to see all of the content that would fall under that particular reaction. The buttons have been very popular, Steinberg said.
His advice for real estate agents eager to serve up compelling content? Make it personal, novel, and give people "a social imperative" to share, Steinberg said.
"If it's about schools and families, people with schools and families are going to share it. If it's about where lawyers live, people in that profession are going to share it," he said.
In his spare time, Steinberg likes to do activities with his two small children, a 4-year-old and a 2-and-a-half-year-old.
"We do a lot of art projects and sports," he said.
Jon Steinberg will be a featured speaker at Real Estate Connect New York City, which takes place Jan. 16-18 at the Grand Hyatt New York.
Follow Real Estate Connect on Facebook, Twitter and LinkedIn: