Closing gifts like a bottle of wine, a plant, or a pen with your company's name on it may be nice gestures, but they won't win you referrals or repeat business. 
That's according to HomeZada, which suggests that real estate agents instead provide their clients with a one-year subscription to HomeZada Premium, an online application carrying the agent's branding that's designed to help users manage home improvement projects, home maintenance and home inventory.
HomeZada, which launched in 2012 with paid and free versions targeted at consumers, is now marketing its services to real estate agents as a closing gift and marketing tool.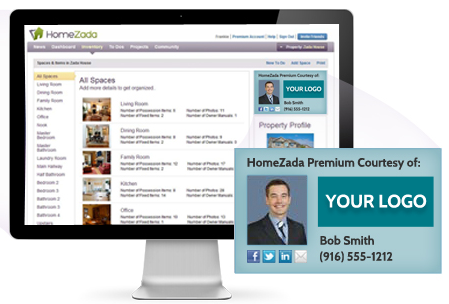 Screen shot of agent-branded HomeZada service.
HomeZada Professional allows agents to create their own personalized branding ad, which is displayed for one year whenever their clients log in to HomeZada to manage their homes. The online ad is aimed at building an ongoing presence with the homeowner.
With an initial minimum purchase of three gifts, agents can provide clients with one year of access to the custom-branded premium version of the tool for $40 per client. Also included are access to iOS and Android mobile apps, a cloud-based shared calendar and the ability to monitor multiple homes.
Consumers signing themselves up for nonbranded versions of the premium tool pay $9.99 per month or $99 per year.
The best leads for new business come from referrals, "Yet so many professionals in the real estate and homeowner industries spend more marketing dollars on cold leads rather than cultivating their own existing clients," HomeZada said in announcing the new branded marketing solution. "HomeZada Professional is a great marketing solution that improves your reputation, develops a loyal customer base, and increases referrals for new business opportunities."
HomeZada, which launched mobile apps for its service last April, is one of 25 companies featured in Start-Up Alley at Real Estate Connect New York City, which runs Jan. 16-18 at the Grand Hyatt New York.