Home search has been straight-up, map-based and lifestyle-focused. Now, with a Trulia search tool launched in beta today, it's personalized.
"Like" and "hide" buttons will appear on top of the photo carousel for each home that shows up on the San Francisco-based online real estate marketplace's Web platform, which will help Trulia track what users like and suggest similar homes.
In the past, Trulia has monitored the behavior of its consumers who search on the site. But now, with Trulia Suggests, it's making the consumer an active part of the process, said Lee Clancy, vice president of consumer products at Trulia.
"Instead of focusing just on criteria like numbers of bedrooms, bathrooms and square footage, Trulia Suggests considers users' explicit opinions about listings, as well as behaviorally inferred opinions when recommending new homes," is how Trulia describes the new tool.
When unregistered users click the "like" button next to a listing, they will be prompted to log in to Trulia, via Facebook or directly with an email address and password. They are then taken to the Trulia Suggests page and presented with a set of properties arranged in image-forward tiles in a Pinterest-like layout.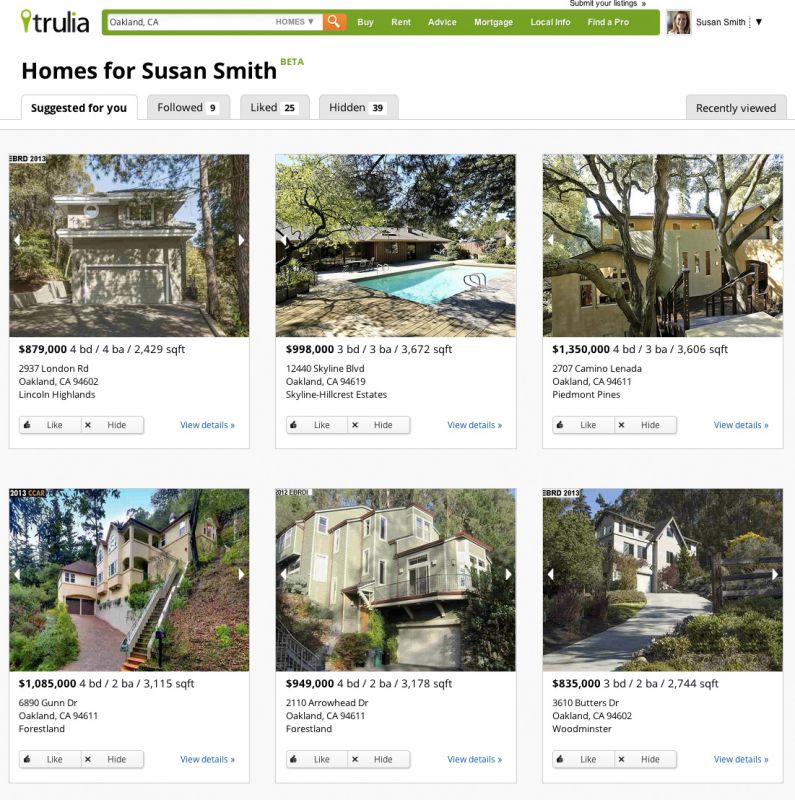 Screen shot of Trulia's new Trulia Suggests home search platform.
They are prompted to select at least five properties from the set. From that initial batch of selections, Trulia Suggests begins generating homes that its "proprietary algorithm" thinks the buyer might like.
The suggestions become more refined as the tool adapts to the multitude of data associated with homes the user likes and hides while signed in on the site, Clancy said.
Personalized home search, which is now in beta and not available on mobile platforms yet, is part of a broader move by Trulia to differentiate itself in the crowded portal space, Clancy said.
Trulia plans to roll out other personalized search tools, including rentals suggestions and real estate pro suggestions, which it expects will have the additional benefit of boosting site registrations.
"It's a much more compelling reason to register," Clancy said.
Trulia, Zillow and Realtor.com provide similar consumer and real estate pro offerings.
Coldwell Banker Real Estate launched a personalized search tool, BlueScape Search, in 2009. Instead of asking users to rate listings, BlueScape Search asks users to rate photos that are intended to shed light on their ideal home, neighborhood and community.