Clareity Security, which provides user authentication and "single sign-on" services for multiple listings services, has inked a deal to offer its yet-to-be-launched online store to real estate data and technology firm CoreLogic's MLS customers.
Currently, some 145 MLSs representing more than 600,000 subscribers run on CoreLogic MLS platforms. Clareity customers of its Scout for SAFEMLS user authentication tool — more than 90 MLSs representing 550,000 subscribers — will also have the option to integrate the Clareity Store.
Together, the two companies do business with 70 percent of North American MLSs, Clareity said in an announcement today. More than 60 percent of MLS operators in the U.S. and Canada deliver their services on a CoreLogic Marketlinx platform, the companies said.
The MLS for the Greater Tulsa Association of Realtors — Northeast Oklahoma Real Estate Services (NORES) — is set to launch the first Clareity Store in April. NORES uses a CoreLogic MLS platform and is also a Clareity Security customer,
The store's single sign-on portal will allow MLS members to access core MLS services and third-party products they have purchased and also provides a platform for members to purchase additional services — all with a single login.
"Offering competitive and meaningful core services plus introducing a store offers MLS organizations a bridge to the future of the MLS delivery of service," said Gregg Larson, Clareity's president and CEO, in a blog post. 
"This goes way beyond offering a standalone app store. This is about creating a super personalized and convenient way for products to be 'one-click' ordered and provisioned to MLS subscribers while creating a seamless experience for members to access all of their products and services."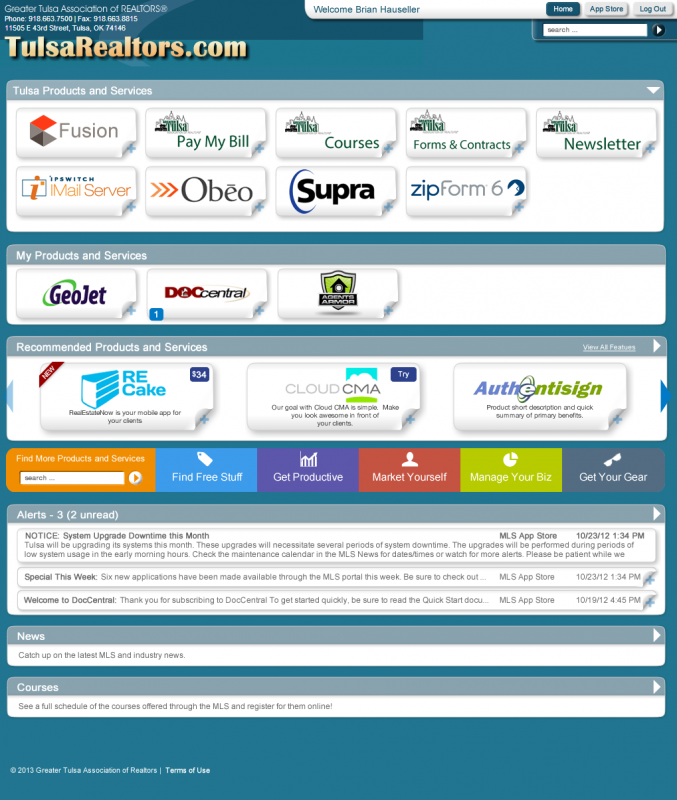 Screen shot of Greater Tulsa Association of Realtors' single sign-on portal with Clareity Store enabled 
Clareity first developed single sign-on for MLSs in 2005 and rolled out its single-sign on portal incorporating third-party applications in 2010. The portal showed members the "full range and value" of the services MLSs offered and increased adoption of third-party site-licensed applications by as much as 12 percent within weeks of implementation, Larson said.
The Clareity Store was born from customer feedback asking Clareity to evolve the portal into a trusted place for e-commerce transactions that would allow MLSs to offer their subscribers a broader choice of products and services without expensive and cumbersome site licensing models, he added.
"The 'country club' model with one price for an all-inclusive experience was failing to offer the flexibility needed to keep up with all the innovation in real estate technology. It also failed to create a personalized experience for subscribers based upon their unique needs," Larson said.
"Our customers also expressed frustration from licensing a product for every member, when many times only 5 percent used it. And of course, there were also brokers that yelled 'Stop using my money to level the playing field — let agents pay for the optional things they want!'"
The partnership with CoreLogic is a three-year agreement with automatic renewing terms, according to Amy Geddes, Clareity Security's executive vice president and chief operating officer.
In general — not just with this agreement — the Clareity Store will take a 30 percent cut of the revenue generated by vendors and share half of that revenue with the participating MLS. There is a one-time $250 set-up fee per vendor. Per the agreement, CoreLogic's cut of that 30 percent will vary by product and whether or not the product is integrated inside the Corelogic MLS system work flow, Geddes said.
The Clareity Store also offers a "Turbo Seller Plan" that requires a 100 percent revenue share for the first three months of a subscription with a 10 percent revenue share for every month thereafter. During those first three months, vendors must participate in the store's preferred vendor advertising program in which vendors pay for placement in a "featured applications" section of the single sign-on portal or within the app store.
Some MLSs may choose to offer their members discounts on services rather than taking a revenue share, Geddes said. The Clareity Store will have the ability to incorporate promo codes from either vendors to agents or from vendors to MLSs to give to agents, she said.
With the permission of their local MLS, associations and individual brokerages may choose to offer their own branded version of the Clareity Store, perhaps in their company's Intranet, powered by their MLS and Clareity, Geddes said. In those cases, Clareity would continue to deal directly with the MLS and the MLS would decide how much revenue to share with the association or broker, she said.
Clareity is currently developing separate stores for about a dozen associations that are part of the California Regional MLS, she said. CRMLS is one of 11 MLSs that have signed on for a Clareity Store.
In addition to CRMLS and NORES, the others are the Birmingham Area MLS (BAMLS0, Connecticut MLS (CTMLS), the Greater Las Vegas Association of Realtors (GLVAR) MLS, East Bay Regional Data (EBRD), Metropolitan Indianapolis Board of Realtors (MIBOR) MLS, North Texas Real Estate Information Systems Inc. (NTREIS), Realcomp II Ltd., and San Diego-based Sandicor Inc.
Clareity is also in discussions with another 22 MLSs that already have Clareity's single sign-on portal and therefore could have a "leg up" in implementing the store component, Geddes said. It will not cost the MLSs anything to turn on the store, but they will have to choose the vendors that end up in their store, she added.
The company anticipates the Clareity Store will have around 50 products available when they flip the switch on the first one in April, including Internet Data Exchange (IDX) websites, comparative market analysis products, mobile tools, customer relationship management products, and physical products such as business cards and sign riders.
Clareity's No. 1 criteria for vetting vendors is that agents and brokers will use the product every day in their business, Geddes said. The second criteria is that they be able to integrate single sign-on. And then MLSs can choose whether a vendor gets to participate in their market and if a data license is required for MLS data integration, she added.
Michael Wurzer, president and CEO of Clareity competitor FBS, which developed the Spark Platform, criticized the Clareity Store in a blog post Wednesday, calling it a "middleman."
"To be frank, an MLS store, by itself, simply adds additional cost (i.e., a middleman) to an already too complex and costly sales process. If you're an MLS or developer, why inject that extra cost of a middleman into the sales process when it really isn't going to significantly improve the process?" he said.
In response, Geddes said, "I think anyone facilitating a transaction needs to add value and Clareity feels strongly that we are doing just that with the SSO portal that facilitates easy access to products and services the agents purchases with the assurance that those products work with the MLS. We think of the Clareity Store as so much more than just an app store — it's a new way for the MLS to provision their services by taking the core services they offer and combining them with optional services via the store."
In a blog post comparing the Clareity Store and the Spark Platform, Greg Robertson of Vendor Alley noted the big difference between the two is that the Clareity Store does not offer an application programming interface (API) to integrate standardized MLS data into software applications.
"Like many others, Clareity hopes RESO (the Real Estate Standards Organization) will come to the rescue, at some point, with a data standard for all of real estate," he said.
"Other vendors don't care because they already have a method for integrating MLS data in to their app. As said previously, new vendors will appreciate not spending anytime worrying about data integration and instead focusing on creating great software applications." 
Wurzer said the Clareity Store was trying to preserve the status quo.
"In contrast, the Spark Platform is trying to create an ecosystem for long-term innovation by helping MLSs implement the RESO (Real Estate Standards organization) Data Dictionary, which will expand the products and services to all MLSs, not just the super-large ones that already have the attention of developers."
The Data Dictionary 1.0 contains 503 terms using common definitions for property data based on the Real Estate Transaction Standard (RETS), a real estate data standard implemented by RESO and developed for the purpose of facilitating data sharing within the industry. A 1.1 version of the dictionary is currently available for public comment. The dictionary is designed to make it easier for technology vendors to develop streamlined "plug and play" tools for MLSs.
Geddes said, per the partnership, CoreLogic would be in charge of implementing the RESO data standards, including an API, once RESO has approved them.
"Clareity is committed to supporting data standards that benefit the industry as a whole and sees great leadership and guidance coming from the RESO organization right now that should result in a data dictionary and standard for data transport that can be implemented by every MLS and every MLS vendor," she said.
"We would expect by this time next year we will begin to see meaningful solutions for improved MLS data access in a more standardized way. Our partnership with Corelogic will include a RESO standard data set and API when the standard is approved and implemented."