The number of homes entering the foreclosure pipeline picked up after last year's national mortgage settlement, a new report by foreclosure data aggregator RealtyTrac suggests.
RealtyTrac's first-ever U.S. Foreclosure Inventory Analysis showed nearly 1.5 million U.S. properties were either in some stage of the foreclosure process or had been repossessed by lenders in the first quarter. That's a 9 percent jump from the same time a year ago, but still well below a December 2010 peak of 2.2 million homes, RealtyTrac said.
CoreLogic today released an estimate that there were 1.2 million homes in some stage of foreclosure in February, down 21 percent from a year ago. CoreLogic does not include properties that have been repossessed by lenders in its tally of foreclosure inventory. RealtyTrac counts "real-estate owned" (REO) properties as foreclosure inventory until they're sold by lenders.  
RealtyTrac said the increase in its foreclosure inventory tally was driven entirely by a 59 percent jump in the number of properties that had been hit with notices of default — the first stage of the foreclosure process — but not yet scheduled for auction. The number of homes scheduled for auction was down 25 percent, and bank repossessions were down 3 percent from a year ago.
Delinquent loans that "fell into a deep sleep" after the 2010 robo-signing controversy "are gradually coming out of hibernation following the finalization of the national mortgage settlement in April 2012," said Daren Blomquist, vice president at RealtyTrac, in a statement.
Blomquist said the settlement provided "some closure regarding accepted foreclosure processing practices," prompting lenders to start pushing more delinquent loans into foreclosure over the past 12 months, particularly in judicial foreclosure states where there's a bigger backlog of non-performing loans "still in snooze mode."
Of the 26 states that posted annual increases in foreclosure inventory this quarter, 19 were states where the courts handle the foreclosure process. Of the 10 states with the highest number of homes in foreclosure inventory, half were in judicial foreclosure states and the other half were in non-judicial states.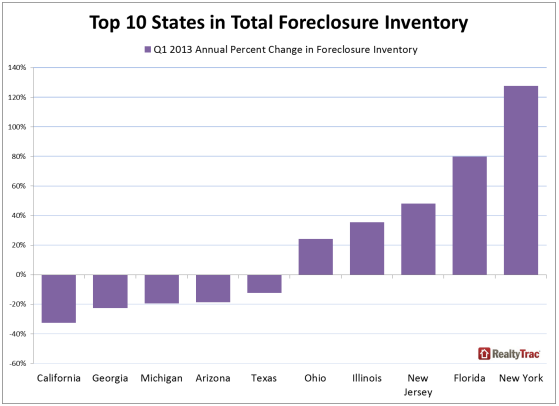 For this report, RealtyTrac used postal service data to figure out which properties were vacant or the homeowner had moved. The company found 35 percent of homes in the foreclosure process in the first quarter were unoccupied homes — so-called "zombie" foreclosures. The share of zombie foreclosures was 50 percent or more in six states: Kentucky, Indiana, Maine, Oregon, Washington, and Nevada.
Florida had by far the highest number of zombie foreclosures, followed by Illinois, California, and Ohio.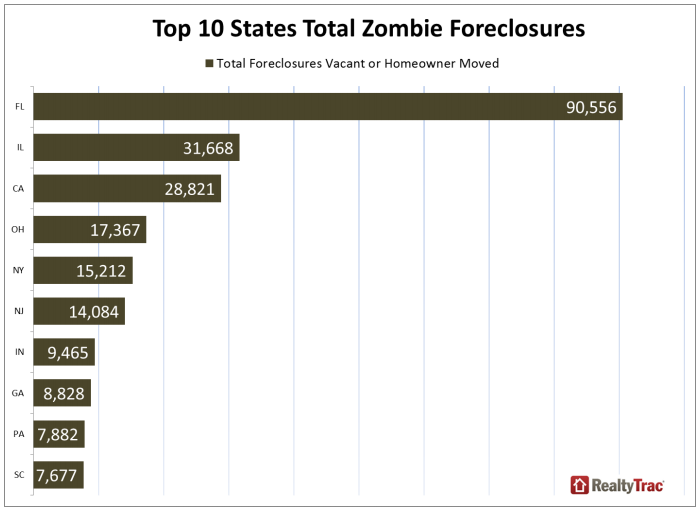 When broken down by listed and unlisted status, the number of homes in foreclosure or bank-owned that were listed for sale has fallen 43 percent this quarter compared to a year ago.
At the same time, the number of unlisted homes in foreclosure inventory rose 12 percent, driven by a 23 percent increase in unlisted homes that had received a notice of default. The number of unlisted bank-owned homes was down 2 percent from a year ago, RealtyTrac said.
"This so-called 'shadow' inventory of homes that have started the foreclosure process — but have not yet been listed for sale — may provide hope in some markets hungry for more inventory," the company said.
"Many of these properties will be listed for sale as short sales in the next six to 12 months, or go through the foreclosure process and eventually be listed for sale as bank owned in the next 12 to 18 months."
CoreLogic, which also includes some homes with seriously delinquent loans that have not been foreclosed on in its estimate of shadow inventory, estimates that some 2.2 million distressed and REO properties are likely to hit the market in coming months. 
Government-backed entities Fannie Mae, Freddie Mac and the Federal Housing Administration (FHA), which is a part of the U.S. Department of Housing (HUD), were listed as the foreclosing entity for the biggest percentage of foreclosure inventory, 12 percent combined. Bank of America followed at 11 percent, then Chase at 7 percent.