Consumers can now use realtor.com's mobile Apple and Android apps to search for new homes based on a specific school or school district's attendance boundary, as determined by Maponics.
With the app update, users can also see school ratings from the school-rating nonprofit GreatSchools, discover other schools near where they are searching, and filter listings by private schools.
"We understand that when searching for the perfect home for your family or soon-to-be family, schools are an incredibly important consideration in the home-hunting process," said Errol Samuelson, president of realtor.com.
School boundary search has become a popular feature for portals and by late last year Trulia, Redfin, Estately and Century 21, all licensing data from Vermont-based geographic information systems data provider Maponics, had added the functionality into the desktop versions of their sites.
Although realtor.com, the offical home search portal of the National Association of Realtors, had licensed the same school boundary info from Maponics since 2010, last year it hadn't incorporated school boundary search into its search platform.
Now users in most areas can see not only the school district that a home is in, but the specific schools that children living in the home would attend.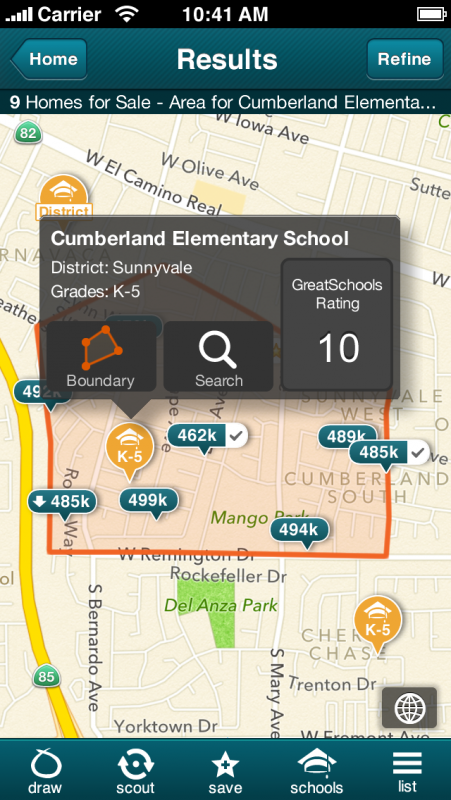 Screen shot of school attendance-based home search view in realtor.com's updated app.
School district boundary information is available in all areas, and boundary information for individual schools is available in areas representing about 75 percent of the student population, realtor.com said.
This app upgrade catches realtor.com up on the school boundary search curve, and, the portal claims, makes it the first to offer the functionality in an app.
Realtor.com has made some bold moves so far in 2013. In March, it rolled out a newly designed website and branding along with an aggressive new marketing campaign aimed at highlighting the difference between the accuracy, comprehensiveness and timeliness of its listings and that of its competitors like Zillow and Trulia.
Realtor.com has been losing Web market share to the two growing portals over the last year.