As any agent will tell you, pulling off a short sale is no easy task. With all the moving parts involved in such deals, the approval process can drag on for what may feel like an eternity, sometimes still ending in rejection.
But the CEO of a company that helps investors resolve delinquent loans says he's built an app that streamlines the short-sale application and review process, allowing homeowners and agents to obtain short-sale decisions in a fraction of the time it takes today.
Normally, agents and borrowers spend about 30 days collecting and filling out short-sale paperwork before submitting it for approval, according to Karl Falk, CEO of Summit Mitigation Services and founder of ShortSave.
But Falk — who said he's spent $500,000 of his own money building ShortSave, and was finalizing a $700,000 raise near the end of last year — said ShortSave's app will chop that time down to about five days. The ShortSave app achieves that by obtaining much of the information required for multiple forms in one fell swoop, through an online questionnaire that's filled out by agents and borrowers.
"You're not filling out paperwork," Falk said, comparing the app's interview component to TurboTax. "You're being driven through a bunch of questions."
Eventually, users will be able to add pay stubs or bank statements to their pool of online documents stored in the cloud on ShortSave simply by snapping photos of them — assuming a bank requires those documents, he said.
ShortSave, which was one of eight "New Kids on the Block" at Real Estate Connect NYC, also allows users to view title information on a property and generate a preliminary settlement statement through a partnership with Fidelity Resolution Partners.
All of those features are intended to speed up the application process. But ShortSave's biggest potential contribution to the industry will be automating the short-sale approval process, Falk said.
Currently, banks typically take well over two months to make a decision on a short sale, according to Falk.
ShortSave can automate the process though, he said, by running the information it's collected from an applicant through an algorithm that determines if the offer meets an investor's short-sale requirements.
"If we have the banks' criteria, then it becomes very, very easy," Falk said. "If you have data in an algorithm, there's no reason why you couldn't generate an approval within days, hours, seconds."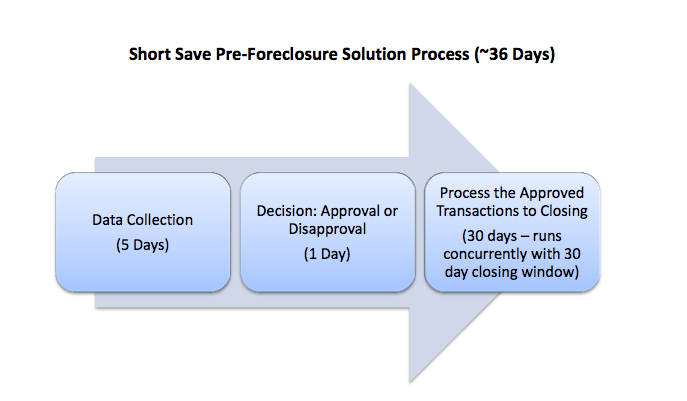 ShortSave says it can shorten the approval process for short sales from an average of three months to about six days.
Falk readily acknowledges that, at least in the immediate future, no major bank is likely to produce an algorithm for ShortSave that would generate automatic short-sale decisions.
But Falk isn't targeting banks, not yet at least.
He's courting institutional investors who've bought distressed loans over the last few years for the sole purpose of resolving them to make a buck.
To do that, the investors are trying to push through short sales, deeds-in-lieu and mortgage modifications for their assets as quickly as possible, Falk said. So many of them, Falk is betting, will be willing to rely on algorithms to automate decisions.
"The cool thing about funds [hedge funds] having notes is they're business guys," he said. "If there is something in place to expedite a short sale … they're all for it."
ShortSave is currently piloting its product with a billion-dollar hedge fund in California, Falk said. The fund has assigned ShortSave 75 nonperforming loans to resolve, he said. Falk plans to launch a prototype of the app sometime in the second quarter of this year that would make it publicly available.
Falk believes that ShortSave can persuade 10 percent of institutional investors in nonperforming loans to start using its software in the next five years.
He also said that distressed borrowers whose loans are owned by conventional banks may still benefit from ShortSave, even though it can't issue automatic decisions in such cases.
"[T]here's still value in the product because an agent working with a Chase file or Bank of America file still has the ability to go in and digitally collaborate with a borrower to create the short-sale package," he said.
Agents who work with investors that accept short-sale applications through ShortSave will be able to download the software for $2. ShortSave, meanwhile, intends to charge investors about $500 for every transaction that it facilitates.