Media giant News Corp., which just closed its acquisition of realtor.com operator Move Inc. last week, is already tying the home search portal to several of its publications.
The Wall Street Journal now features a widget in the right column of its online real estate section showcasing content from realtor.com's "Advice" section.
In addition, realtor.com now has content from The Wall Street Journal and two other News Corp. publications, MarketWatch and the New York Post, interspersed in its "News" and "Advice" sections.
It will take HOW many years to save for a down payment?! http://t.co/dvvcQo6Z5n via @MarketWatch #realestate #mortgage

— realtor.com (@realtordotcom) November 19, 2014
The content integration, which was in place Monday, could mark the dawn of realtor.com's challenge to Zillow's Web share dominance as it begins to access the resources of News Corp. and its U.S. audience of millions.
Zillow has slowly grown its Web market share over Trulia and realtor.com over the last two years thanks, in part, to two national consumer marketing campaigns and partnerships with sites that get a lot of traffic like Yahoo Homes. Its pending acquisition of Trulia, currently the second most popular real estate site in the U.S., was set to catapult its lead to new heights.
Share of visits to real estate websites from desktop computers
| | | |
| --- | --- | --- |
| Website | January 2013 share of visits | October share of visits |
| zillow.com | 9.17% | 21.24% |
| trulia.com | 7.0% | 8.36% |
| realtor.com | 6.09% | 7.42% |
Source: Experian Marketing Services
Web audience dominance is valuable for a real estate portal. Yesterday, a portfolio manager at Zillow's biggest investor, the hedge fund Caledonia Private Investments, projected Zillow could become a $50 billion company, more than 10 times its current worth.
When News Corp. and Move announced the acquisition in late September, Move's CEO Steve Berkowitz told Inman that as a part of News Corp.'s empire, realtor.com would have special access to the millions of high net worth readers of some of its new owner's publications like Barron's, The Wall Street Journal and MarketWatch.
In a regulatory filing, Move also touted that realtor.com listings would get greater exposure as a News Corp. property. For example, The Wall Street Journal's real estate section features real estate search, one place where realtor.com listings may begin showing up.
News Corp. also owns News America Marketing, which claims to reach 74 million U.S. households through direct mail, publication inserts and online marketing.
News Corp.'s reach
| | |
| --- | --- |
| News Corp. publication | Monthly reach |
| The Wall Street Journal | 500 million pageviews |
| Barron's | 6.9 million pageviews |
| MarketWatch | 105 million pageviews |
| SmartSource.com (part of News America Marketing) | 74 million homes* |
| New York Post | 14 million visitors |
Source: Move Inc. regulatory filing *Weekly reach
Move and News Corp. have not shared yet how else the two firms plan to integrate their audiences and content.
Realtor.com also introduced a new look to its desktop website this week. The simple, image-dominated layout now more closely resembles both Zillow's and Trulia's home pages.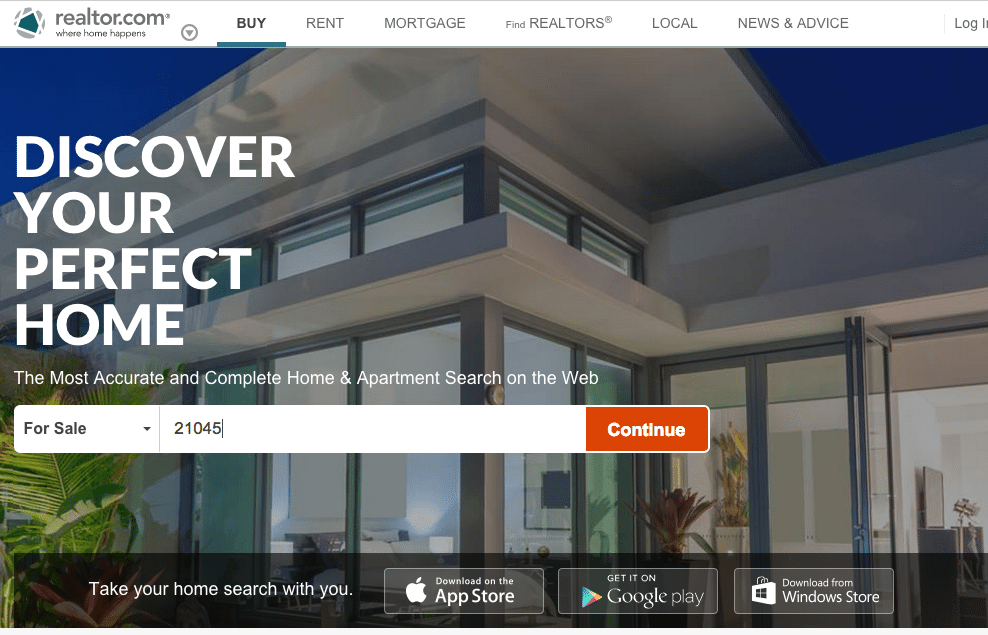 Screen shot of realtor.com's desktop home page.
Realtor.com also has changes coming to the layout of its mobile site and mobile app, Move revealed in a regulatory filing.
Editor's note: Move has not said whether traffic to realtor.com has grown since the News Corp. acquisition. A previous version of this story incorrectly stated that realtor.com had seen a bump in traffic.