Real estate brokerages and agents are beginning to find ways to tap property report providers for prospective clients.
The latest brokerage to take a crack at the lead generation strategy is the New York City brokerage of Engel & Volkers.
The company recently launched a joint marketing campaign with AddressReport to spur people to sign up for a version of AddressReport's service that's sponsored by Engel & Volkers.
AddressReport's property profiles feature financial, demographic and lifestyle information, including elevator wait times, rodent sightings, neighbors' political orientation, and crime maps.
Other services that provide property reports include Revaluate, Homefacts, RealtyTrac and Housefax. RentalRoost announced yesterday that it's also began generating lifestyle-oriented profiles on homes.
Users who click on ads for the Engel & Volkers-sponsored version of AddressReport's service to request a report receive a report through email that invites them to contact Engel & Volkers agents.
Users can also sign up for the sponsored version of the service to receive notifications of changes to a property, such as nearby sales; past, present and future construction activity; school zone changes; building renovation activity; and air quality.
Offering exposure to Engel & Volkers, the email updates also include invitations to contact an Engel & Volkers agent who can add context and qualitative insight to AddressReport's dossiers.
You'd imagine some brokerages might not be keen on delivering information to potential clients that could cast a property in a negative light, by, say, highlighting future construction that might engulf it.
But Engel's NYC CEO, Stuart Siegel, said in a statement that as a big believer in "the value of service, expertise and transparency," it wants to "provide any and all data about NYC properties to our clients."
Another way for brokerages to tap property report providers for leads is to integrate property report tools into their websites.
Windermere Real Estate has enlisted the home remodeling network Porch to power a tool that lets users view the remodeling and project history of more than 30,000 listings available on windermere.com and across Windermere agent websites.
Prospective buyers can view a "Porch Home Report" on porch.com by clicking on hyperlinks — "Renovation History" and "Neighborhood Stats" — displayed on listings that appear on windermere.com and Windermere agent websites operated by Moxi Works, a real estate software provider spun off from Windermere Real Estate.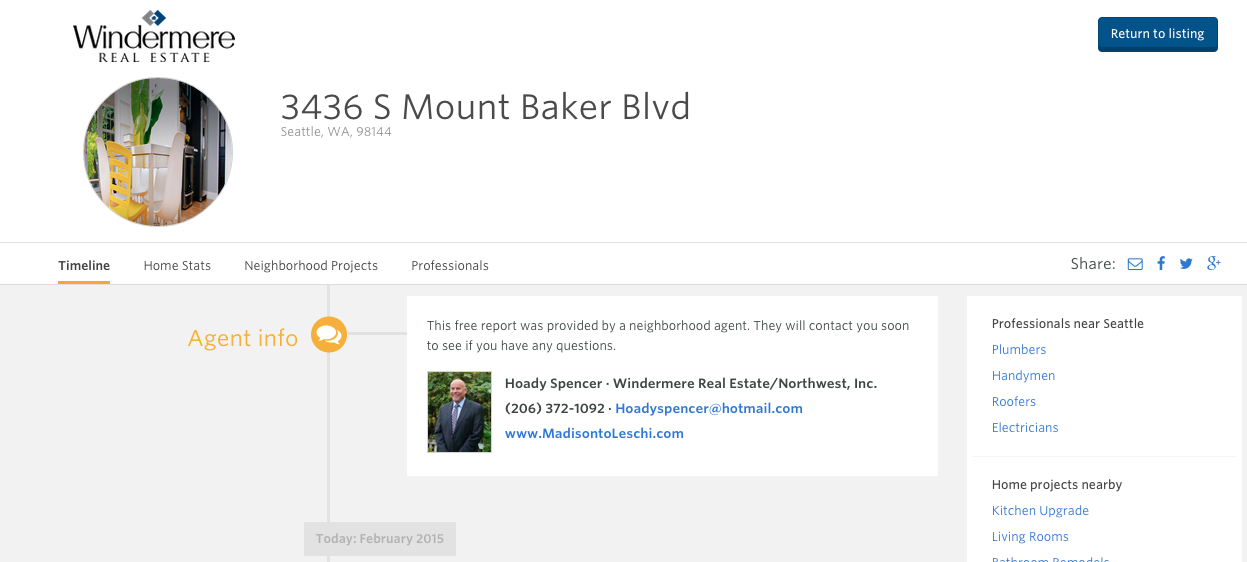 Porch-powered property report sponsored by Windermere Real Estate.
Reports on properties listed by a Windermere real estate agent are "provided" by that agent, with the agent's photo and contact information appearing prominently at the top of every report alongside Windermere branding.
When a property report is generated on a home that's listed by a competing broker, the report displays Windermere branding. The listing agent's photo and contact information is not provided.
As Windermere's partnership with Porch shows, property report providers are expanding what has been a relatively limited set of lead capture features available to real estate websites, offering brokerages a new way to drum up more leads online.
Besides contact forms, real estate broker and agent websites have traditionally had to rely largely on home valuation and listing search tools gated behind registration forms to grab leads online.
Another new lead capture feature for real estate brokerages that may gain traction is virtual open houses.
ReaLync, an app designed to support virtual open houses, is hard at work building an API (application programming interface) that could allow real estate websites to embed live walk-throughs of properties on their websites.
The functionality could drive visitors keen on seeing a particular home to a broker or agent's website, along with helping real estate professionals capture the contact information of consumers who happen to arrive on their website while a virtual open house is taking place.
Listing portals also can tap these new resources to enhance their user experience and lead generation capability.
Realtor.com has added a Porch-powered widget to its listing pages, and ReaLync CEO Matt Weirich previously said the startup is in conversations with listing portals about potentially hosting virtual open houses.
"There has been tremendous momentum and excitement for the Porch Home Report and we look forward to announcing additional partners in the very near future," said Craig Cincotta, vice president of communications at Porch.
Inman's New York City correspondent, Teke Wiggin, covers the latest tech startups, trends and applications of data in the real estate space.