Four of the nation's top real estate brands — Berkshire Hathaway HomeServices, Century 21 Real Estate, Coldwell Banker Real Estate and Re/Max — are all running national TV ads this year, and 15,080 Inman readers weighed in this week with their take on which does the best job of connecting with consumers.
BHHS' seller-focused ad, which currently airs on HGTV, edged out Century 21 Real Estate's funny spot showcasing the lengths its agents go to serve their clients by a nose, 36.6 percent of the total votes to 34.6 percent.
It surpassed Coldwell Banker Real Estate's puppy-infused ad (18.8 percent) and Re/Max's ad (10 percent), which features scenes of computer-generated imagery, by healthier margins.

BHHS' "Good to Know" 2015 TV spot, winner of Inman's reader poll.
BHHS Vice President of Marketing Kerry Donovan said that the firm wanted to differentiate its marketing from the "sea of sameness" in the space by targeting sellers in its ads when the campaign launched in March.
It stood out for Inman readers, though its win might attest to the attention the franchisor's brand managers gave to the poll and how successfully they mobilized their troops. Same goes for its competition.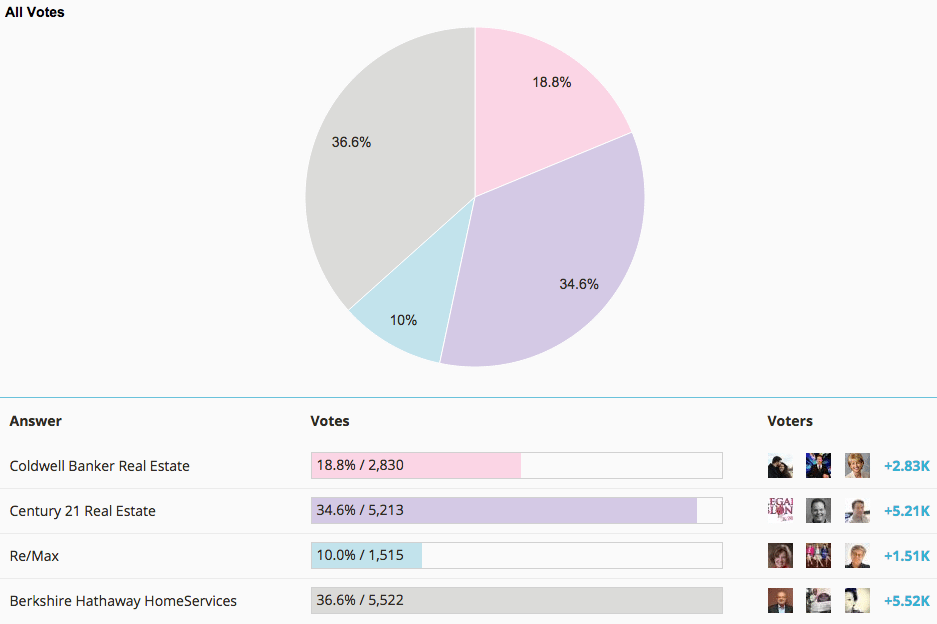 The results of the real estate franchisor national TV ad poll held by Inman from April 28-30.
Century 21's spot airs throughout the spring and summer on a variety of network and cable channels, including ABC, FOX and ESPN.

Century 21's "The Chase" TV spot, which finished as a close runner-up in Inman's reader poll.
See Coldwell Banker's ad here and Re/Max's here.