Have suggestions for products that you'd like to see reviewed by our real estate technology expert? Email Craig Rowe.
The pitch
No one should have to be convinced that email marketing is an effective way for real estate agents to communicate their brand to the market.
If it hasn't been productive for you, please understand: It's you.
However, it certainly helps to be using the right software.
Typically, the right email marketing software is a stand-alone product, not one embedded in a larger enterprise system or CRM (customer relationship manager).
I often mention that I prefer software that has a single purpose. Larger systems can do a number of things well, like REthink, for example. But you wouldn't buy seats on REthink just to access its email marketing tools.
You could use Vertical Response for that.
The sale
Vertical Response has been around 15 years or so — quite a long time within the email marketing world.
During its inception, the business world trembled with anxiety about sharing email addresses, and the Can Spam Act was still two years out. So you can see how the company endured. This is important context to include in your decision matrix when deciding on a marketing software partner.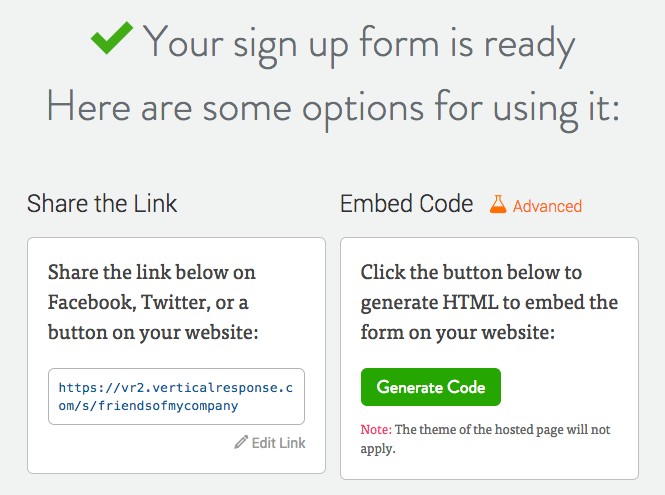 The industry tenure of Vertical Response is clearly demonstrated as soon as you start building a message from one of its flexible, categorized templates.
You can choose to build a campaign for an invitation, maybe to an open house, or a "How to Buy a Home in 2015" class. The visuals are clean and contemporary, and all you have to do is type in your copy, upload a couple of photos and choose a contact list.
Vertical Response arranges its templates by theme or purpose. Themes are color- and layout-based, with a number of options within each selection. Purpose-based templates are for events, a "thank you" or general newsletters.

There's a category of templates called "Sale/Coupons" that is ideal for use in sending out a new listing. Large image fields, short text fields and a catchy color scheme. You can change the colors if you wish.
I also like that your design options aren't so many that it delays the marketing effort, or allows you to create some heinous amalgamation of contrasting design trends.
Ever tried to choose a WordPress template for a website? It can take weeks.
I don't use Microsoft Word to write, but I do have to use it for other projects. I can't stand that it doesn't give me full, absolute power over my copy as I go. I have to stop to unbold something or remove some stylistic clutter it forces upon me. My inner Cormac McCarthy groans on the few occasions I need to use it to write fresh copy.
Vertical Response's drag-and-drop text tools allow you granular control over your copy blocks. Use one box for an entire paragraph, or a separate one for every pertinent bit of verbiage. Easy stuff.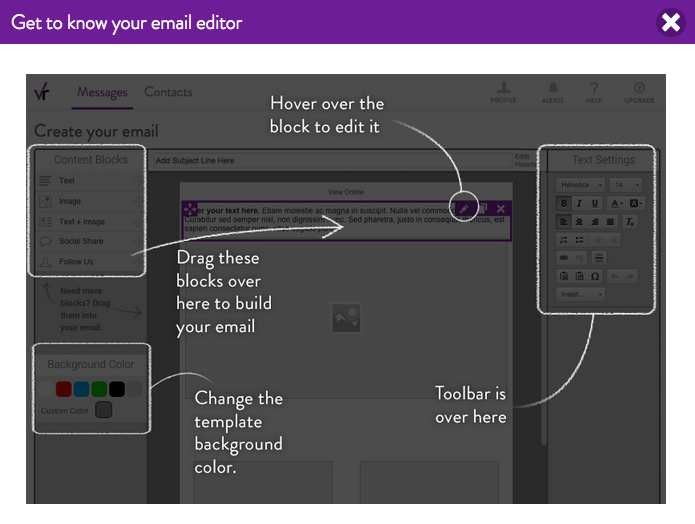 Email design is only one part of the equation. People to send it to is another matter altogether. Thankfully, Vertical Response makes this pretty easy, too.
If you have a list in a CRM, just output it to any number of file formats and upload it. Like most email clients, you can import .xls, .xlsx, .csv or .txt. You can also type them manually as you collect names at your open house.
Vertical Response includes a sign-up form design that provides you all kinds of visual options for lead capture. By simply checking a box, you can choose to include on your form only name and email address, or go bigger and ask for multiple phone numbers, company names, addresses and even marital status.
You want a contact database to be as consistent as possible. Make sure your sign-up form matches the field names in whatever list you output from your current database or CRM.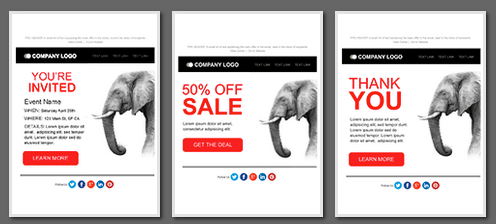 A specific bit of functionality that I feel Vertical Response does well is allowing you to make custom autoresponders for different contact lists. Buyers and sellers have different motivations, as do single-family home investors and condo buyers. Use this feature to segment how you respond to each respective audience member after they sign up. It's a subtle marketing touch, but nonetheless demonstrates professionalism and control of your message.
The close
If you commit to it, at least once a month, email marketing is an excellent way to stay in front of clients and contacts. Your options for software in this arena are many. MailChimp. Constant Contact. TinyLetter.
I don't think any of them will hamper your marketing plan. But I do think Vertical Response makes the design process just a bit easier than the others. TinyLetter is a somewhat different tool because it doesn't stress vibrant design or direct sales. It's for short, direct messaging.
If you're looking to try a new tool or just getting your email marketing effort ramped up, Vertical Response should definitely be on your short list.
Do you use Vertical Response? What do you think? Leave a comment and let us know!
Do you have a product for our tech expert to review? Email Craig Rowe.