Britain's got a "Tinder for Real Estate."
Called "Knocker," the app lets a prospective buyer hunt for homes much like singles can search for mates on the popular dating app Tinder: by swiping images on a smartphone.
The app, which is compatible with iPhones and iPads, follows in the footsteps of Tinder-inspired real estate search products rolled out by Doorsteps, a resource for first-time homebuyers, and high-tech broker Estately.
Prospective buyers using Knocker can browse properties by swiping through cards, each of which shows a photo and basic information on a listing.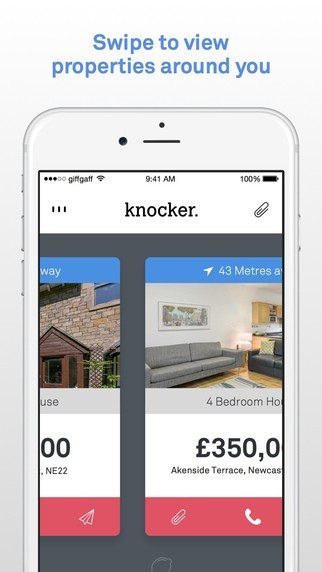 The app surfaces properties based on their proximity to a user, and can display full property details and maps to help users better understand listings.
Knocker is "for those times when you're on the go, in front of a property on the market, and want to know how much it costs," according to its website.
But the app's interface differs somewhat from that of its American counterparts. It doesn't let users reject unwanted properties and incorporates real estate agents into its swiping experience.
Users can't swipe to dislike listings.
While users can save listings, Engadget reports that swiping left pulls up a new property, while swiping right puts a user in touch with a featured property's listing agent to schedule a showing.
Knocker sources its listings from Zoopla, a leading British listing portal.