Age: 28 years old
Years in real estate: 9 years
Job title: Associate broker at Douglas Elliman Real Estate
Location: New York City
Hours per week spent on social media: 20-plus
Social media accounts: Four, including my Facebook, Twitter, LinkedIn and Instagram accounts
Target demographic: Everyone possible. I want to target all possible demographics with each post.
Average number of posts per day: Two to three.
Which social channels do you work more?
Facebook and Instagram mostly, although I really love how immediate Twitter is, and I'm starting to use it more often to integrate my fan base into my online presence.
How many friends, likes, etc., do you have?
Facebook (125,941-plus), Twitter (65,100-plus), LinkedIn (4,800-plus), Instagram (159,000).
Does that number matter to you?
Yes — social media lets me stay in touch with established clientele, or new potential clientele.
Do you ever give it a break?
Yes. If I feel that I am losing touch with my outreach, I will take a break to regroup, and come back with something new and exciting. There are some days that I get so inspired to share the pictures I am taking with everyone, but it's easy to overdo it.
Does social help your business, how?
Absolutely — I was able to sell two properties through two separate Instagram posts alone! A buyer commented that they liked my picture and was interested in seeing it. One thing led to another, and I would up selling the property!
What's your goal for your favorite social channel?
To make all posts valuable for my audience. I find that on some pages, posts don't mean anything or are too personal, and I want to make sure that I steer clear of that.
What's your strategy to achieve it?
Picking and choosing my posts, and hoping that what is meaningful to me becomes meaningful to my audience. Because social media really is a personal thing, it becomes a great way to relate to the page's account holder. I'm trying to stay connected to people who are kind enough to give me a "like" or "follow" in the best way possible, and making sure that I have a standard for what I choose to send out into the world makes my pages that much more credible for personal and professional things.
Is it worth it, why?
I think so. Reaching a large community in real time is more effective when you have something important to say, or something worthy of being heard.
What actions do you take that have gotten the most results?
Fortunately, I have been able to generate a huge following based on posts about my life, and that has had a direct effect on my business. If people already have an idea of who they are working with before they actually meet them, then seem more likely to want to pursue business ventures together.
Is this more about "social" or about business?
These networking platforms are the perfect combination of both, but since not everything is related to business, even if it's the desired goal, I would have to say it is more "social." Then again, being "social" is one of the best ways to get business done!
How do you monitor the channels? Do you use software or apps to manage your account, and if so, which ones?
I let the pages calculate my progress weekly, and I make sure to check it now and again so that I can be better informed. I also make sure to see the response and total reach of my posts to know how to do it better in the future. I've also found that if I track when I post (time and day of the week), I feel more informed about when I can post a big announcement or a great photo.
How many hours per day are you on social? Do you check it daily? Multiple times per day?
I don't spend that much time looking. If I'm on a platform, it's really to post. That being said, I am always up to see a great or funny picture about anything.
Do you ever think of retiring?
No.
Do you consider yourself an influencer?
I would like to be one, but only the audience can really answer that :).
Are you social in real life?
YES!
What did you do with your time before?
Before, I used to stay in touch consistently with all of my contacts through emails, calls and letters, believe it or not. I still love handwriting letters, but now it's definitely easier to stay in contact through the various platforms.
How do you leverage your prominence/influence on social?
I've connected my accounts so that when I post on one, it can feed into the others, and that has "cross-pollinated" my total number of followers. It also saves me from giving too much attention to one platform.
Do you have someone helping you?
Yes.
Whom do you follow and why?
I love seeing what my team is up to: @ronniekalra, @jaw-oflife, @sass224 and @devinhughleahy. It's key for our relationships, in and out of the office.
Where do you find the content that you put out?
The content on my pages is created from sourcing large publications, or is created by me personally. I only share things I create, even if the idea comes from another platform.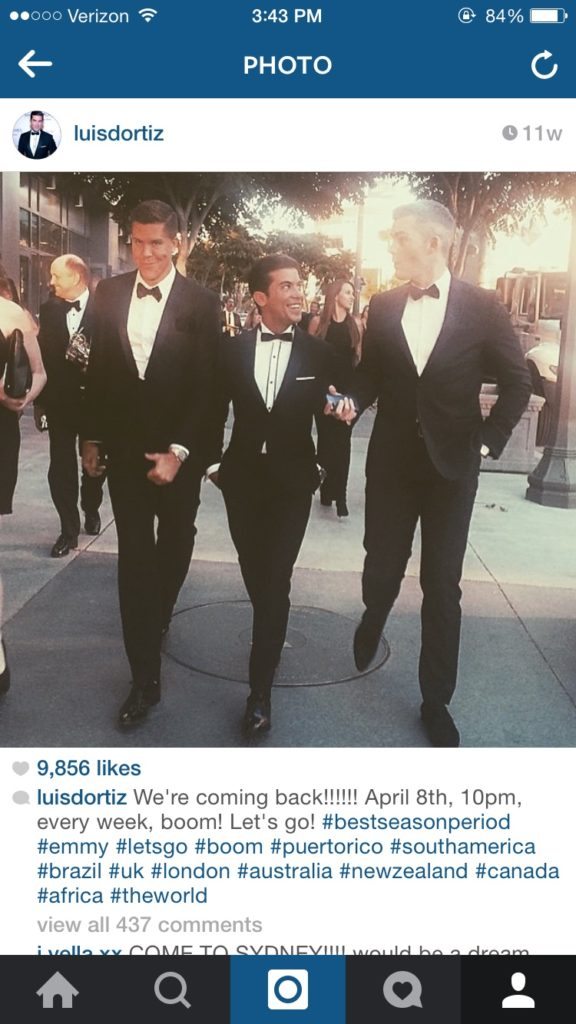 What has been your all-time hit share? Can you share a link to the post?
I'm especially proud of this one, but I'm not sure if it was an all-time high.
Who do you think is doing social media well in real estate?
I'm always interested to see what my co-stars are up to. Never a dull moment with Fredrik Eklund, Ryan Serhant or myself!
Are you a social media all-star who'd like to participate in our profile series? Email amber@inman.com.