Backing the findings of other recent reports, Standard & Poor's/Case-Shiller's U.S. National Home Price Index shows that home prices continue to escalate.
Spanning April 2014 to April 2015, 10 markets experienced year-over-year price growth that exceeded 5 percent. Overall, home prices escalated by 4.2 percent during the 12-month period.
Two markets — Denver and San Francisco — witnessed increases of 10.3 percent and 10 percent, respectively.
Five additional markets saw home prices growth by more than 7 percent:
Dallas (8.8 percent)
Miami (8.5 percent)
Tampa (7.6 percent)
Seattle (7.5 percent)
Portland, Oregon (7.1 percent)
Las Vegas (6.3 percent growth), Los Angeles (6.1 percent) and Charlotte (5.6 percent) represent additional markets where home prices grew by more than 5 percent.
"Home prices continue to rise across the country, but the pace is not accelerating," said David Blitzer, managing director and chairman of the Index Committee at Standard & Poor's.
A look at underperforming metros reveals that five markets achieved sub-3 percent appreciation spanning April 2014 to April 2015.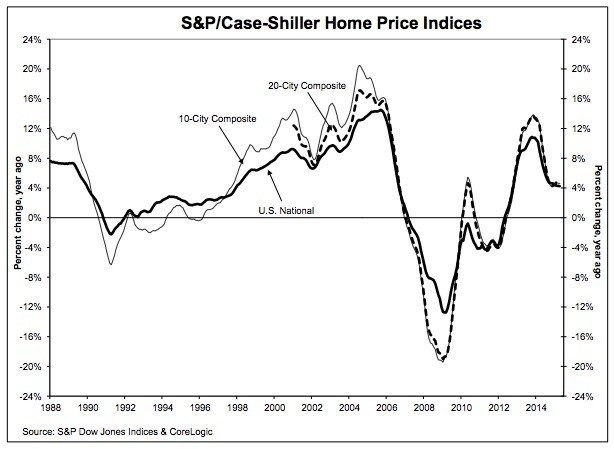 Washington, D.C. (1.1 percent growth) and Cleveland (1.3 percent) performed the worst, followed by Boston, at 1.8 percent. Chicago and New York were also down the list, seeing 2.5 percent and 2.8 percent increases.
Before seasonal adjustment, the home price index increased by 1.1 percent spanning March to April.
All 20 metros analyzed reported increases in April. However, after seasonal adjustment, 12 were up and eight were down.
Blitzer notes that while sales of new and existing homes are rising and single-family construction activity enjoyed strong gains in May, apartments still account for roughly 35 percent of all new residential starts.
---
Inman Connect San Francisco is right around the corner — register now and save $200!