Are you set up for success in 2016? Join 2,500 real estate industry leaders Aug. 4-7, 2015, at Inman Connect in San Francisco. Get Connected with the people and ideas that will inspire you and take your business to new heights. Register today and save $100 with code Readers.
---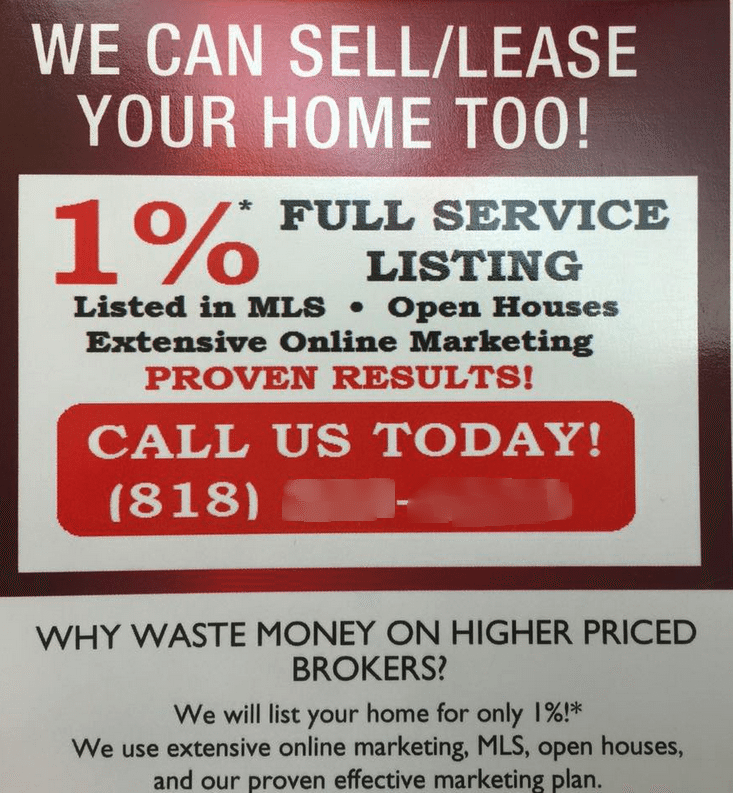 I was browsing social media, and something caught my eye. It wasn't an advertisement on my page, mind you, but another agent who was complaining that "discount brokers" are the reason that our industry is in shambles, mentioning something about "you get what you pay for" and "bait-and-switch" tactics.
It's amazing how that agent can tell so much about the broker, the broker's education and business model, by looking at a single advertisement.
This advertisement isn't mine, but I'll tell you how this deal likely works: The broker is offering to list the home for 1 percent (notice the asterisk next to the 1 percent sign?) in exchange for helping them buy a different (and presumably more expensive) home for a full commission — and the purchase needs to close before or in conjunction with the sale of their home.
How do I know? I used to run an offer identical to this, and it worked well during the times when I needed some extra business.
I can guarantee you that my clients were happy with the level of service that I provided. I never once provided subpar service, employed bait-and-switch tactics or worked to destroy the real estate industry.
Instead, I provided the same level of customer service that I give to all of my clients. I hired a professional photographer to take the listing photos, did a real video virtual tour, the works.
News flash: Offering discounts or rebates in exchange for purchasing something is standard. You probably receive hundreds of coupons in the mail or the newspaper every week on things like groceries, cars and everything in between.
Buy three tires, get one free. Get $50 off your dental cleaning for first-time visitors. Free car wash with an oil change. It is simply a way to get additional business that you wouldn't have necessarily received otherwise.
I can read your mind now. You are thinking: "But we aren't anything like those businesses! We are professionals!" So is the dentist who's offering the $50 off. So is the mechanic who's providing the free car wash.
We are all professionals. We all run businesses. We need to start thinking like businesspeople.
Are you willing to do a little extra work for a little extra money? Are you willing to give a discount this time in exchange for getting this person into your database, as well as potential future business and potential referrals? (And no, not all of their referrals will be asking for discounts. I told you I can read your mind!)
Offering a discount does not make you a horrible, unethical agent any more than charging a full commission makes you an honest, upstanding professional agent.
I've worked with "discount" agents who were incredible. I've also worked with several "full-fee" agents who would never return phone calls or emails, which put their clients' earnest money at risk.
If you don't like the discount model, then you certainly don't have to participate, but you also shouldn't speak poorly of those who do.
There is not a direct correlation between commission and quality of agent, and your assumption that there is might show more about you than it does about the discount agent.
Brian Rayl is a Dallas real estate agent with Keller Williams and the co-founder of Home Value Leads, where he teaches agents how to generate real estate seller leads quickly and cost-effectively.