Takeaways:
Detroit had the highest reported year-over-year price increase of 28 percent.
Four CBSAs in the top 10 for July were in California and Washington each.
Jacksonville, North Carolina; Jacksonville, Florida; and Rockford, Illinois, were reported in the bottom three CBSAs.
Pro Teck Valuation Services recently released its Home Value Forecast for August, measuring the top and bottom markets throughout the country. Some mainstays — like San Francisco — topped the list, but the city that saw the highest year-over-year home value increases was Detroit.
The Home Value Forecast reported that Detroit saw a 28 percent increase on an annual basis in August. Other cities topping the list of top five markets based on sold price included:
San Francisco
Merced, California
Port St. Lucie, Florida
Palm Bay, Florida
All these markets saw a negative trend for their home sales.
Taking a look deeper into the Detroit housing market, Pro Teck Valuation Services reported there were 3,777 sales, which was a 4.09 percent dip year over year. The metro area, which also includes Dearborn and Livonia, saw the highest volume of sales compared with the other cities in the top five. Merced, California, saw only 507 home sales.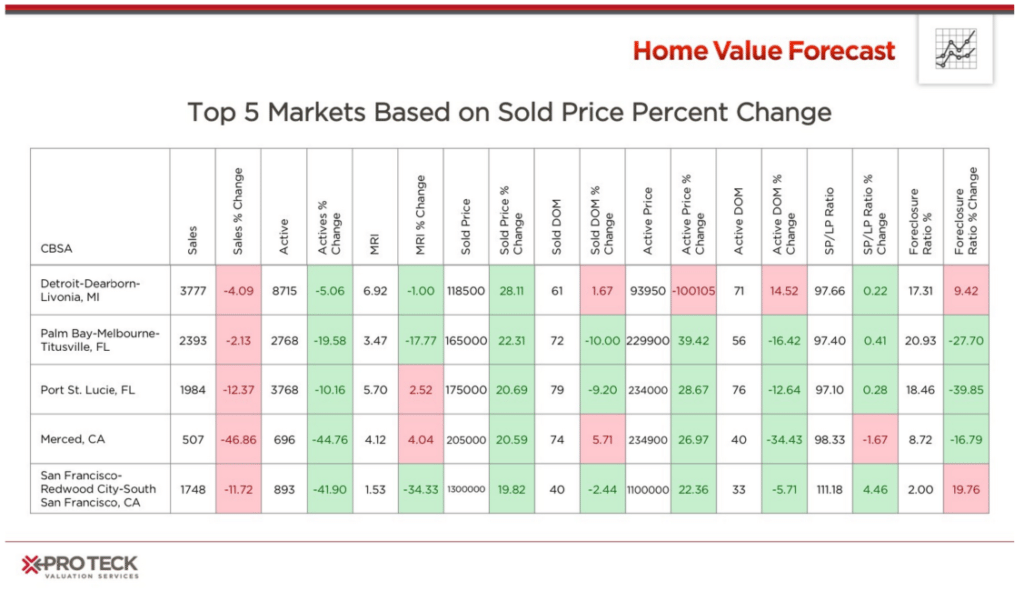 It's jumping the gun a little to say that Detroit topping this list means it is a strong market again. Detroit home prices are still pushing past their prerecession home values.
The foreclosure ratio is fairly high at 17.3 percent, which is an increase of 9.4 percent. This could mean that the market is moving and fewer homes are left abandoned.
As for the bottom-performing regions, there isn't expected to be any uptick significantly in the next five years. Rockford, Illinois; Jacksonville, North Carolina; and Jacksonville, Florida, all ranked as the lowest-performing cities.
Atlantic City-Hammonton, New Jersey, saw the highest frequency of foreclosures and was one of three regions that saw more than a 100 percent increase in the ratio of foreclosures.
California and Washington took hold with four of the top-performing regions each out of the top 10 in July. All 10 CBSAs posted only positive figures for all measurements. The top market was reported as Bellingham, Washington, followed by Cheyenne, Wyoming, and Mount Vernon-Anacortes, Washington.