Check Inman every day for the daily version of this market roundup.
Weekly mortgage rates:
Powered by MortgageCalculator.org
Powered by MortgageCalculator.org
Thursday, Sept. 17:
First American Financial Corp.'s Existing Home Sales Capacity (EHS-C) model:
The EHS-C rate increased by 0.4 percent in August 2015 compared with July and decreased by 1.1 percent year over year.
The EHS-C increased by 26,000 (seasonally adjusted, annualized rate) in August.
In 2015 (through July), existing-home sales have increased by almost 800,000 sales.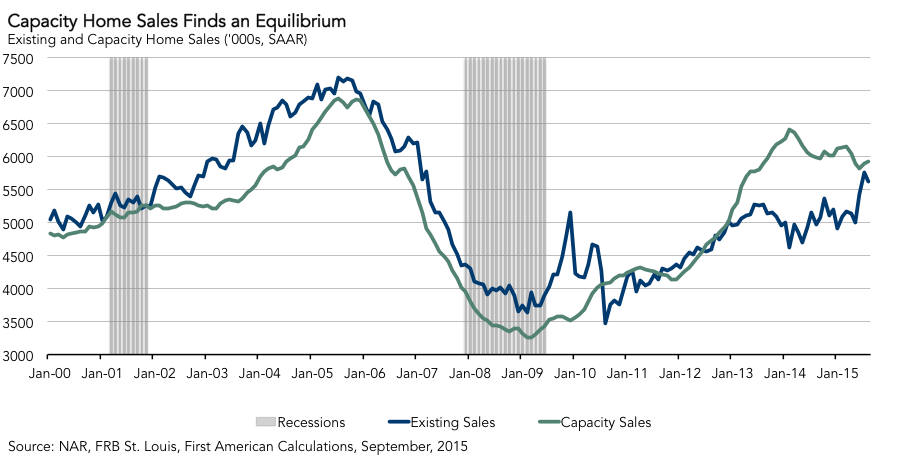 U.S. Census Bureau new residential construction starts for August 2015:
Building permits for privately owned housing units in August were at a seasonally adjusted annual rate of 1.17 million, 3.5 percent higher than the revised July 2015 rate and 12.5 percent above the August 2014 estimate.
Single-family authorizations were at a rate of 699,000 in August, 2.8 percent above the revised July figure of 680,000.
Single-family housing starts in August were at a rate of 739,000, 3 percent below the revised July figure of 762,000.
Zillow's student debt and housing analysis:
Student debt does not significantly reduce the chance of owning a house — as long as the student graduates.
The chances of a married couple

 

with no student debt owning a home are about 69.8 percent if at least one of them has a bachelor's degree. If the same couple has $30,000 in student debt, their homeownership chances drop 2.1 percent to 67.7 percent.
The people least likely to own homes are those with student debt and no degree.
Fannie Mae's Mortgage Sentiment Survey for 3Q 2015:
Lenders report easing credit standards during 3Q across all loan types.
Lenders who reported increased purchase demand fell slightly in 3Q 2015 from 2Q 2015 but remains high compared with 2014.
Lenders reporting an increased profit margin outlook over the next quarter fell quarter over quarter but was similar to 2015 levels.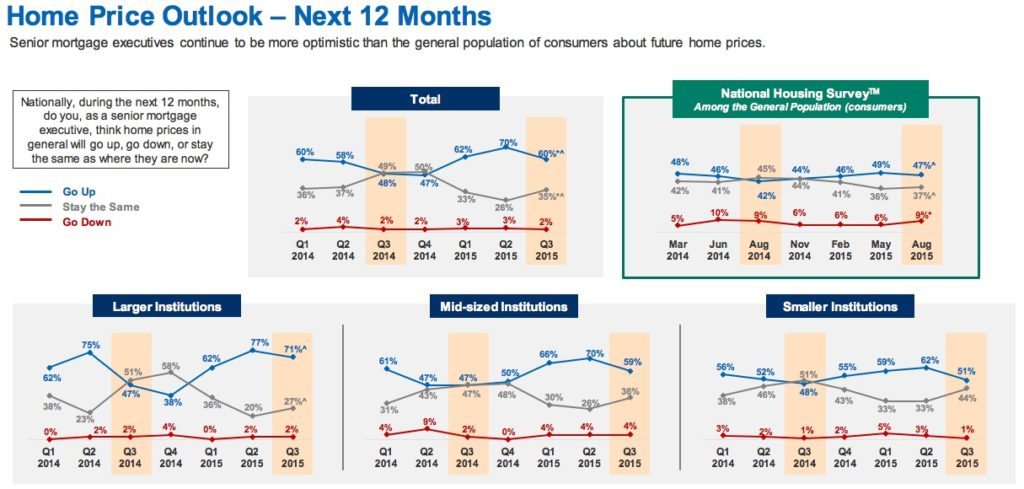 Freddie Mac's Primary Mortgage Market Survey:
For the week ending Sept. 17, 2015, 30-year fixed-rate mortgages averaged 3.91 percent with an average 0.6 point, up from 3.9 percent last week.
15-year fixed-rate mortgages averaged 3.11 percent with an average 0.6 point, up from 3.1 percent last week.
5-year Treasury-indexed hybrid adjustable-rate mortgages averaged 2.92 percent with an average 0.5 point, up from 2.91 percent last week.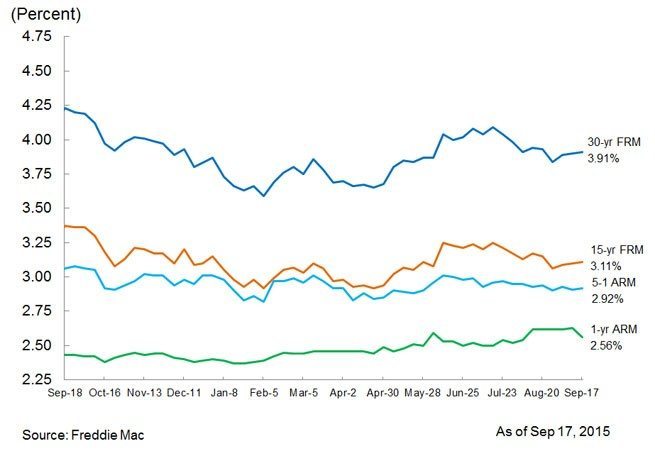 Re/Max's September 2015 National Housing Report:
August 2015 home sales were 5 percent higher than sales in August 2014.
August sales were also 27.6 percent greater than sales in August 2008.
Completed transaction in August were lower than July 2015 by 11.4 percent.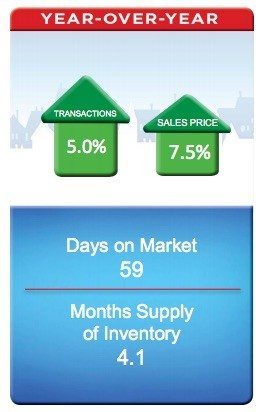 Wednesday, Sept. 16:
FNC's July 2015 residential price index:
Home prices rose at 0.2 percent month over month, a much slower pace than the January through May price increases.
This is the weakest June-to-July seasonal growth in the past 3 1/2 years.
Final sales for foreclosed and REO properties comprised 9 percent of all total existing-homes sales, down from 9.7 percent in June 2015 and 10.4 percent in July 2014.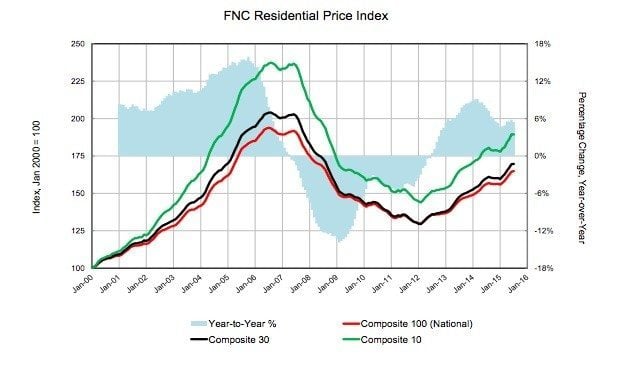 Trulia's housing affordability research:
Affordability has fallen in 89 of the 100 largest housing markets.
Ohio is the most affordable state; California is the least affordable.
Some affordable metros become less affordable when transportation and utility costs are factored in.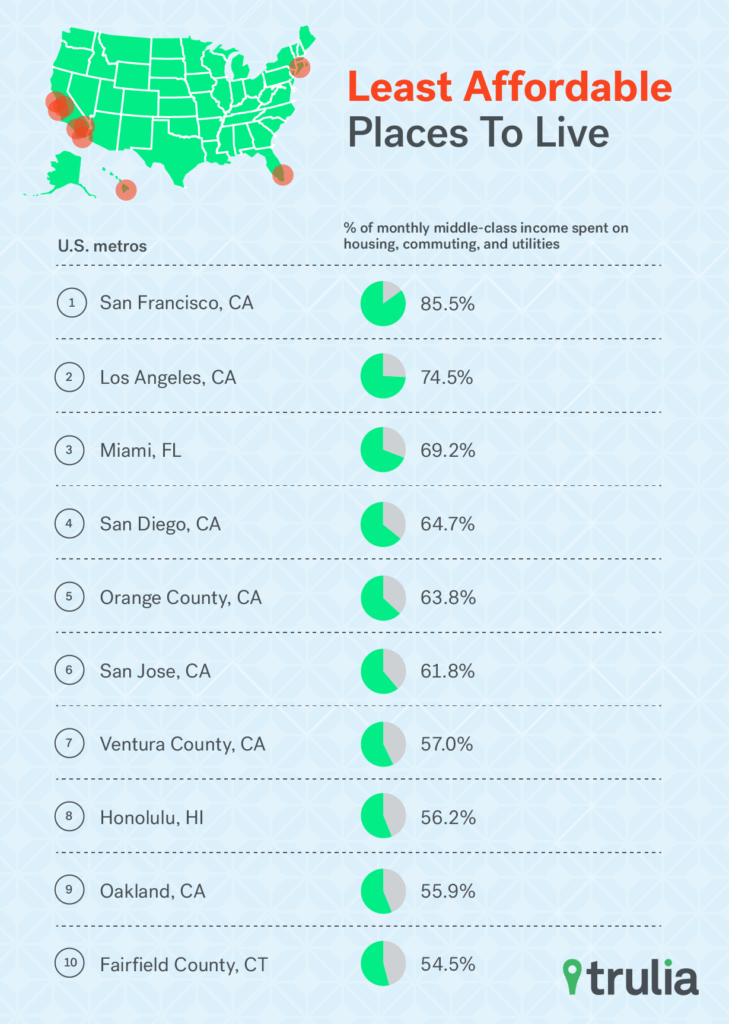 Tuesday, Sept. 15:
NAR's housing affordability numbers for July:
The median single-family home price is $235,500, up 5.8 percent from July 2014.
The West had the biggest increase in price at 8.4 percent; the Northeast saw price increases of 1.8 percent, making this region the slowest-growing in the U.S.
Nationally, affordability indices are down from 155.4 in July 2014 to 151.2 in July 2015.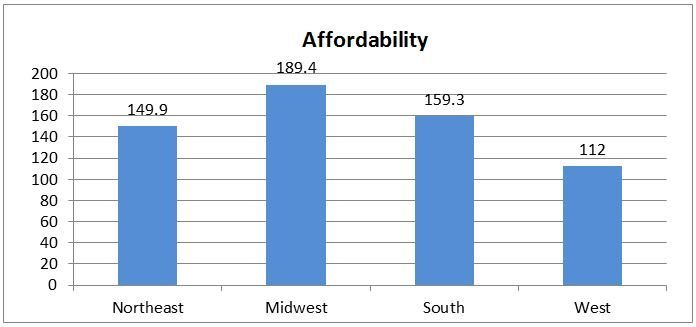 Monday, Sept. 14:
CoreLogic's second quarter Market Condition Indicators report:
With home prices rising steadily since 2013, homes have become less affordable for some buyers — and, therefore, less sustainable, says CoreLogic in its Market Condition Indicators report for the second quarter.
As home prices have continued to rise, the gap between home prices and sustainable values has narrowed to 3.6 percent below the long-run sustainable level — and could shrink even further to 1.5 percent by 2017, according to CoreLogic's forecast.
The trend is especially prevalent in Texas, where home prices in five local markets are well above their historical peak levels.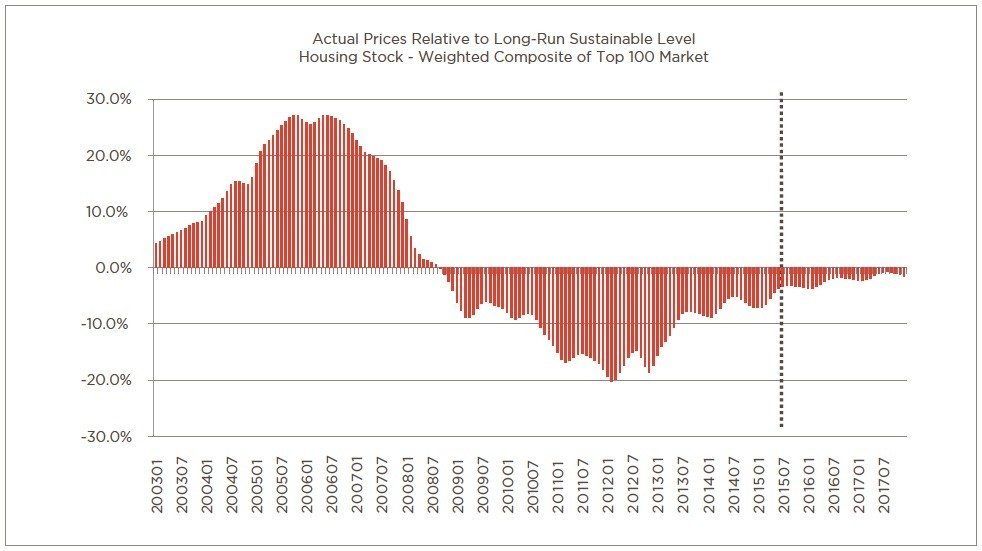 Email market updates to press@inman.com.