The South is the region still being most affected by non-current loans (delinquencies and foreclosures).
A lower volume of delinquencies bodes well for future foreclosure activity and, in turn, overall home sales prices.
Foreclosures should continue to account for a lower percentage of total sales moving forward.
As of August, only 4.83 percent of all active loans were 30 or more days delinquent but not in foreclosure.
This percentage equates to a year-over-year rate decline of 18.22 percent — the highest such drop since May 2011, according to data from Black Knight Financial Services.
The year-to-year drop occurred despite a month-to-month delinquency rate increase of 2.47 percent.
Black Knight also found that 1.7 percent of all active loans are more than 90 days delinquent.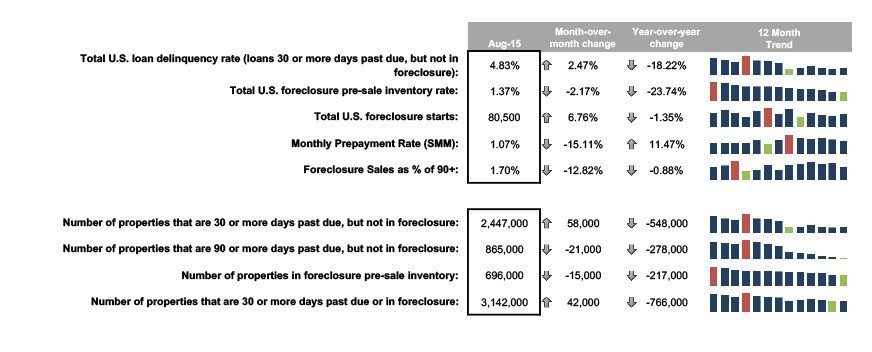 States with the highest percentage of loans that meet this description were all located in either the South or Northeast.
The group includes:
Mississippi (4.43 percent)
Louisiana (3.13 percent)
Alabama (2.97 percent)
Rhode Island (2.83 percent)
Arkansas (2.66 percent)
Overall, foreclosure starts rose to 80,500 in August, driven by an increase in repeat foreclosure starts, Black Knight stated. This starts total represents a month-to-month rise of 6.76 percent, but a 1.35 percent decline from a year ago.
When combining foreclosures and delinquencies, the states with the highest percentage of non-current loans are, again, all located in the South or Northeast.
These states include:
Mississippi (12.95 percent)
New Jersey (10.16 percent)
Louisiana (10.12 percent)
Maine (9.04 percent)
New York (8.92 percent)
States with the lowest percentage of non-current loans are located in the Mountain and Great Plains regions:
North Dakota (2.11 percent)
Colorado (2.98 percent)
Minnesota (3.29 percent)
South Dakota (3.37 percent)
Montana (3.45 percent)
Spanning the past six months, Florida, New Hampshire, Hawaii, Oregon and the District of Columbia have all seen their non-current loan percentages drop by more than 15 percent.
Florida leads the way with a 17.93 percent decline, followed by New Hampshire (16.62 percent) and Hawaii (16.11 percent).