With 107 Million U.S.-based users, LinkedIn should have your attention.
Most people go on LinkedIn sparingly or when they're prompted by email to endorse someone they barely know.
However, there is more to LinkedIn than handing out Internet high-fives in the way of half-hearted endorsements.
LinkedIn is a powerhouse for developing your personal brand. This is important for every professional, but exceedingly so with real estate, where your business is your brand.
So how do you leverage this platform? Should you keep the messaging the same as on Facebook, Twitter or other social media? We'll address this all in this article.
First, it's important to go over messaging and replicating messaging across channels. This is a big no-no. You wouldn't wear the same thing to a family dinner that you would to a night out on the town, so why would you post the same message on different channels?

Showcase your local expertise with email marketing
Use your digital reach to be a trusted advisor in your community
READ MORE
Your messaging needs to be tailored to your audience, and their expectations. People expect funny pictures and videos on Facebook and Twitter, they don't respond the same way to that content on LinkedIn. So take the time and think through how you can differentiate your messaging across channels — especially when posting to LinkedIn.
I said earlier that LinkedIn is a powerhouse for your personal brand, and I wasn't lying. I'm going to outline exactly how I built up my personal brand on LinkedIn, and how you can do it, too. The good part: an hour or two per week is all you need to grow your presence on LinkedIn dramatically.
1. Keep an updated profile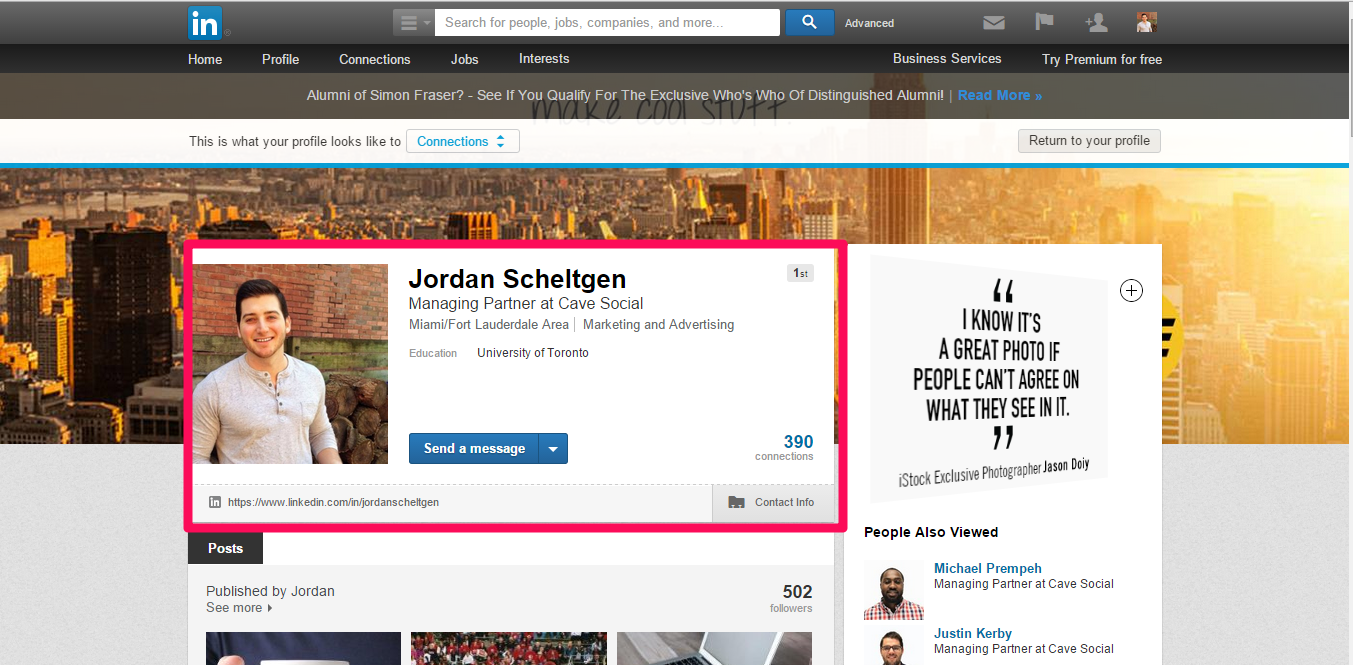 This might seem like a no-brainer, but if you head to LinkedIn right now, I'm certain you'll find connections with dated or no headshots, old work information and no recent activity. This is a losing plan for LinkedIn.
Make sure your profile is up-to-date, and try and update your headshot every time your appearance makes a significant change (evaluate this every 12 months).
2. Recommendations


You've got to give before you receive recommendations. Giving out recommendations to people in your network which you've truly enjoyed working with does two things: it strengthens your connection with that person, and it increases your visibility.
Anyone who is a connection on your LinkedIn profile will see your name, title and recommendation — it might even lead to someone checking out your profile.
Pro tip: Schedule a recurring weekly 15-minute time slot where you will give yourself time to write a recommendation for someone you've worked with.
3. LinkedIn Pulse
If you're unfamiliar with LinkedIn Pulse, it's the blogging platform native to LinkedIn. Pulse gives authors a platform to write about anything and everything to do with business. It's a fantastic tool to build your personal brand.
Here's the trick.
You need to write about real, interesting tips or stories that will help the greater community on LinkedIn. If produced consistently,  these stories will allow people to connect and follow you as a thought leader.
If you're thinking of using Pulse to post information about your latest open house, you're missing the point. Writing great content on LinkedIn Pulse gives you the chance to get featured on the site.
When this happens, you'll see a massive spike in your profile's exposure and your following. Below you can see a post I wrote, "How I Became a Morning Person;" it has more than 5,000 views, and it helped me double my follower count.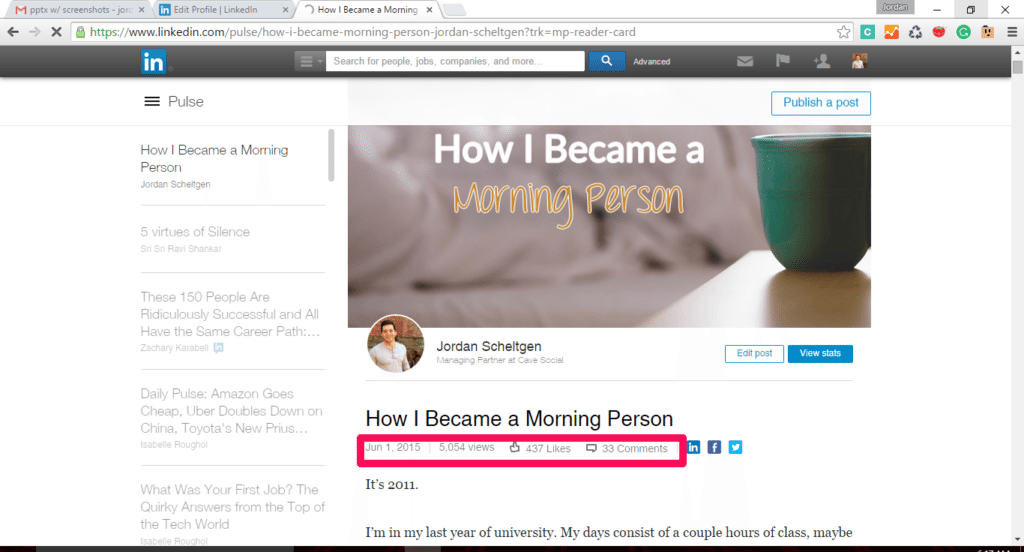 Pro tip: Don't be afraid to be vulnerable in your writing. Being real in your writing allows for readers to form a greater connection with you.
4. Use analytics
"What gets measured gets managed," Peter Drucker, of The Drucker Institute, said.
Analytics are your friend in LinkedIn. Pay attention to them and see which actions caused the greatest number of interactions from the community.
For example, if you notice that posting in groups causes your views to triple, this is a strategy you should continue to use. But if posting in groups produces little to no effect on your profile views, then you know you shouldn't spend your time on it.
5. Use Rapportive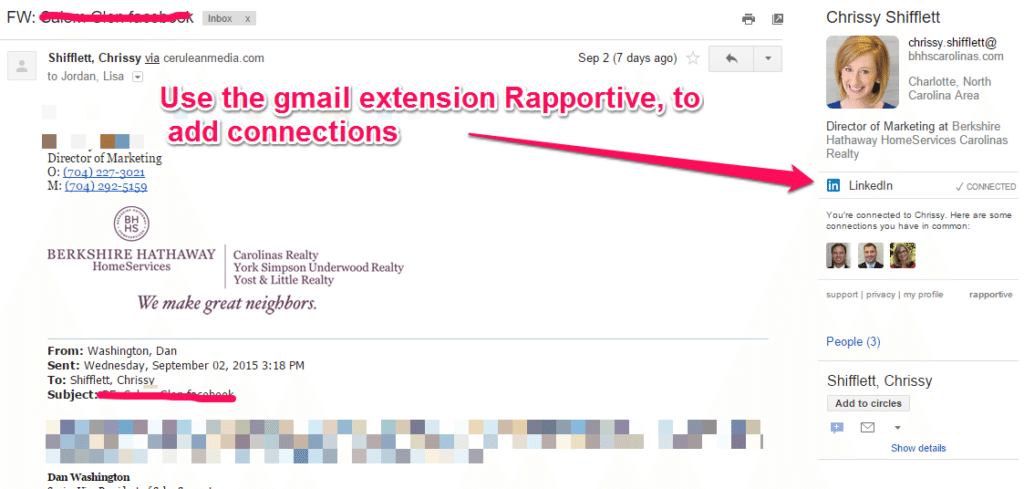 Rapportive is a Gmail extension that I'd highly recommend. It allows you to connect with people on LinkedIn without leaving your email. This extension will keep you in the mindset to always be adding people as connections.
6. One is greater than zero
It's easy to get disheartened when you post an update or LinkedIn Pulse article and it gets a small amount of traffic. It will feel like the effort didn't match the output sometimes. This is a reality of content marketing; the key is to stay on the horse.
Getting one view is better than nothing — and that one person could end up becoming a client, so it's worth it. A great way to grow your visibility is to aim for 10 percent more visibility each month. If you can do this, you'll double your visibility in 10 months — not too shabby.
Like any advice given on Inman, it's going to take effort on your part and a commitment to a long-term plan. Just know that becoming a thought leader on LinkedIn is very possible — it just takes time.
Jordan Scheltgen is the founder of Cave Social. You can follow him on Twitter @cavejordans or connect on LinkedIn.