We'll add more market news briefs throughout the day. Check back to read the latest.
The Mortgage Credit Availability Index (MCAI) for September 2015:
Mortgage credit availability increased in September.
The MCAI increased 0.3 percent month-over-month to 126.5. (It was benchmarked to 100 in March 2012.)
The Conventional MCAI was up 1.1 percent month-over-month, followed by the Conforming MCAI (up 0.8 percent).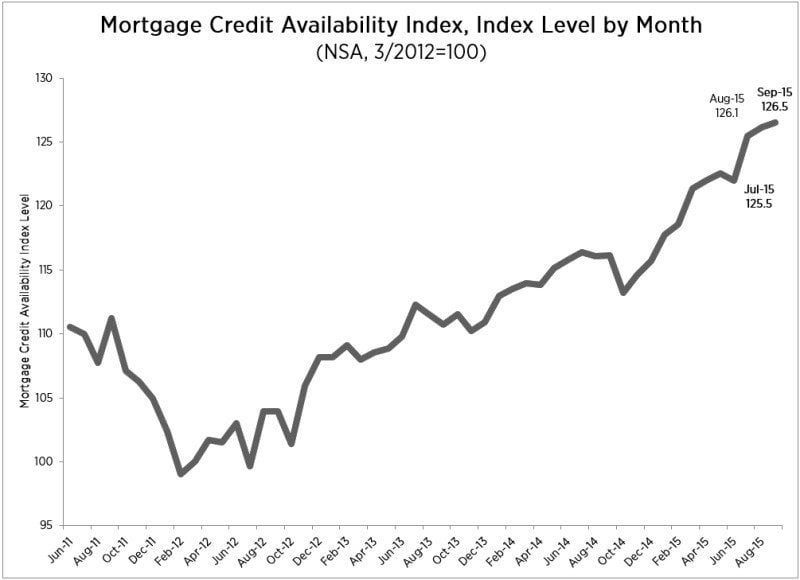 CoreLogic's August 2015 Home Price Index:
Home prices increased 1.2 percent month-over-month in August 2015.
They increased 6.9 percent year-over-year.
CoreLogic's forecast projects a 4.3 percent increase year-over-year in August 2016.

Weekly mortgage rates:
Powered by MortgageCalculator.org
WalletHub's most and least energy-efficient states:
New York, Vermont and Minnesota were the most energy-efficient states.
Texas, Louisiana and South Carolina were the least energy-efficient states.
WalletHub measured the consumption of home and car energy in 48 states; Alaska and Hawaii were excluded from this analysis.
Livability's 10 Best Cities for Singles:
Carrboro, North Carolina; Hoboken, New Jersey; West Hollywood, California were the top three cities for singles.
Oxford, Mississippi; San Marcos, Texas; Ypsilanti, Michigan; and Ames, Iowa were ranked 4 through 7.
Miami Beach, Florida; Athens, Georgia; and Moscow, Idaho took spots 8 through 10.
Black Knight Financial Services' August Mortgage Monitor Report:
Cash-out refinances were up 68 percent year-over-year in August 2015.
The average borrower was tapping $67,000 in equity.
Though they're at the highest volume since 2010, cash-out refinances were still almost 80 percent below 2005 peak levels.

Send market reports to press@inman.com.