Major Texas metros may have hit their peak in terms of home prices.

The states most at risk for price declines are some of the least populated states in the nation.

Volatility within the energy industry will affect the homes sales markets for the next two years.
Five Texas metros and three states that are oil-dependent remain at a high risk for home price declines over the next two years.
According to Arch Mortgage Insurance's latest market review, these at-risk Texas metros include Houston, Dallas, Austin, Fort Worth and San Antonio.
"Metropolitan areas tied to the energy industry are seeing home prices well above their historic long-term trends," the market review stated. "This indicates that affordability in that state (Texas) remains a primary concern, and that home price declines could occur."
In these Texas markets, home prices have risen year-over-year by at least 7 percent.
Houston leads these metros, having seen a 10 percent rise. Dallas (9.4 percent), Fort Worth (7.6 percent), San Antonio (7.6 percent) and Austin (7.1 percent) follow.
These price increases have equated to affordability dropping by 4 to 8 percent — with the exception of San Antonio, where affordability remained unchanged year-over-year.
As of the second quarter of 2015, unemployment rates declined. Houston showed the lowest rate of change at 0.7 percent, and Dallas saw the highest of those metros at 1.3 percent on a year-over-year basis.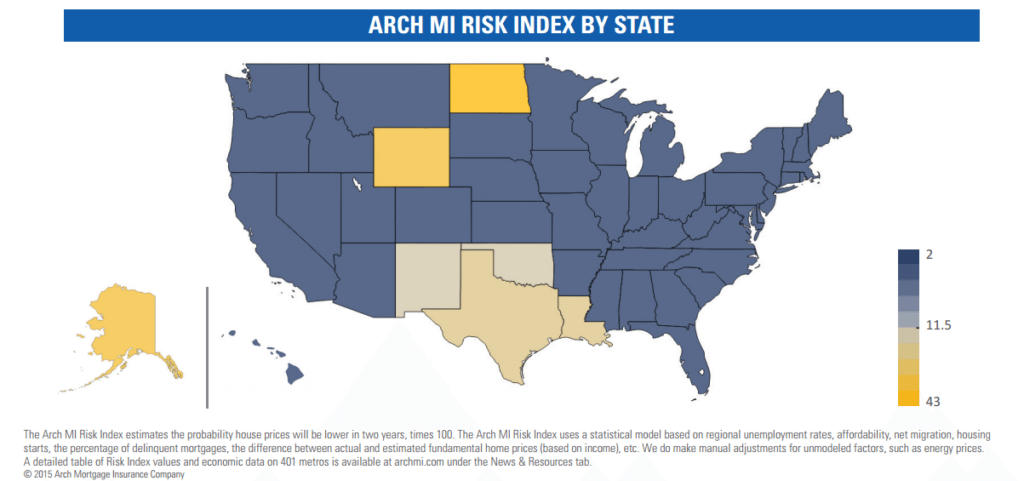 Due largely to an expected pullback in energy-related income and employment, North Dakota, Wyoming and Alaska are the states most at risk for price declines.
With a 43 percent chance of seeing home prices decline over the next two years, North Dakota experienced a 1.8 percent drop in total employment over the past three months. It has also seen the largest run-up in home prices, with properties estimated to be overvalued by 16 percent.
Wyoming has a 36 percent chance of seeing home prices decline over the next two years, according to Arch Mortgage. The largest coal mining state (6 percent of employment) is being hit by a two-thirds drop in oil and gas rigs, coupled with a drop in coal prices. Home prices "decelerated rapidly" during the second quarter.
With a similar chance of seeing prices decline (35 percent), 20 percent of Alaska's income stems from oil and gas revenue. The state also has a large budget deficient and stalling employment growth.
Risk for home price declines also remains above average in the energy-producing states of Louisiana, New Mexico, Oklahoma and West Virginia.
For most other states, the average risk of home price declines over the next two years remains low: 6 percent.