As young millennial agents often do, a newly minted agent, Donnell Blaylock Jr. of JGR Real Estate in West Michigan, was just building his profile on Instagram when he caught the eye of Miami-based talent agent, Marvin Bienaime, three months ago. Bienaime thought he might do well as a catalogue model or in ad campaigns.
Bienaime thought the best way for Blaylock to break into modelling was to make a video that just might go viral. The sight of the former Foot Locker salesman eating chocolate on camera with an inviting smile to "the ladies," posing in a floral shirt, baring his chest in his sweats — 17 seconds in all — has caught the interest of millions since it went online last Wednesday.
After an alleged 2.5 million hits and 50,000 referrals, Blaylock is fielding both real estate and modeling opportunities at the same time, and it's making his head spin.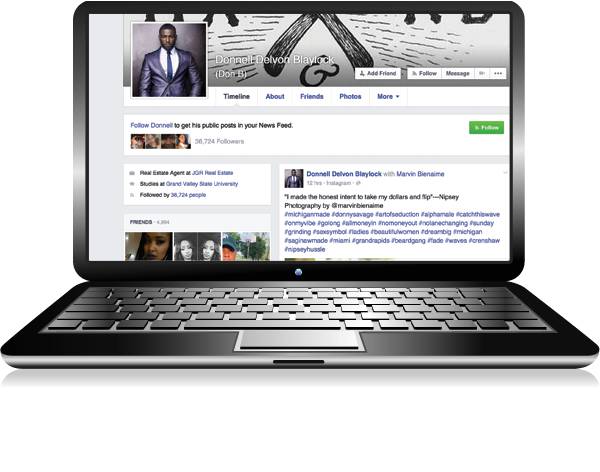 "I'm just trying to focus," he said today. JGR Real Estate is being "very supportive," he added.
But maybe he's being too modest. Bienaime said his office is  treating the young agent like a celebrity.

Build a business platform to make an impact
See how two top agents support a cause that's close to their hearts
READ MORE
"The fact that they have someone on their team who has gone viral — it looks good for their brand, there is a lot of potential there for them," he said.
"Even when he goes out in Michigan, everyone recognizes him and they exchange information," said Bienaime.
Thanks to all the attention, the self-acclaimed real estate newbie is receiving listing offers from Texas, Florida, Pennsylvania and beyond. He has been advised that the best way to deal with these is to refer them to brokerages in these areas and to collect a referral fee.
"I've only been licensed since January; I'm a rookie," he said. "Of all the people they could contact, they are contacting me," he said in a wondering tone.
The overnight sensation said he went into real estate because he was interested in becoming a real estate investor. He got his license through Coldwell Banker and then moved to JGR in January. His business at JGR has been largely first-time buyers, and houses are selling within a day or two of listing in the West Michigan market, he said.
Bienaime is not sure how long the real estate career will last once the media offers start flying in, although he says real estate is Blaylock's first passion. A T-shirt campaign is being launched this week, and a few exciting projects are to come with meetings set up in Los Angeles and New York.
He may play a key role in a Beyonce video — anything is possible, said the agent.