Inman is profiling social media all-stars. Here's Cheryl Spangler, luxury broker and Founder at FORBZ Real Estate.
Does social help your business, how?
So far, the only social site I have received money from is Facebook, from people seeing the posts and referring me business. My goal is to make money on Instagram.
What's your strategy to achieve it?
Answer every question your target market would possibly have in the posts. My target market is age between 35 and 70 in the luxury market located in Alexandria, Virginia; average sales price is $704,000 and investors, waterfront, city living.
Where to go, what to do, what to look out for, restaurants, businesses, what homeowners have to say about where they live, views from unique places, what are their fears, struggles, things they love, want, don't want, where they shop, want to shop, hard to find places, specialty shops, houses that are unique, parks, coffee shops, interesting factoids, community virtual tours, highlights of neighborhoods and more — my listings, motivational, reviews of retail shops and more.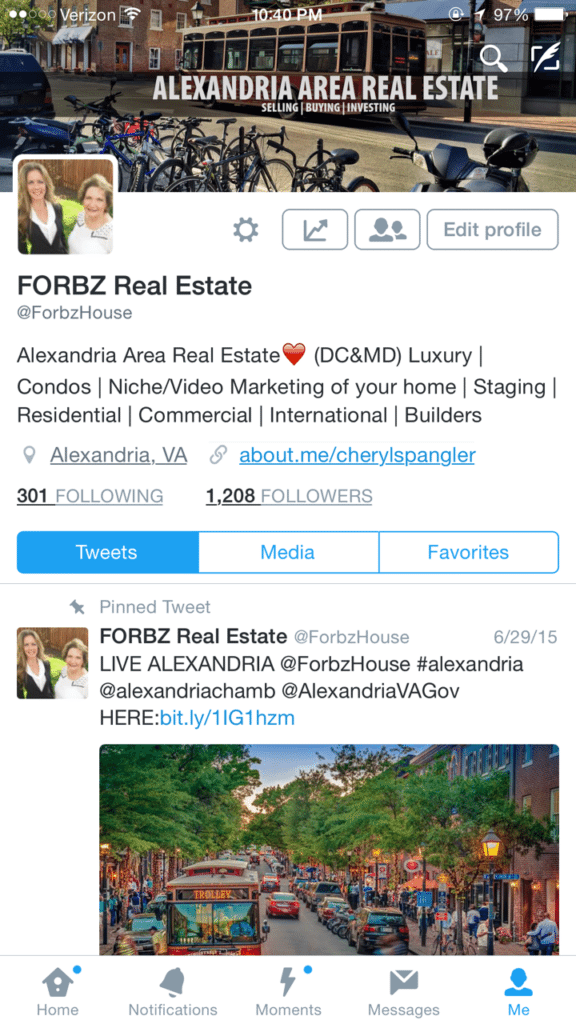 Is it worth it, why?
I enjoy it, social media is fun for me. I am 24/7 thinking of ways to think outside the box, ways to get followers, so yes, it is worth it. I want social media to work for me and will work until I find the right way to bring in results that bring deals.
Social media is not going away; I will master it, period.
Which social channels do you work more?
Instagram — posting to Twitter and Facebook from there. Then I sometimes go directly to Twitter and Facebook and post another link or photo relating to that post, since not everyone has Instagram.
How many friends, likes, etc., do you have?
Facebook — over 8,000.
LinkedIn — over 2,500.
Twitter — over 1,200.
Instagram — over 220.
Does that number matter to you?
Yes, I am trying to get organically over 100,000 or more on each social site so that I can reach millions when new listings or opportunities arise and I want to truly reach certain people.
Do you ever give it a break?
NO.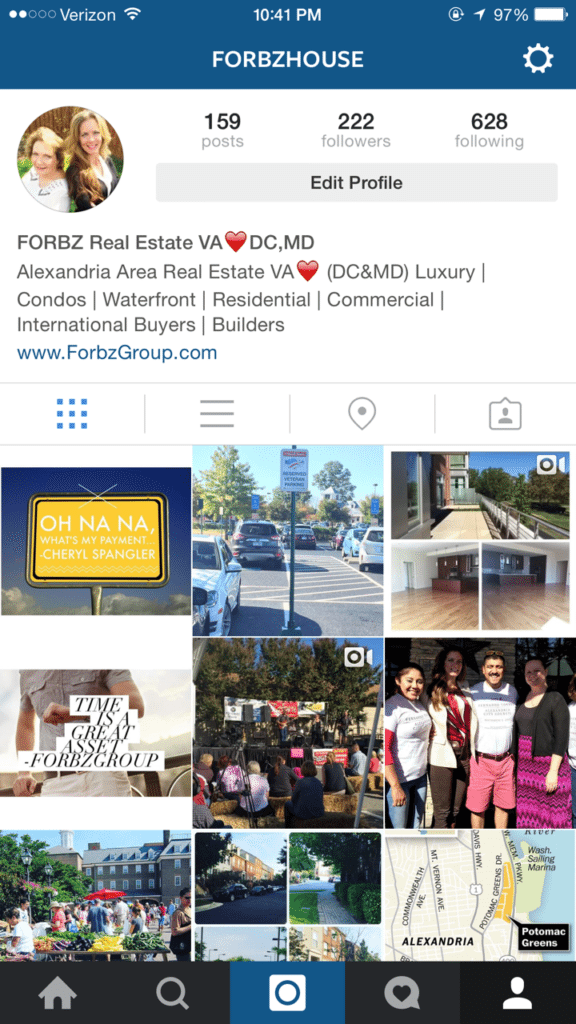 What's your craziest social media-related story?
I had a guy message me on Facebook hitting on me, then tried to sell me life insurance (he was an insurance salesman), I chatted with him briefly via Facebook messenger and ended up getting a listing appointment with his brother for a 700,000 listing and sold it. Best flirt I have ever had. Now I am helping him purchase a home and every single member of his family.
The flirt, of course, never went past the initial message, because I am ridiculously businesslike about business — no personal mixing.
What actions do you take that have gotten the most results?
Third-party promotions get me more results. recognizing other people. I started a youTube playlist titled "Success Secrets Revealed" that I expect to bring me more results than anything I have done so far. But on all social sites, recognizing others, consumers, businesses has gotten more results than anything.
Is this more about "social" or about business?
It's about business (wrapped up in social facade).
How do you monitor the channels? Do you use software or apps to manage your account, which ones?
I use Crowdfire to manage Instagram and Twitter, Facebook Business Manager to manage Facebook business pages, and I go to LinkedIn directly.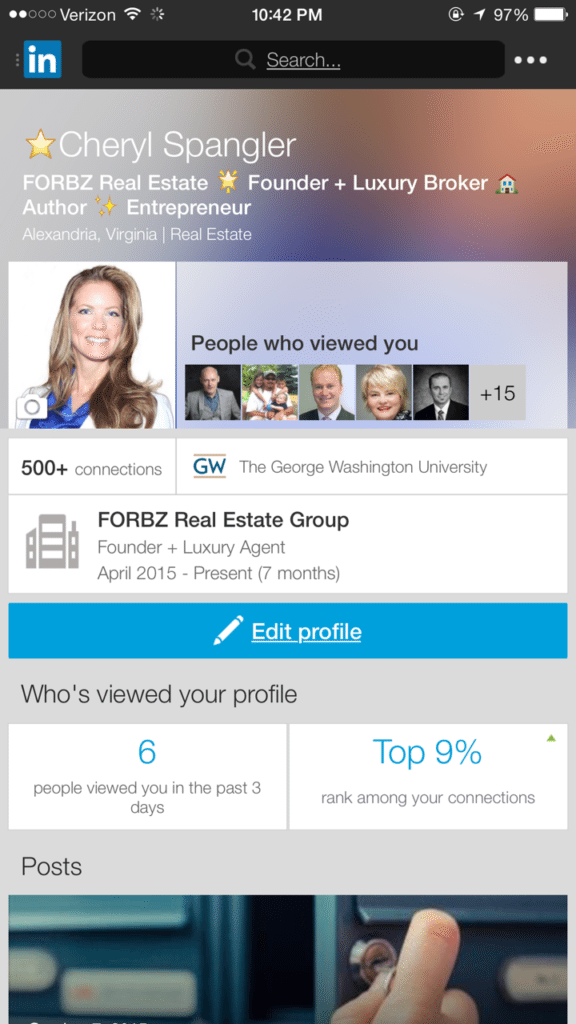 How many hours per day are you on social? Do you check it daily? Multiple times per day?
At least one hour per day — daily yes, hourly yes, it's just a second to look; it's not like it takes 10 minutes to check or post.
If I am in an appointment, of course I do not have my phone on or check anything.
Do you ever think of retiring?
NO.
Do you consider yourself an influencer?
Yes, but I am not positive that I actually am. I want to be more of an influencer; I like helping, motivating and teaching others using social media.
I like to get people to think, take pause and reflect.
Are you social in real life?
LOL, not as much as I am on social media, but doing videos has changed that for me.
What did you do with your time before?
I would write, journal — good question — I would spend more time on the computer. Now it allows me to be everywhere and anywhere and still be essentially "on the computer," just the mobile version.
How do you leverage your prominence/influence on social?
I recognize others, I promote others, I give shout-outs, I request interaction, I do contests, I give prizes, I offer advice, I promote success in others.
Do you have someone helping you?
Right now, no.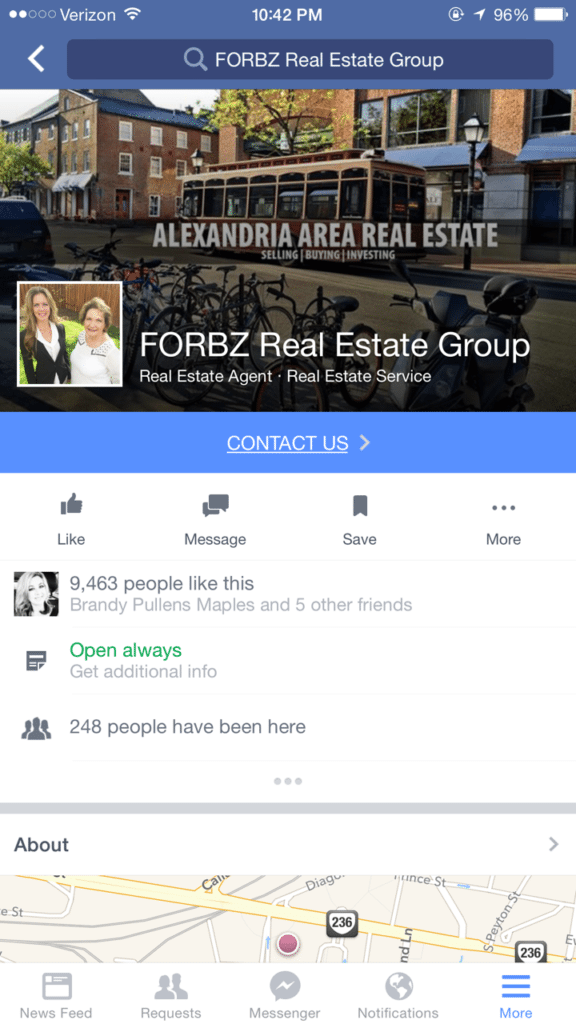 Who do you follow, why?
Business leaders, influential people, known successful people (for example, success magazine-cover people), outside-the-box thinkers, women leaders, niche markets, local Alexandria businesses.
Why? My goal is to reach them with my posts and influence them to want to follow me and become so consistent with my message and who I am and where I am that I am the only person they think of when they think of Alexandria, Virginia, real estate.
Where do you find the content that you put out?
Magazines; my brain is overflowing with ideas, it is crazy. People I meet, songs I hear, situations, everything all day I see things that could be turned upside down and into a great post. I read books, my latest favorite is called "Fascinate" which covers the seven triggers that create people to be fascinated by you, follow you, buy your product or service, etc.
I am a book, success, self-improvement junkie.
What has been your all-time hit share?
Videos or photos where I tell a rags-to-riches story and people are so full of feeling from it, it gets the most hits.
Who do you think is doing social media well in real estate?
Sometimes I see a successful Instagram account, for instance, with 15,000 followers and like eight posts, and I think they surely bought all those or what is so fascinating about them. I love to follow social media influencers like Katie Lance and so many more like her. Luxury real estate seems more popular. TV personality real-estate related sites.
Age: 44
Years in real estate: 15
Job title: Founder FORBZ Real Estate + Luxury Broker
Location: Alexandria, Virginia
Hours per week spent on social media: At least seven, one hour per day
Social media accounts: LinkedIn, Facebook, a few Facebook business pages, Twitter, Instagram, Pinterest, Reddit
Target demographics:
LinkedIn: 35- to 70-year-olds in business to refer business my way
Twitter: All ages, connecting to people, building relationships with other professionals, businesses and gain referrals
Facebook: 35- to 75-year-olds — targeted Facebook ads in 22314 ZIP code of Alexandria using videos and redirecting to our website for leads
Instagram: 20- to 50-year-olds, Alexandria business owners, homeowners looking for a "go-to" page for all the latest updates on what is going on and who is in Alexandria, keeping it fresh — to gain referrals
Average number of posts per day:
Instagram: One to three posts; three to six likes for other people; three to five comments to other people
Twitter: Two to four: one shout out, one promotion of a business, one motivational success tip, one video of an Alexandria homeowner or neighborhood
Facebook: One to two: Alexandria-focused post of neighborhood, homeowner video or new listing; one video informational targeted via Facebook ad to the ZIP code we specialize in, 22314.
LinkedIn: One per week (actual post, no updates) — valuable information, one post per week or maybe two, backlinking to all other sites at the bottom of each post.
Are you a real estate all-star who'd like to participate in our profile series? Email amber@inman.com.