Check Inman every day for the daily version of this market roundup.
Mortgage rates:
Home equity rates:
Friday, Oct. 30:
Yardi Matrix October 2015 multifamily report:
U.S. multifamily rents stayed level at $1,166 in October.
This was the first survey in 2015 in which rent did not rise month-over-month.
The October year-over-year rate increased by 6.7 percent.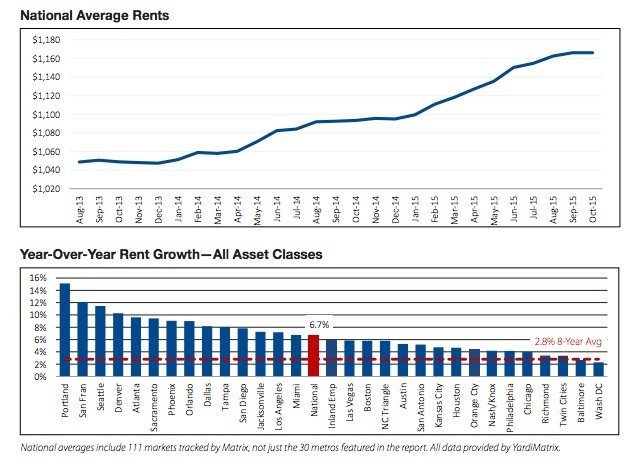 Thursday, Oct. 29:
NAR's Pending Home Sales Index for September 2015:
NAR reported that the September index was the second-lowest reading in 2015.
The index declined 2.3 percent to 106.8 in September from 109.3 in August.
The index has still increased year-over-year for 13 months.
ProTeck Valuation Services' Home Value Forecast (HVF) for October:

The top 3 trends homebuyers want this season
Sellers and their agents should consider these updates to stay competitive
READ MORE
The HVF recorded that 29 core-based statistical areas (CSBAs) received their highest raw score possible.
All 29 CSBAs have less than four months of remaining inventory.
Of those 29 CSBAs, 21 are west of the Rockies.
Auction.com's Q3 Investor Activity Report:
Flipping is the preferred investment strategy among investors for the fourth consecutive quarter.
Investor intent varies depending on the type of auction and investor profile.
Respondents making a one-time purchase preferred hold-to-rent strategies, while full-time investors favored flipping.

Federal Housing Finance Agency's mortgage interest rates for September 2015:
The national average contract mortgage rate for previously occupied homes was 3.93 percent in September, down from 3.99 percent in August.
The average interest rate on all mortgage loans was 3.95 percent, down from 3.99 percent in August.
The average loan amount was $307,700 in September, up from $303,300 in August.
RealtyTrac's Q3 Home Flipping Report:
Home flipping declined to 5 percent of its total share of sales in Q3.
The average flipping return increased to 33.8 percent in Q3.
Completed flips in Q3 took an average of 175 days, almost six months.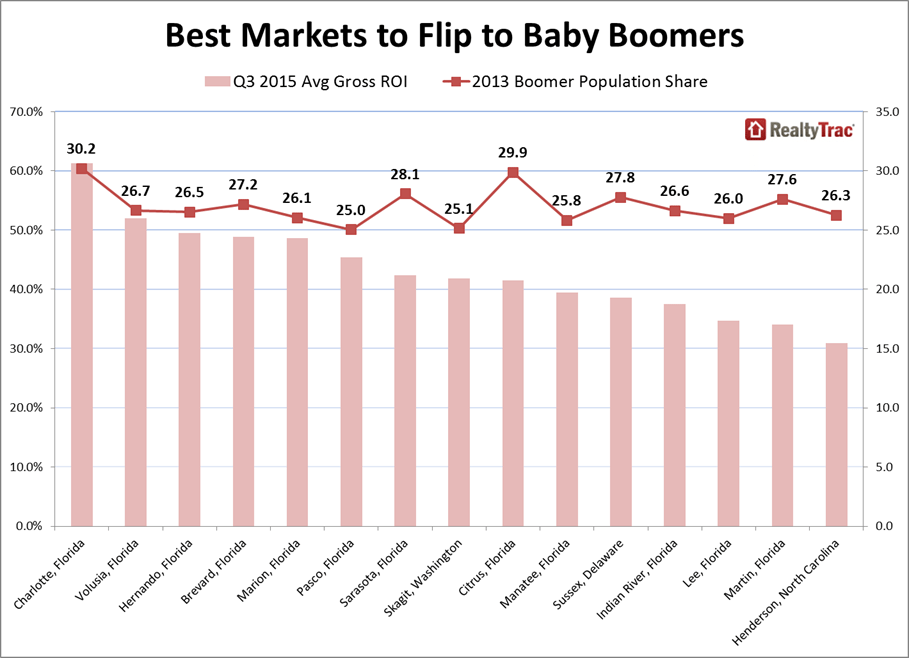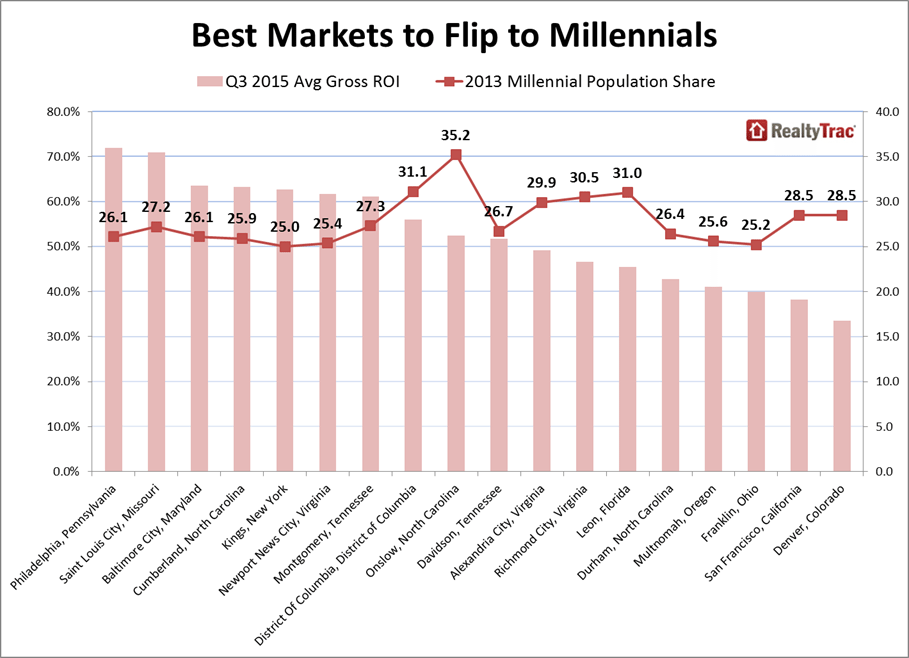 Wednesday, Oct. 28:
Mortgage Bankers Association's Weekly Applications Survey:
The Market Composite Index decreased 3.5 percent week-over-week.
The refinance share of mortgage activity remained unchanged at 59.5 percent.
The average contract interest rate for a 30-year fixed-rate mortgage increased to 3.98 percent from 3.95 percent week-over-week.
First American's September 2015 Loan Application Defect Index:
The rate of incidence of loan application defaults fell 1.2 percent month-over-month in September 2015.
The index fell 9 percent year-over-year.
The defect index for refinance transactions declined 1.4 percent month-over-month and 10 percent year-over-year.
CoreLogic's Mortgage Fraud Trends Report:
Mortgage application fraud risk nationwide decreased 8.9 percent year-over-year.
Louisiana, however, saw a 17.1 percent increase in mortgage fraud risk.
Identity application fraud risk decreased 22.7 percent nationwide.

Tuesday, Oct. 27:
Standard & Poor's/Case-Shiller Housing Index:
The index recorded a 4.7 increase year-over-year in August 2015.
San Francisco, Denver and Portland reported the highest year-over-year gains.
The index rose 0.3 percent month-over-month in August 2015.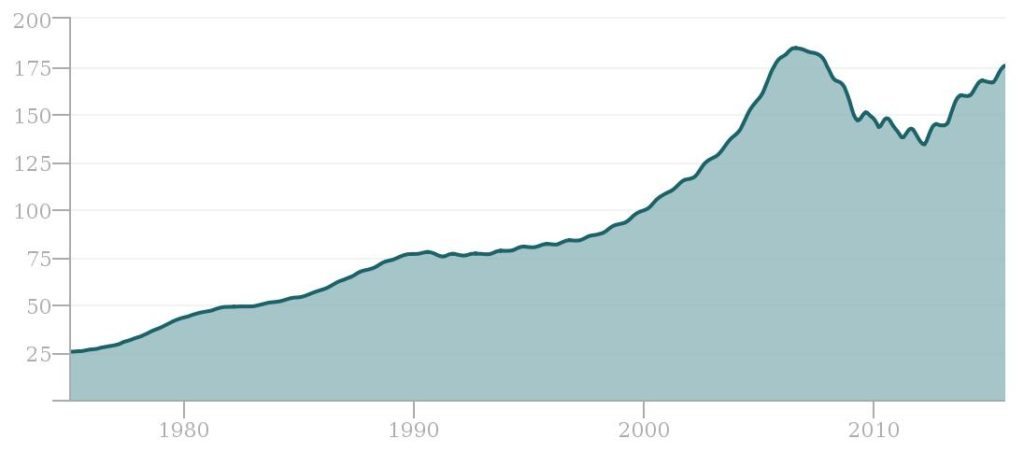 Monday, Oct. 26:
Freddie Mac's October 2015 Insight & Outlook:
Origination volume was $100 billion higher in 2014 than industry experts had estimated.
Industry concentration is declining: The top five mortgage loan firms accounted for only 34 percent of the market in 2014.
The projected refinance share of originations in 2015 has been lowered by 1 percentage point to 47 percent.
U.S. Census Bureau/Department of Housing and Urban Development's New Residential Sales for September 2015:
Sales of new single-family homes in September 2015 were down 11.5 percent month-over-month.
However, sales were up 2.0 percent year-over-year.
The median sales price of new houses sold in September 2015 was $296,900; the average sales price was $364,100.
Homes.com's Local Market Index for August 2015:
Boise (Idaho), San Francisco and Denver saw the biggest year-over-year index point increases in August 2015.
Dallas/Fort Worth/Arlington, Denver/Aurora/Lakewood and Austin/Round Rock were cited as top markets in the "rebound report."
Bottom markets for rebounding: Las Vegas/Henderson/Paradise, Stockton/Lodi (California) and Cape Coral/Fort Myers.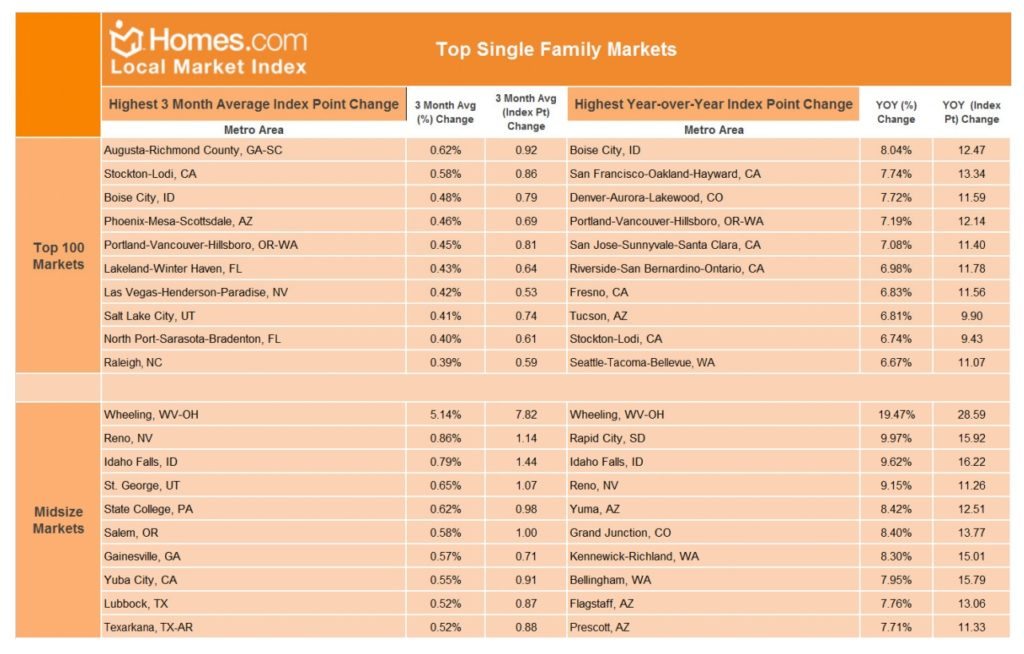 Black Knight's August 2015 home price data:
August home prices were up 0.3 percent month-over-month.
Prices are up 5.5 percent year-over-year.
The current home price index value, according to Black Knight: $253,000.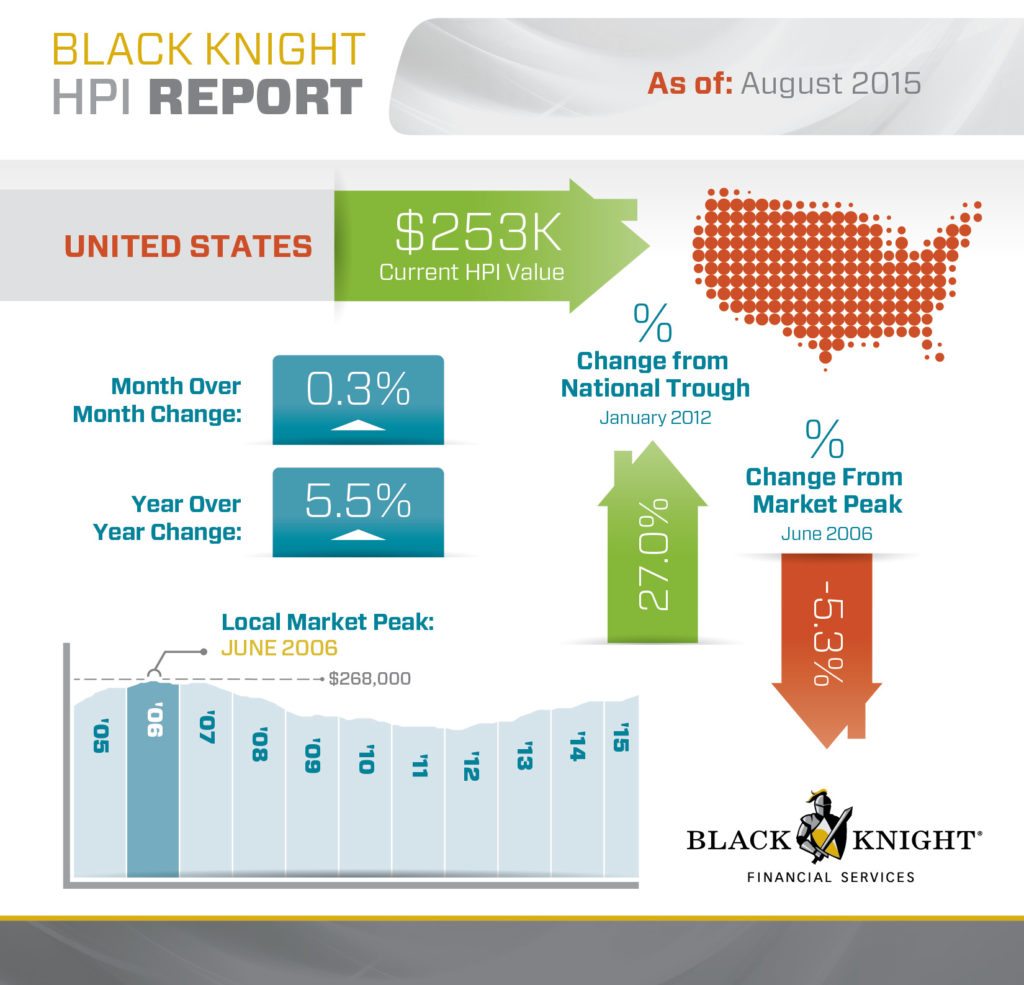 Email market updates to press@inman.com.