If your online self doesn't reflect your true self, expect to lose out on prospects
Online credibility is becoming increasingly difficult to maintain
Agents exist in a number of online places. StoryApp helps you put them all in one place
Have suggestions for products that you'd like to see reviewed by our real estate technology expert? Email Craig Rowe.
StoryApp offers a dedicated hub for individuals to consolidate personal and professional content.
Platform(s): Browser-agnostic; mobile-responsive
Ideal for: Any agent in any size team or brokerage
Top selling points
Easy to integrate all forms of static and dynamic content
Very sharp, attractive interface
Easy to share site with new contacts via text or email
Things to consider
While a StoryApp profile could replace your LinkedIn profile in terms of sharing professional history, keep in mind it doesn't proactively connect you with others in your industry or friends' networks.
Full review
Even when you're referred by a trusted client, a person is going to go to the 'Net to derive their own impression.
What that person will likely find is an array of online instances of your existence. A company website. A LinkedIn profile. Your Facebook page.
Each instance of your professional veracity may give off a slightly different tone. Maybe your Facebook page hasn't had much in a few weeks, or your company just isn't all that up-to-date in its understanding of Web design.
StoryApp lets you build a better-looking, more dynamic and more searchable online resume.
Each instance of your professional veracity may give off a slightly different tone.
The attractive, highly versatile page builder uses a simple content box approach to publish fresh information about yourself or connect and stream social media accounts.
YouTube and Vimeo channels can be embedded, as well as any image file type, even .gifs.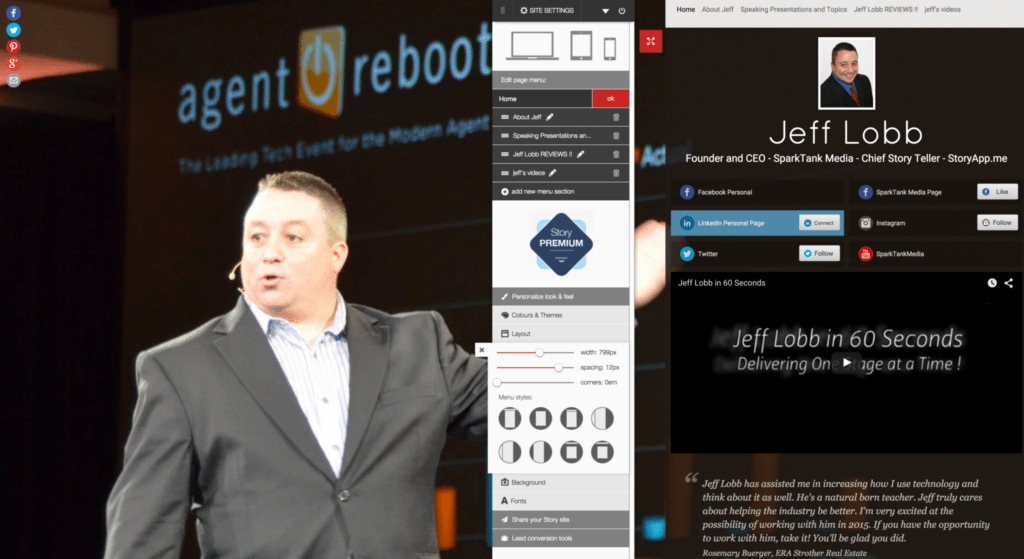 There's a very simple referral request tool in StoryApp that sends a link to a four-field card for them to complete. It asks for their name, company and Web address and offers an inviting "ruled notebook" on which a testimonial can be typed.
Your profile can be edited to match your company colors or be designed using an array of included themes.
The design tools may be overwhelming for a limited number of users. If you can edit a Powerpoint presentation, you can use StoryApp.
The administration panel can be moved around the screen at will, and the process of adding, deleting and editing content is made flexible and intuitive.
You can point an existing domain, like your name if you own it, or register a new one with the company.
The mobile version adjusts swiftly to tablets and smartphones and helps facilitate a fast transaction of contact information when you meet someone.
Instead of asking for their card, use StoryApp's Share command to grab their number for a text or emailed link to your profile. Upon open, a pop-up asks the user if they want to save your information as a contact.
I found this feature tremendously easier than pecking in a person's data.
There is also a personal email signature that can drive contacts to your page and an automated follow-up that reminds you of when and where you met someone.
I envision this tool benefitting agents most as a consolidated professional bio, something to send before listing appointments and use when communicating with cold prospects.
Don't misconstrue this as another social media outlet. It's not. Consider StoryApp a living, breathing resume.
StoryApp's consolidation of content connotes activity, and it offers you a hub of online being as opposed to a disparate slew of Internet destinations. Be seen and heard, not just searched.
Have a technology product you would like to discuss? Email Craig Rowe.