Houston's Midtown is a lifestyle destination.
Everything from dining to culture is available in the neighborhood.
A variety of housing options exist, and new ones are being added.
What is there to love about Houston's Midtown? Quite a lot, actually. 
In addition to boasting an ideal location between downtown and the medical center, Midtown is one of the most pedestrian-friendly areas in the city. It benefits from tidy, mixed-use developments that make it a convenient and compact area for a variety of people to live, work and relax.
It has special appeal to millennials who are looking for amenities that allow them to live efficiently. In Midtown, dining, nightlife, parks and the arts are all in close proximity.
Its location makes it easy to get anywhere in the city. With easy access to many of Houston's thoroughfares and its close proximity to the METRORail (six blocks away), commuting for work to downtown, the Museum District and the medical center is a breeze.
Midtown has really come into its own within the last decade. It's not only added a variety of restaurants but also has an attractive and active scene after dark.
Eating and drinking is not all that's up in Midtown. If you've not visited in awhile you might be surprised to discover:
Parks and recreation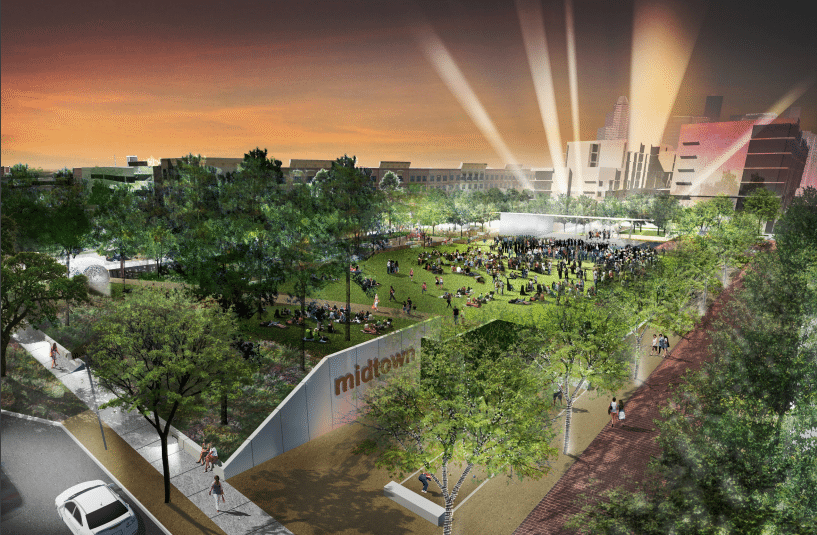 Midtown Park is under construction and is situated on a 6-acre tract of land. This urban green space will feature retail and residential properties, and a public parking garage. Its lawn will accommodate up to 3,000 people for special events.
Art and culture
An eclectic group of galleries, theaters and artists' collectives found homes in Midtown. Venues such as the MATCH encompass a number of performing and visual arts organizations.
Enjoy a show or take a class at the Houston Metropolitan Dance Center, or see an exhibition at the Houston Center for Contemporary Craft.
Midtown's growth
One of the oldest areas in Houston, Midtown has seen many new developments over the last 10 to 15 years. Apartment complexes, townhomes and single-family homes can be found.  The 2014 median home value is $380,000, and prices have risen since that time.
An example of new housing going up in the area is Parc at Midtown, a new community of condominiums, one-of-a-kind Sky Townhomes and townhomes, has broken ground at 2401 Crawford Street. The development offers homes priced from the $140s to the low $400s, which are excellent rates for this prime Inner Loop location.
Parc at Midtown is being developed by Surge Homes, a Houston-based real estate developer and builder. Every home features modern architecture, designs and finishes, as well as high-end European cabinetry in all kitchens and bathrooms.
A gated community with private and guest parking, a quaint park at its center, four designated pet areas and great views of the city make Parc at Midtown a community worth calling home.
Living in Midtown is a good investment to make if you're looking to build on your future—while enjoying the coolest neighborhood today.