The monthly cost of homeownership in San Francisco County stands at $6,350.
San Francisco does have some neighborhoods where a noticeable volume of sub-$1 million sales have recently closed.
Monthly housing costs in Solano County total $1,780.
Monthly homeownership costs in San Francisco, San Mateo and Marin counties all exceed $5,800, making these regions the most expensive not only in the Bay Area but California.
Not surprising, San Francisco County tops the list with a monthly homeownership cost of $6,350, according to a report from local brokerage Paragon Real Estate. The monthly cost is based upon the county's median home sales price, a 20 percent down payment and a prevailing mortgage interest rate.
The monthly costs to own a home in San Mateo and Marin counties are very comparable at $5,980 and $5,860, respectively.
On the flip side the least expensive counties in the Bay Area based on monthly ownership costs are Solano, Sonoma and Napa.
Solano County represents the only region in the Bay Area with a monthly housing cost ($1,780) that is less than the statewide average of $2,420 per month.
In Sonoma County owning a median priced home means paying $2,760 a month, while in Napa it equates to $3,280.
San Francisco neighborhoods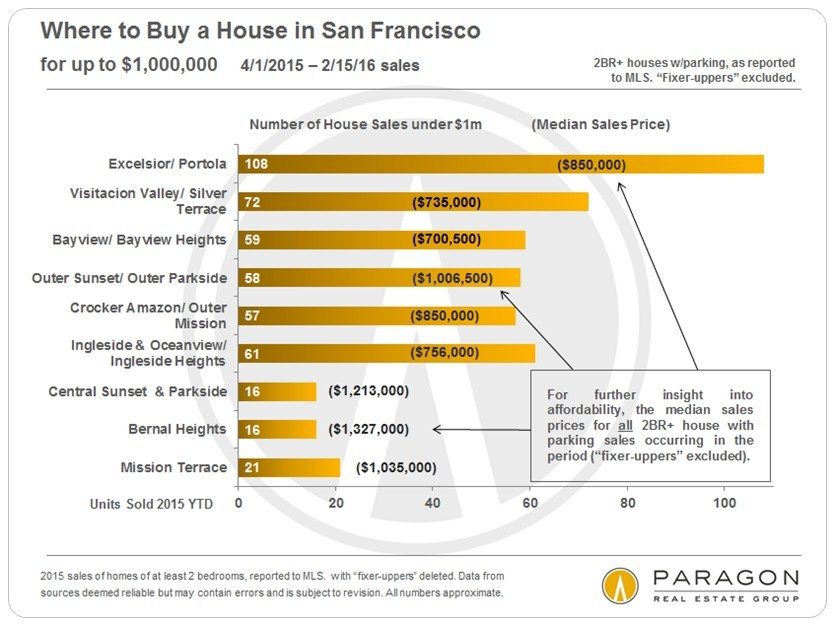 With San Francisco County being the most expensive housing market in the state a look into its neighborhoods is warranted.
Spanning April 2015 to mid-February 2016 the most affordable neighborhoods, defined by those markets with the highest volume of sub-$1 million single-family home sales, were Excelsior/Portola, Visitacion Valley/Silver Terrace and Ingleside/Oceanview, according to a separate Paragon report.
In the Excelsior/Portola neighborhoods a total of 108 sales below $1 million occurred. In Visitacion Valley/Silver Terrace and Ingleside/Oceanview 72 sales and 61 sales, respectively, closed for less than $1 million.
When it comes to home sales priced at $2.5 million and above, the Noe/Eureka Valley/Cole Valley/Clarendon Heights/Glen Park neighborhoods represent the most expensive region in the city, as they accounted for a total of 78 such sales, with an average price-per-square-foot of $1,162.
The Pacific Heights/Presidio Heights/Cow Hollow/Marina neighborhoods combined for 73 sales valued at more than $2.5 million.
After these two groupings of neighborhood the numbers drop off significantly, as the next leading area is comprised of St. Francis Wood/Forest Hills/Monterey Heights, which totaled 28 sales higher than $2.5 million.
According to another Bay Area brokerage, Pacific Union, San Francisco's housing market is forecasted to experience some softness later this year, with the $2 million to $5 million market expected to be most impacted.