The housing market in Houston has been through its ups and downs over the last year, mimicking the fluctuations in the oil market. After experiencing some turbulence late last fall, the city has been seeing some positive trends leading up to the spring season.
According to the Altos Research weekly market data update, the median price of a single-family home in Houston is $363,529. Home prices are rising and trends look to continue in that direction.
Compared to about a year ago, home prices are considerably higher– by just less than $100,000. But even then Houston housing market conditions were strong.
Altos uses a unique figure called the Market Action Index to determine whether a market is favorable for buyers or sellers, using 30 as neutral. As of March 11 the market was rated 36.28, leaning toward home sellers. About a year ago the Market Action index was roughly 36.5.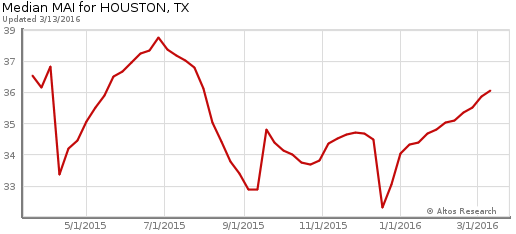 So despite the rise in prices, homebuyers are still very much interested in the Houston housing market. But that's not to say the market is going through a bit of a cold spell.

What's in it for you? How real estate organizations boost your business.
See why associations like AREAA can benefit you both professionally and personally
READ MORE
The average days on market for a home in Houston is 118 days. Homes were selling at their fastest in September and October over the past 12 months, but slowed down during the holidays and beyond.
Homebuyers are getting a bit more active as of the start of the year. Weekly trends are almost consistently decreasing, and more homes are coming available on the market.
Inventory has been increasing since the start of the year, but it still remains far lower than it was in September. As of March 11, there were 6,209 properties on the market.