The latest S&P Dow Jones Indices released its latest S&P/Case-Shiller Home Price Indices March 29, finding that nationwide home prices have continued to rise over the past 12 months. The S&P/Case-Shiller U.S. National Home Price Index recorded a 5.4 percent increase in January 2016 over the previous year.
The 10-City Composite and 20-City Composite is up slightly 5.1 percent and 5.7 percent, respectively, on an annual basis.
"Home prices continue to climb at more than twice the rate of inflation," says David M. Blitzer, managing director and chairman of the index committee at S&P Dow Jones Indices.
"The low inventory of homes for sale — currently about a five month supply – means that would-be sellers seeking to trade-up are having a hard time finding a new, larger home. The recovery of the sale and construction of new homes has lagged the gains seen in existing home sales."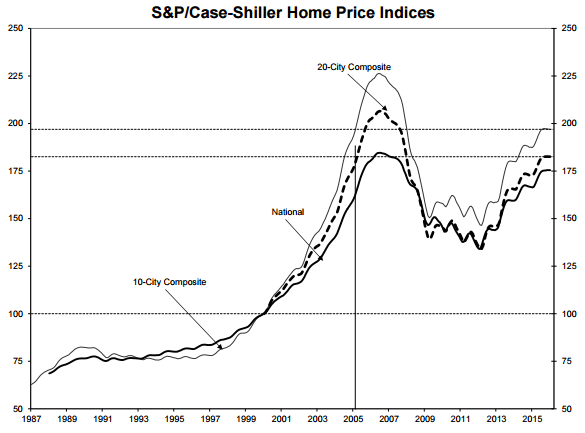 Based on the receipt of source data, the S&P Case-Shiller Home Price Indices for the past 12 months have been revised. In Miami, the January 2016 home price index was reported at 206.79, marking a 0.4 percent increase on a monthly basis.
In December, the month-over-month change was a decrease of 0.3 percent. On an annual basis, the index increased 6.8 percent.