Black Knight Financial Services recently released its February 2016 residential real estate transactions report, the Home Price Index (HPI). The report found that national home prices in February were up 5.3 percent on an annual basis and increased 0.7 since January.
Other notable points of the report include:
The U.S. HPI was reported at $254,000 — up 27.5 percent from the market's bottom but 5 percent off the June 2006 peak of $267,000
Home prices in New York, Tennessee and Texas all hit new peaks in February
San Jose led metro areas with 2.4 percent price growth from January, followed by Seattle at 2.1 percent
Connecticut, Rhode Island and New Jersey were the only states to see negative price movement in February, accounting for seven of the ten worst performing metro areas
Of the nation's 40 largest metros, Austin, Dallas, Denver, Houston, Kansas City, Nashville, Portland, San Antonio, San Francisco and San Jose all hit new peaks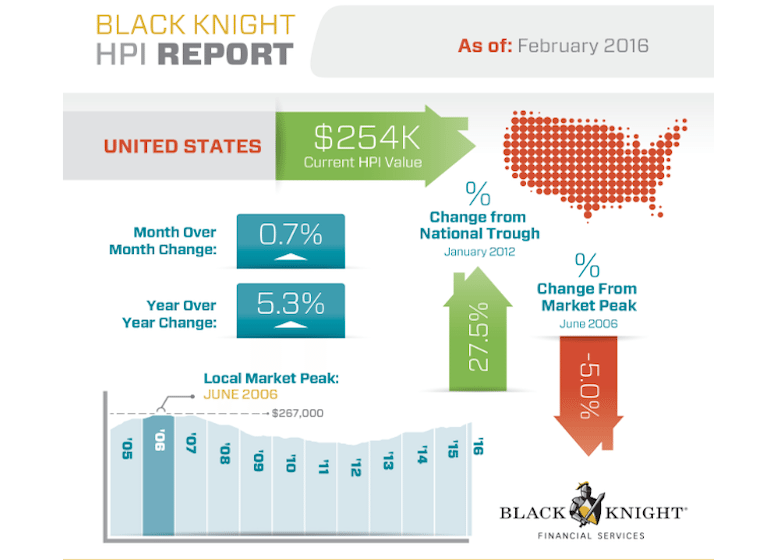 The Pacific Coast and Colorado stacked the list of biggest metro movers, with every metro in the top 10 hailing from California, Colorado, Oregon or Washington.
The East Coast tells an opposite story: Every metro in the bottom ten came from Connecticut, Massachusetts, New Jersey or Rhode Island.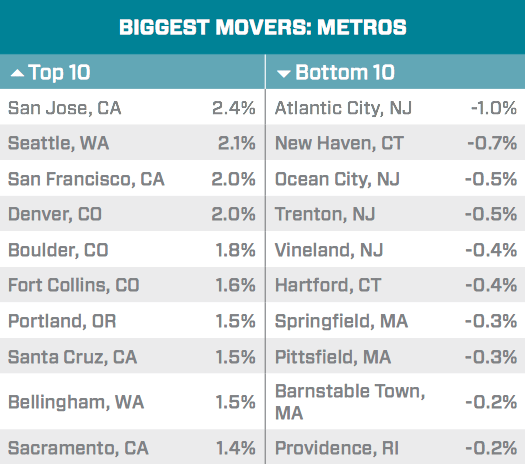 Chicago's average home values saw a decent bump in February, increasing 0.8 percent month-over-month and 3.7 percent from the previous year. Although up 23.7 percent from the market's low point in 2012, Chicago's HPI is still 20.5 percent less than its peak value and $28,000 less than the national average.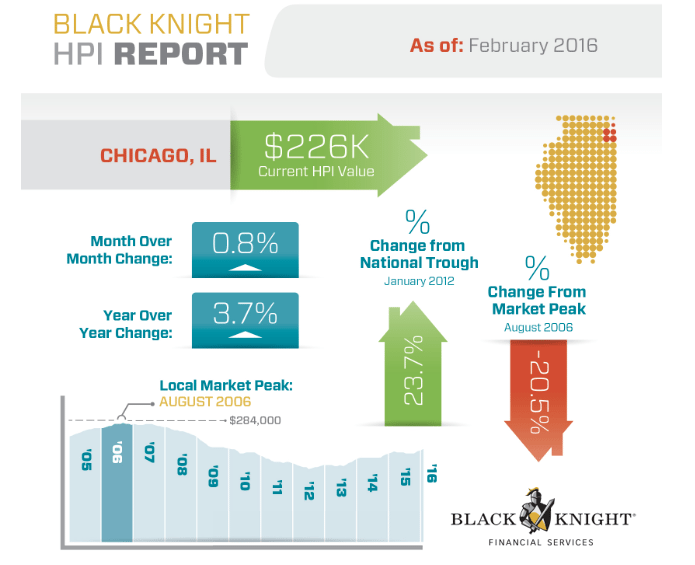 The rest of Illinois saw a similar February, with a 0.7 percent month-over-month increase and a 3.4 percent jump since the year prior. Also like Chicago, the average HPI in the state of Illinois was less than the national average, this one by $38,000. Despite not seeing the constant increases at the same level of states like Texas and California since 2012, the Illinois HPI continues to steadily creep back to its 2006 market peak of $269,000.